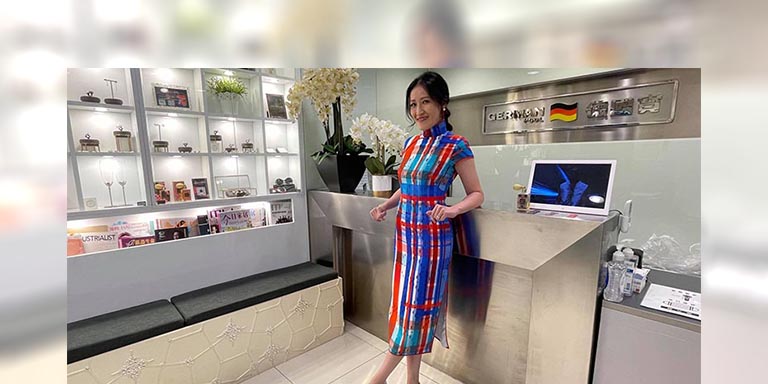 https://hkmb.hktdc.com/en/1X0ALR4N
Household goods turn high fashion
A Hong Kong brand best known for its home appliances is now adding sparkle to traditional Chinese-style gowns and suits.
A Hong Kong home appliances business that incorporates German technology and design was launched under the name "German Pool" in 1982. It has since been growing and diversifying – and more recently into a brand new arena: fashion.
Its fashion label, SPARKLE COLLECTION, was inspired by German Pool's customised kitchen cabinets.
"The SPARKLE shiny series originated with German Pool's latest line of crystal-panel kitchen cabinets. We use different patented crystal panels to match different customers' homes, providing tailor-made items as a tailor does. This led to inspiration," explained German Pool Executive Director Karen Chan, who is also the daughter of German Pool Founder Edward Chan.
"In 2019, we set up SPARKLE COLLECTION, a fashionable gown and suit brand," said Ms Chan, who is also the label's Design Director, whose creative flair had started to manifest a few years ago.
SPARKLE COLLECTION ran as an online business until last September, when it opened its first physical store in the vibrant Causeway Bay retail district.
Despite the ongoing COVID-19 pandemic, the fashion brand is aiming to expand into overseas markets through various channels, including the upcoming CENTRESTAGE fashion showcase.
Talent in the making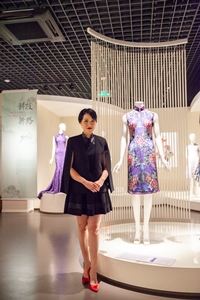 "Actually, I created my first cheongsam back in 2017. At that time, I was awarded the Outstanding Female Entrepreneur Award. For the occasion, I wanted to wear a unique outfit, so I sought help from a designer who had helped create a champagne glass.
"The pattern on the champagne glass was transformed into a fabric pattern, which was in turn transformed into a digital image, according to which the fabric for the cheongsam was made."
"That piece used the concept of combining Chinese and Western cultures. Unexpectedly, that cheongsam was exhibited at the influential Hangzhou Silk Museum, and finally won a place in the museum's permanent collection, which gave us an opportunity to create a fashion brand," said Ms Chan.
Original design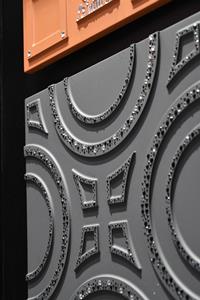 While cheongsams and other traditional Chinese-style gowns may abound in the market, Ms Chan wants to bring out a unique story that belongs to Hong Kong.
"I want to bring out an original design with the 'Hong Kong story' that is full of collective memories," shared Ms Chan.
"Unlike other cheongsam brands which source fabrics in the market, we will make original fabrics. Once the fabrics are made, we will design and design according to the inspiration of the fabric. We will make a series of cheongsams by hand," she said.
While many women only wear a cheongsam on their wedding day or during festivals, Ms Chan wants to reproduce the golden age of the cheongsam in Hong Kong in the 1940s and 1950s.
"At that time, women would wear a cheongsam whenever they go out and even to work, so we are committed to adding everyday clothing elements to cheongsams," she explained.
The creative idea of the "Hong Kong story" is also inseparable from life in old Hong Kong, represented by such items as terrazzo floor tiles, cassette tapes, red-white-and-blue plastic bags and iron mailboxes, she said. "These have become the creative elements of the brand, which is being shaped with our city's story."
Expanding global business
Aware of the importance of marketing channels to a brand, Ms said German Pool had long worked with the HKTDC through events such as the HKTDC Home Delights Expo and "In Style • Hong Kong" expos in Southeast Asian countries. She also noted that the HKTDC, with a strong presence in Mainland China as well as Belt and Road economies, is committed to helping small and medium-sized enterprises expand their global businesses.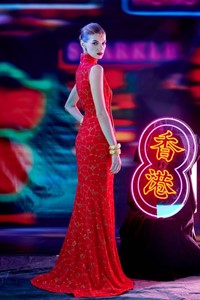 "So when we founded SPARKLE COLLECTION in 2019, we immediately thought of promoting it through CENTRESTAGE, which is influential both in Hong Kong and Asia," she said, referring to the annual Asian fashion showcase organised by the Hong Kong Trade Development Council (HKTDC).
At one of last year's CENTRESTAGE virtual runway shows, SPARKLE COLLECTION presented a wedding outfit series comprising a white crystal gown and a red modern dress featuring a playful combination of Chinese and Western design elements. "On the stage, computer-generated imagery technology blended runway models into virtual settings. The show created surprises for the audience and built awareness for the brand," said Ms Chan.
"For new brands like us, holding a fashion show for the brand alone involves high costs. Using the CENTRESTAGE platform is a more cost-effective way to gain global industry and media exposure. It will not only help us in local marketing, but also assist us to find potential partners for overseas markets.
"And this is especially useful during the pandemic, when we must enhance our brand image to capture new opportunities. We do this by working with the HKTDC, such as using its business matching service to look for suitable buyers," Ms Chan added.
Physical presence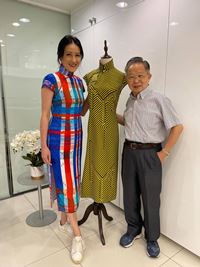 This year's CENTRESTAGE will be held as a physical event at the Hong Kong Convention and Exhibition Centre from 10 to 12 September. With "Chapter Infinity" as its central theme, it encourages designers to take creative approaches and reignite their inspiration in order to explore the countless opportunities that lie ahead. For the first time, the show will open to public visitors for the entire duration of the event.
At the event, SPARKLE COLLECTION will release two new collections of "Tang suits and gowns" (or traditional Chinese-style tops and gowns) and cheongsams that incorporate youth elements.
"One of them has the theme 'When Denim meets Cheongsam'. The pieces are made of denim as well as silk in red, white and blue. It is designed for young people between 20 and 30. Even if they wear Tang gowns with sneakers, they will look trendy yet traditional at the same time," said Ms Chan.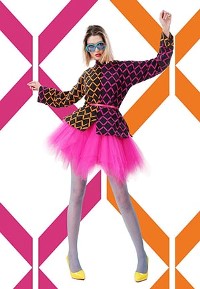 "Another collection is based on the theme of 'Neon City loves Cheongsam', with bright and eye-catching neon tubes as the main motif. Using the brand's own original silk fabrics representing the Hong Kong story and the city's collective memories, the new-style Tang suits and gowns are playful, sexy and skinny but without losing the traditional feel. They stay true to the brand's 'Be Playful', 'Be Colourful' and 'Be Sparkle' concepts," she added.
The brand is aware of the current challenges presented by the ongoing pandemic.
"Our current market is limited by the pandemic. But looking to the future, when international travel and transportation resumes, we will join HKTDC business missions to visit Southeast Asia and Belt and Road countries to promote our SPARKLE COLLECTION," said Ms Chan.
"Southeast Asia is a place where many ethnic Chinese live, while many Belt and Road markets have historical links to Chinese culture. So these places are our priority overseas markets," said Ms Chan.
Related links
German Pool
Garments, Textiles & Accessories