https://hkmb.hktdc.com/en/1X0ALPX0
Space race fuels innovation
The search for elbowroom inspires a South African designer to create a range of eco-friendly homeware.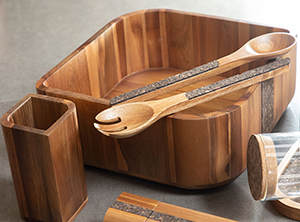 "There's never enough space for storage," said houseware designer Yvette Robeck, who has spent the past 20 years in Hong Kong. She has experienced, first-hand, limitations of tighter living spaces than those in her home country, South Africa. Always up for a challenge, the designer started her line of homeware focusing firmly on practicality and sustainability for urban dwellers with an eco-friendly focus.
The project is a sharp departure from her interior design days. Ms Robeck has designed luxury homes for celebrities in the Middle East and even worked on projects commissioned by a president of a Central Asian country. Yet she found new joy working with natural and biodegradable materials, tapping into an expanding market of environmentally conscious consumers. Building on collaborations with international brands, Ms Robeck has also found new momentum to further promote sustainable designs to a wider audience.
Inexpensive style
Her stackable bamboo kitchen starter sets have drawn mass interest overseas, and her crockery range featuring agricultural waste is also proving a hit. This comes as no surprise as natural materials are gaining appeal worldwide. The products also reflect Asian influences on Ms Robeck's locally based design firm, Desixnlab, which she co-founded in December 2018 with Brad Cooke, a Hong Kong native with more than 30 years of experience in retail, sourcing and manufacturing.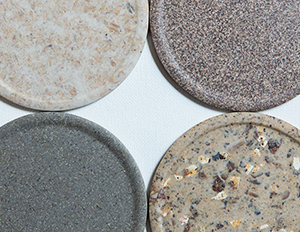 Contrary to common perception, green design is not inherently expensive, according to Ms Robeck. "For us, we have to design within a price point. We know when to reduce either by weight or by size," said Ms Robeck, who is also finding commercial success with cabinet knobs and pull knobs made from straw, coffee, rice and even nut husks. "The cabinet knobs cost 50% less than everything else that's on the market. Simply because of the way we've designed it, it's been tuned to mass production so the pricing is cheaper."
Green business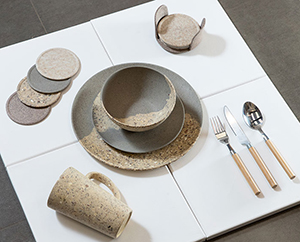 The COVID-19 pandemic has halted Ms Robeck's travels to meet buyers across the United States and Europe this year, but she found an opportunity to showcase Desixnlab's creations at the Hong Kong Trade Development Council's DesignInspire last December. Although the exhibition of creative works was shifted online during the pandemic, the first-time participant attracted enquiries from buyers from as far afield as Turkey and South America – areas outside its traditional stronghold in Europe and Asia.
DesignInspire has since become an online-and-offline event comprising a year-round virtual exhibition in addition to physical roadshows, and Desixnlab continues to display its products at the online exhibition. Despite travel and social-distancing restrictions, Ms Robeck has still been able to meet trade representatives online. To make up for the lack of face-to-face interactions, Desixnlab has been mailing samples to potential buyers.
"It's not a let-down. I think any exposure is better than no exposure. For an exhibitor, we would always like to have as many new enquiries as possible," said Ms Robeck, who noted the creativity among fellow local exhibitors.
Legacy on earth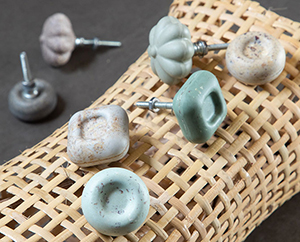 As more and more people work from home, Desixnlab has adjusted some designs to meet growing customer demand, such as by offering more colourful cabinet knobs, which come in "uplifting" hues such as trending Pantone shades, in addition to original earthy-tone models.
Nevertheless, Desixnlab keeps eco-designs at its core. As Ms Robeck explained, DesignInspire's theme of "Design for Good" resonates with her. She thinks it can be interpreted as promoting "a sense of comfort and happiness which we all need right now!"
Having just welcomed her second grandchild, Ms Robeck attaches even greater importance to protecting the environment with innovative and sustainable designs, "It certainly means ensuring we leave a green legacy to future generations."
Amid the pandemic, it's not all doom and gloom. Having seen and interacted with others in the industry, the business-savvy designer with more than 30 years' experience has already spotted a gap in the market for eco-friendly surgical face masks made with cork fibre. She plans to roll them out in the coming year, once they are tested and certified.
This year's DesignInspire roadshows will be held in Hong Kong as well as Mainland China's Guangzhou city in November and December
Related links
Designinspire
Desixnlab