https://hkmb.hktdc.com/en/1X0ALO6U
Hard sell for bubbly start-up
A beverage maker rises to the heavy challenge of bringing light alcoholic fizzy drinks to Hong Kong tipplers.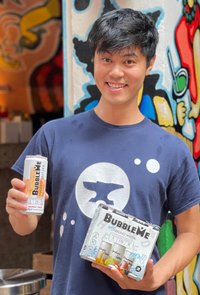 As drinkers seek healthy tipples, spiked sparkling drinks have emerged as a trend in the food and beverage world as they offer the same bubbly mouthful as beer or sparkling wine but have much lower calorie levels. Riding on their growing popularity, Hong Kong brand BubbleMe offers a zero-sugar, antioxidant-rich, low-calorie hard seltzer.
Founder Allen Zhang, who officially launched the brand in June, has big ambitions for his drinks start-up and is aiming to become the biggest hard-seltzer brand in Hong Kong before turning his attention to the rest of Asia.
What is your biggest market segment?
Our customer fan base is generally 20-to-45-year-olds, and we're staying away from the 18-20s, as younger groups tend to prefer sweeter drinks. Our audience is more health-conscious, and it doesn't skew male or female. We're not trying to convert non-drinkers but targeting those who want to [cut down on] calories and enjoy alcohol without the beer belly.
How did you go about partnering with one of the world's leading beverage research companies to develop BubbleMe?
Yes, they're based out of Tokyo and work with some of the major Japanese beer brands, developing fruit beers and so on. It was a big process – we created 15,000 cans to do market testing and adjusted the flavouring five or six times before we were confident to test it with our target market. The flavours are produced in Japan, and the canning is carried out in Vietnam.
What have been some of your biggest development challenges so far?
Hard seltzer is very new in Hong Kong, and it's difficult to build brand awareness and category awareness at the same time. Many people don't know what it is! As a start-up, our budget is limited so execution can be challenging, too.
What do you hope to achieve this year?
In 2021, our plan is to become the leading hard seltzer in Hong Kong. Within five years, we want to be the leading hard seltzer brand in the Asia-Pacific region. We'll do it step by step, country by country.
Can hard seltzer eclipse the market for beer?
Yes, and it's already happened. It may take some time for the Hong Kong hard seltzer market to eclipse beer brands. But if you look at individual brands, such as White Claw in the United States, it's already outsold Budweiser! BubbleMe's goal is to do that in Asia. We want to be bigger than the biggest beer brand in Asia.
You have three flavours – mango-peach, lychee-lime and strawberry-Earl Grey. Which is selling best?
We've seen different types of people enjoy the three different flavour profiles. For locals, it's the lychee-lime, [although] frequent drinkers favour the strawberry Earl Grey, whereas expats prefer mango peach.
Will you launch any other flavours?
Yes, but it's all in development now, with eight to 10 flavours coming on board in the next year or two.
Your product is already stocked in Circle K. What's next for BubbleMe?
We're currently in discussion with more stockists and hope to be in most grocery stores and convenience chains by the end of the year. We want to build a network in Southeast Asia and [Mainland] China and expand at a fast pace. The brand can be global, but I don't think all the flavours will be global. Our hard seltzers have been tested in Hong Kong and might not do very well in another region, so it's about optimising the flavour profiles. We want to be a global brand, but we'll take it step by step.
What do you like about doing business in Hong Kong?
Compared to other countries, it's less bureaucratic, and the tax structure is better, but the number-one reason is the talent pool, as Hong Kong offers some of the best people. They're very creative and extremely hard working with a Chinese and Western mindset, which is unique, so we're very lucky.
What would you advise would-be entrepreneurs planning to set up in Hong Kong?
Have a business idea that really motivates you. I had 50 ideas for start-ups. It was a huge list, but I wasn't motivated to go any further with those ideas. BubbleMe came to me overnight and I couldn't stop thinking about it, and it felt completely effortless [working on it]. That's what's critical, you must truly believe in your idea. Also be persistent and don't give up! I think a lot of start-ups fail as they give up too soon.
How useful are events such as upcoming HKTDC International Wine and Spirits Fair for new start-ups like yourself?
It's critical to get out there and meet with industry players. With trade fairs, you get brand recognition and the chance to do some networking, and new start-ups need to make themselves known to the industry. The questions we get the most are, 'who are you?' and 'what is hard seltzer?' Having a presence at a trade show means you can answer those types of questions.
Related link
Bubbleme