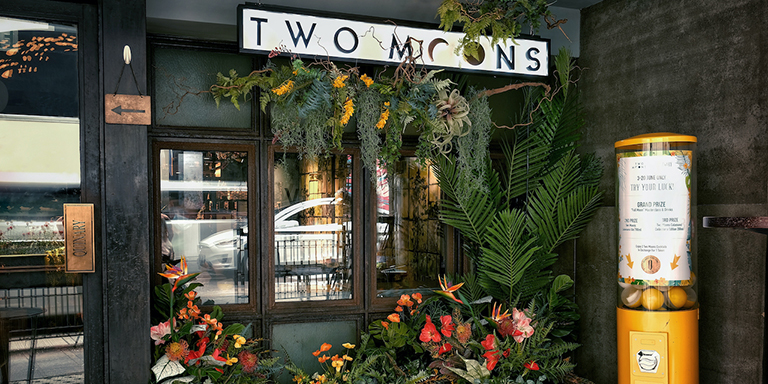 https://hkmb.hktdc.com/en/1X0ALMTD
Tropical tipple comes home
A Hong Kong distillery fuses the traditional spirit with fruit from local orchards.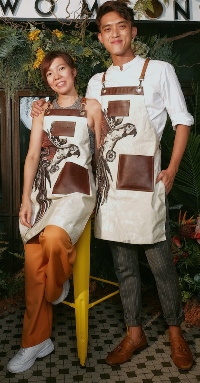 A favourite sundowner in tropical climates, gin has long been a staple in Hong Kong liquor cabinets and a common cocktail ingredient. Typically imported from leading producers such as the United Kingdom and India, the spirit now has bespoke Hong Kong-based producers such as Two Moons Distillery.
Established just 18 months ago, the company has already garnered international recognition from the spirits world. Its Signature Dry Gin earned a Double Gold Award at the San Francisco World Spirits Competition 2021, after becoming in 2020 the first Hong Kong gin to win Silver in the London Dry Gin category at the World Gin Awards.
Two Moons recently launched its second product, a calamansi gin, sourcing Asian citrus fruit from a farm in the rural New Territories in northern Hong Kong. Its two gins are available at several bars and bottles can be bought at a number of retailers.
The distillery was founded by gin enthusiasts Dimple Yuen and Ivan Chang. Ms Yuen talks to Hong Kong Means Business about the venture.
How did you come up with the idea to do calamansi gin?
We'd gone to Yau Ma Tei [a residential and retail district] to get our new still and went to a nearby restaurant for laksa. It's usually served with lime, but here they served with calamansi. It was really powerful, and we started to consider if it would work as a gin. We found out that the calamansi was grown in the New Territories, and it seemed like fate. Hong Kong isn't famous for agriculture but there are a lot of farms now. We hope that our calamansi gin will help put great local produce on the map, and we'd like to work with other local farms.
Do you also apply other Hong Kong-made ingredients in your gin?
We did a limited-edition calamansi gin that included a packet of salt harvested from a salt pan in Sai Kung [in the outskirts of the city]. In Hong Kong, a lot of people drink salted lime soda and salted 7UP, and when we tried calamansi with tonic, it reminded me of those drinks. We added a pinch of salt, and found it went great. We couldn't make too much of it, though, as it's a very small salt farm with limited production. But this project showed us what great things we can do working with local suppliers.
Do you run distillery tours?
We have a private tour that's around 90 minutes long and you can see what happens behind the scenes – the distillation and the production – and meet Luna, our copper still. Everything is done by hand, including bottling and labelling. We only have six chairs so it's very cosy and private. We talk them through our story, introduce them to our different botanicals, then there's a tasting session with craft tonics.
Can you scale up beyond the current 100 bottles per batch?
That's the maximum capacity we can currently produce from Luna, which holds 100 litres, enough for 100 regular-sized bottles. If there is an opportunity to expand, we'll get a bigger still.
Do you plan to offer more than the current two gins?
We're always on the lookout for new and interesting flavours, but the question you need to ask yourself is, 'Why are we creating this?' So we're never in a rush to create for the sake of it.
What do you like about doing business in Hong Kong?
People work really hard here and if you reach out to people any time of the day, you're likely to get a reply. There's this hard-working mentality which is a really great thing as it makes doing business so efficient. Importing ingredients is easy, too.
What challenges have you had to overcome so far?
Right after we launched, the pandemic hit, so we had to think on our feet and adapt to the changing environment, as everything we planned wasn't applicable. This encouraged us to push through and be more resilient.
What are your plans for the next 12 months?
There will be some pop-ups in July with local restaurants, including a gin pairing. We'll continue to do more pop-ups in August to promote the calamansi launch and do seasonal launches around Mid-Autumn Festival and Christmas. We're aiming to be a leading distillery in Asia and now looking at the export market.
Are you targeting export markets as well?
Hopefully this year, we'll be able to export to one or two other markets, maybe Taiwan and Singapore. The cocktail scene is very well developed in Taiwan and people love gin there. The drinking culture is relatively sophisticated and mature in Taiwan and Singapore. People over there are open and eager to try new things, and there are successful craft spirits produced locally. Having no language barrier, and as the first gin distillery in Hong Kong, we'd love to share our gin with them. In the Philippines, they have their own take on gin, ginebra [an 80-proof Dutch-type gin made from sugarcane alcohol], and are the biggest consumers of gin in the world, so that's another market to consider.
The HKTDC International Wine & Spirits Fair (Special Edition), organised by the Hong Kong Trade Development Council, runs from 12 to 16 August at the Hong Kong Convention and Exhibition Centre.
Related link
Two Moons Distillery