https://hkmb.hktdc.com/en/1X0ALM42
Innovation for art's sake
An art consultancy seeks to put artists' clients in the driving seat.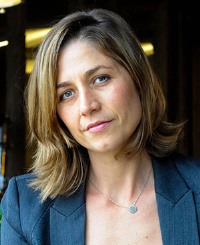 Many artists and artwork owners guard pieces from alteration or reproduction but an innovative Hong Kong consultancy is turning this notion on its head and deliberately streamlining the process of producing edited reproductions.
Red T Multiples offers a platform clients can use to edit digitised original artworks to their own specifications. Established by Hong Kong-born Tamsin Nugent under her art consultancy the Red T Group, the art platform was created to simplify procuring artworks for commercial projects, and the results are on display at East Hotel Hong Kong and Ce La Vi Shanghai.
Red T Group has two other projects in the pipeline: the Red T 360 Canvas, using recycled bedlinen for artworks, and Red T 360 Plastic, which will recycle consumer plastic into public sculptures in Hong Kong.
The Red T Multiples platform is aimed at everyone from art lovers looking for prints to buyers creating commercial art projects. Who uses the platform more?
Mostly individuals because to create one piece is a lot easier than developing a collection of work for a commercial project.
What reception has the Red T Multiples received so far?
A lot of people don't quite get it, but when they see the platform on a screen, the penny drops, and we often end up selling something that way. We've landed clients through collaborations and events, not via ads on Instagram or Facebook.
This is a new venture for the art world and some have said: "You can't do that!" But it's disruptive innovation and I believe we can shake things up. Innovation in the art world is quite slow, yet most want art created to their specifications.
What inspired you to set up the Red T Multiples?
There was one specific moment when I was working on a commercial project for a five-star hotel, where they felt the artist wasn't painting to the brief. As I was delivering the art to the framers, I realised that the artist has painted this thing eight times but had only been paid once. It's a lengthy process to get beautiful artwork into hotel rooms – there's a lot of red tape. This is much more streamlined.
For each print sold, the artist receives a royalty and the prints are part of a limited edition. How has your platform been received by creatives?
The majority of artists we've approached have agreed [to collaborate], as they realise it's a time-saver and that one work could get them 100 sales, so it's quite an easy sell. With [20th century pop-art icon Andy] Warhol, the originals of his major prints are worth so much more because of all the prints. It's not something artists would do with all their work. Buyers can get one or two prints and still save up for an original.
The art on the platform leans towards the abstract. Will you offer other types of work?
We'd love to. We're looking at everything and feel that photography would work well, or, say, a wonderful abstraction of water. The cropping function leans better towards the abstract. We have two works on the site that sit outside the abstract, including three little studies in ink and wash on the same scroll, so clients can pick one of them.
How does the Red T 360 canvas recycle bed linen?
The Upper House hotel has committed to supply us with its retired bed linens, and we're working with a second printer and looking at how to flatten linen to get an image of integrity rather than a crumpled mess! It's easier to do it large scale, as then it's easier to flatten, but smaller areas are harder. But we're not stopping until we find a solution and plan to launch later this year.
I want to do this all locally, setting up a reliable supply chain and finding a printer. When we have a reliable product, we'll add it on as a medium [on the website] and clients can opt for Red T 360 canvas as their canvas option.
Your other sustainable initiative is Red T 360 Plastic?
We want to have a visible mini factory recycling plastic, with a 3D robotic arm spitting out pellets. These pellets will be used to create a public sculpture and beautify the environment. The first collection, Orient, will see 2 metre tall Ming vases attached to tree trunks, so they're protecting the trees. We're making a statement that plastic can be a beautiful thing. We're currently looking for funding but hope this project will be up and running next year.
What other commercial projects do you have lined up?
We're talking to two hotels, including one in Hong Kong, and we'd have 400 multiples across those properties. It's two pretty big brands, and we're keen to get the ball rolling and see that we can scale.
How will these initiatives evolve in the long-term?
I would like every artist, exhibition – even museum – to have a multiples application. I'd love this to be a new way for the public to consume art, and the Red T to become the virtual art department for galleries and developers. The art world is pretty conventional, and it's fun to challenge that.
Related link
The Red Group