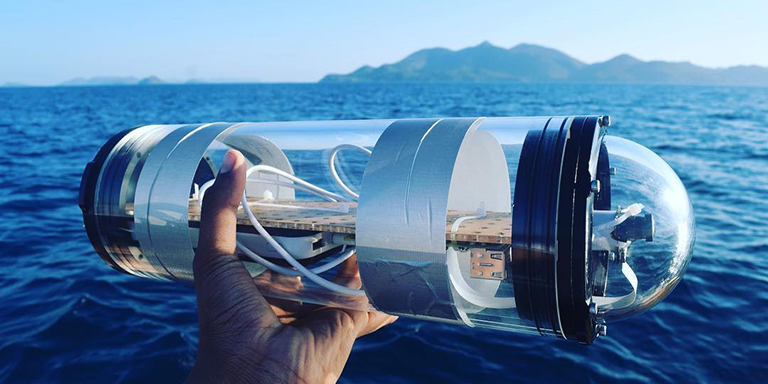 https://hkmb.hktdc.com/en/1X0ALHG5
Oceans of data
Collecting reams of underwater measurements and images is difficult and expensive – a Hong Kong start-up is outsourcing the tasks to robots.
Marine researchers the world over now have a reliable solution for capturing and analysing data from beneath the sea – thanks to an innovation developed and produced by four Hong Kong technology entrepreneurs.
Aiming to "build technology that empowers people doing good for the world", the four, who met as university students, teamed up to establish tech start-up Clear Robotics in March 2020.
High impact
"We realised there is a massive need today for technology to exist in socially impactful spaces," explained CEO Sidhant Gupta, one of the four company founders and a computer engineering graduate with a specialisation in robotics.
"We've seen technology revolutionise the way we work, and develop self-driving cars, etc, yet when it comes to most areas of social impact, things are still very backward. We want to play a role in bringing technology to help the people already working in those fields."
Concern for the marine environment led to the development of the company's first robot, the Open Ocean Camera, an artificial intelligence (AI)-powered open-source underwater camera for research conservation and citizen science, which refers to the collection and analysis of data relating to the natural world by members of the general public.
"A huge percentage of the ocean is still undiscovered today: it's fundamental to our existence on earth, yet we know more about outer space than we do about the world's oceans," explained Mr Gupta.
"The tools simply aren't available for scientists to collect ocean data at scale. We started developing the Open Ocean Camera while still students at the University of Hong Kong, looking for a fun project to do in our final year."
The partners reached out to a National Geographic explorer who told them that one of the difficulties was collecting any more than a day's footage underwater.
"We learnt that they mainly use GoPro cameras, which have a maximum battery life of one day. The researcher has to go out every day and replace it, which is a logistical nightmare," Mr Gupta said.
"Then going through the footage manually, counting all the fish by eye, takes an obscene amount of time. Realising that some of the world's smartest marine biologists are doing basic counting work, we knew there must be a better solution."
The Open Ocean Camera makes this process 50 times faster and seven times cheaper, Mr Gupta said.
Open ocean stamina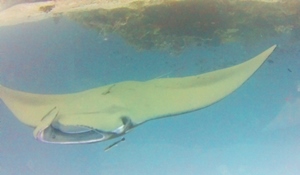 The camera can last for as long as one month underwater, at a depth of up to 400 metres. It has two terabytes of memory, and supports up to 13 sensors enabling the collection of multiple data points such as pressure, depth, temperature, salinity, conductivity, pH and luminosity.
"Every time you are filming, it is automatically getting data to add value to your scientific study," Mr Gupta said.
The camera's AI software analyses the photos and videos, automatically identifying and counting creatures, classifying them into type, and sends back results to the scientists. "We save them literally hours of work," Mr Gupta said. "What would take a human three days, our system does in a couple of minutes."
The Open Ocean Camera was developed with funding support from the local government's Cyberport Incubation Programme, and angel investment from the she1k platform which connects executive women worldwide to innovative entrepreneurial ventures with high growth potential.
The Clear Robotics team hopes the invention will solve a key bottleneck in marine science. "Scientists, with minimal effort, can have maximum output in terms of their research," Mr Gupta said.
Since its September 2020 launch, 20 units of the camera have been sold — mostly to universities — in Hong Kong, Australia, Africa, the United States, United Kingdom, Philippines and Indonesia. The product's cost, starting at US$800, is comparable to that of a regular underwater camera, Mr Gupta said.
Taking wing
For its next invention, Clear Robotics has developed a BirdyCam.
"Working with the Hong Kong Birdwatching Society, we learnt there was the same issue when it came to observing seabird populations," Mr Gupta explained. Bird are difficult to count individually as they gather in flocks and the presence of humans may scare some of them away.
Using a modified version of the Open Ocean Camera technology, BirdyCam automatically counts the number of birds in frame at any time. Installed in situ with a solar panel and 4G connectivity, it wirelessly streams video from the camera to an observer's office anywhere in the world. "Just like CCTV, you can log in remotely and have a look," Mr Gupta explained.
With BirdyCam, Clear Robotics was second-runner up in Microsoft Hong Kong x Swire Trust AI for Good Challenge 2020, which awards innovative ideas designed for local non-government organisations to solve environmental challenges in the marine ecosystem.
Clear Robotics aims to be at the forefront of AI or Internet of Things (IoT) conservation work around the globe, and believes this will be one of the largest growth sectors for technology over the next decade.
Being Hong Kong based has given the start-up a good head start, Mr Gupta said.
"We are surrounded by the sea, so that's great in terms of placement. We're near the Chinese mainland [Mainland China], where you can do manufacturing, and the universities around us allow us to hire high-quality AI talent," he said.
"And being so close to a lot of clients in Southeast Asia, for us it makes a lot of sense to be headquartered in Hong Kong."
A team led by Mr Gupta was a beneficiary of the Hong Kong Trade Development Council's Start-up Express in 2020, with its Clearbot swarming automated robots which scoop trash from waterways.
Related links
Open Ocean Camera
Start-up Express
Environmental Protection
Electronics & Electrical Appliances