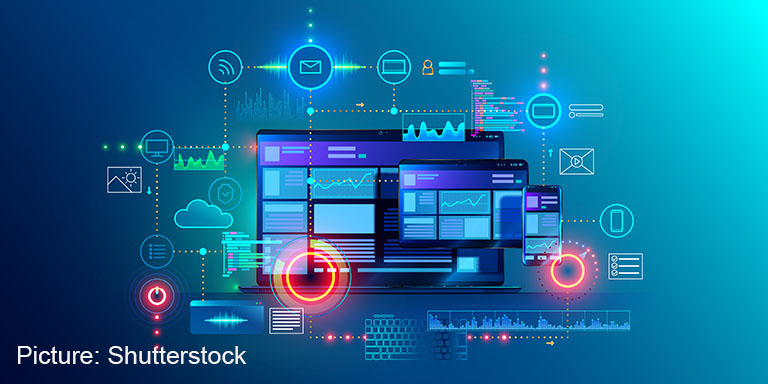 https://hkmb.hktdc.com/en/1X0ALGQY
Businesses flock to digital platforms
Sites aggregating the full suite of trade finance and logistics services are seen as the way ahead for SMEs.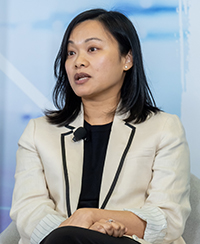 A succession of sea changes – notably the COVID-19 pandemic and United States trade barriers – have abruptly overhauled the trading environment for Hong Kong exporters and importers over the past three years.
As supply networks, trading platforms, destination markets and financing undergo a shake-up, small and medium-sized enterprises (SMEs) need to transform every aspect of their businesses to survive and thrive. The changes have pitched SMEs into a Byzantine new world, especially with regard to financing. Digitisation of businesses processes is central to this overhaul.
Prompt action
"Businesses need to adapt and digitise now!" Alice Wong, Group Chief Financial Officer of Hong Kong Television Network, told the Next Generation Trade webinar, organised by HSBC and the Hong Kong Trade Development Council (HKTDC) last week. "Digitisation is not a remote prospect. Businesses need to change mindsets now. If you do not move now, you will fall behind and be unable to seize opportunities."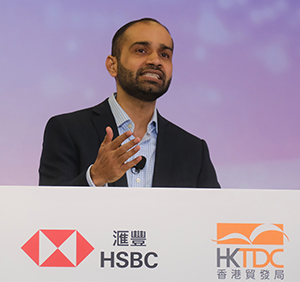 Aditya Gahlaut, Head of Global Trade and Receivables Finance for Hong Kong and Macao at HSBC, told the webinar that trade has become a complicated issue.
"Compared to only a generation ago, it's easier and cheaper than ever to move people and products across the world. At the same time, there are more people to meet and products to buy than ever before," he said.
"Therefore, it is no surprise that the volume of international trade in goods has increased dramatically. Powered by developing countries, which as a group have almost doubled the volume of trade in goods since 2009, as well as falling costs of trade and productivity growth in the tradable goods sector."
Mr Gahlaut said there were three elements to trends affecting trade – what is being traded, where it is being traded and how it is being traded.
Where, what, how
Intra-region trade took up an increasing share within global trade, he said, while emerging markets are turning into consumption hubs – 2 billion people are expected to join middle-income groups in Asia by 2030, according to the World Bank.
Most countries' statistics do not capture the "what" entirely since cross-border trade in services is outpacing goods and goes beyond the recorded components of research and development, engineering know-how or the intangibles of branding and design. "While the cross-border flows of free digital services is not captured by trade statistics, it will certainly lead to interesting discussions going forward."
One of the biggest impacts on global trade is presented in the "how" Mr Gahlaut said. "Technological advances such as paperless processing through technologies such as Blockchain, Internet of Things (IoT) will reduce transaction and logistics costs, reduce frauds, improve speed and efficiency dramatically and drive growth of international trade," he explained.
"Other technologies such as AI [artificial intelligence]/robotics will drive automation and reduce processing costs. 3D [three-dimensional] printing has great potential to replace the physical movement of goods. Information about the manufacturing process can flow cross border and goods can be created right at the point of consumption. Again, the measurement of the net impact can lead to interesting discussions."
Platform economy
These changes lent themselves to the formation of a platform economy which is reshaping global trade by reducing barriers for financing, transport and logistics. "By platforms we generally refer to cross-border e-commerce sites such as Alibaba and Amazon, and supply chain cloud platforms like Oracle and SAP," Mr Gahlaut said.
Cross-border data flow lies at the heart of this opportunity, facilitating access to many new markets, accelerating receipt of orders, increasing margins and streamlining payments, just to name a few.
"We have been working with our customers, partnering with marketplaces as well as sellers to help facilitate trade flow and also stimulate e-commerce exports by harnessing data," he added.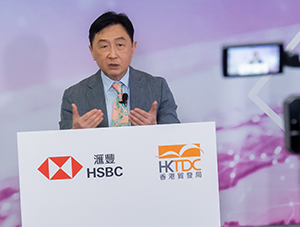 Mr Gahlaut cited the example of HSBC's partnership with Alibaba Group subsidiary Cainiao Logistics to offer digital trade finance solutions to Tmall Global online merchants by using real-time logistics information provided by Cainiao for credit assessment.
"Not only does this make financing easier for our customers, it also empowers SMEs in e-commerce by providing them with cash flow, supply chain and liquidity management that support their business transformation and to seize new opportunities more readily in the new economy," he said.
"And our recent partnership with HKTVmall [a Hong Kong online store] is another good example. HKTVmall provides merchant data like turnover, which we use to analyse and forecast business performance during the credit assessment and monitoring process," he shared.
"The pilot digital trade loan received positive feedback with our customer highlighting how it has supported the transformation of their business into a more digital and agile organisation, reduced paper work and helped them reach out to more potential customers in the e-commerce space, which is of great importance given the current environment."
Diverse sources
Benjamin Chau, Deputy Executive Director of the HKTDC, told the webinar that global supply chains were being reshaped as overseas buyers rejigged purchasing strategies, moving away from single-source to multiple sources to diversify risks.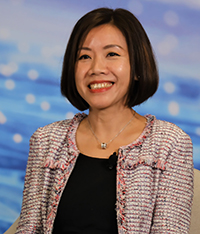 Hong Kong businesses had to adapt to changes created by the COVID-19 pandemic by finding new buyers online and expediting digitisation and technology application development. Use of third-party ecommerce platforms was common, HKTDC Research surveys showed. Traders had to cope with a fiercely competitive market and changes in buyer habits, such as placing many small orders.
The panel discussion during the webinar was moderated by Alice Yip, Partner and Head of Consumer & Industrial Markets at KPMG Hong Kong .
Ms Wong of Hong Kong Television Network said clients of HKTVmall had come to rely more on data. The site kept track of what customers are searching for, enabling partners to know when to replenish inventory and what products to offer more of.
Thin resources
She pointed out that in e-commerce identifying potential customers is key but many SMEs do not have the resources for this. HKTVmall as a partner could supply data on customer flow.
When considering an upgrade data is as valuable as fuel because, Ms Wong said as it provides many shortcuts. For example, digital advertising gives data on customer clusters seeking certain products that are not available at present, creating new opportunities.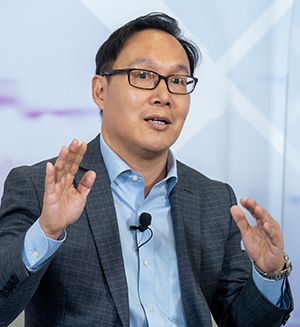 Nick Wei, Asia Pacific Regional Sales Director at Silicon Valley-based product lifecycle management solution provider Centric Software, said that when an entire process from planning, concept, design, sampling, production to operation and shipment goes on a platform, it becomes more efficient and agile to market.
He added that customer behaviour has changed with more frequent but smaller batch purchases, meaning suppliers have to cope with small orders. They also need a platform to coordinate with all parties, everything from product design to shipping.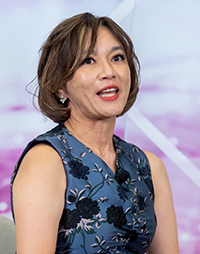 Mr Wei said a green, sustainable supply chain would be efficient by cutting wastage, costs and workload. For example, many companies offer 3D virtual samples for customers before going into production, which cuts wastage and costs in terms of sampling and overproduction.
Shirley Kwong, Head of Business Development, Global Trade and Receivables Finance for Hong Kong at HSBC, said the large amount of data available from small firms, including start-ups, meant that their earnings projections were more reliable, making it easier for them to raise finance.