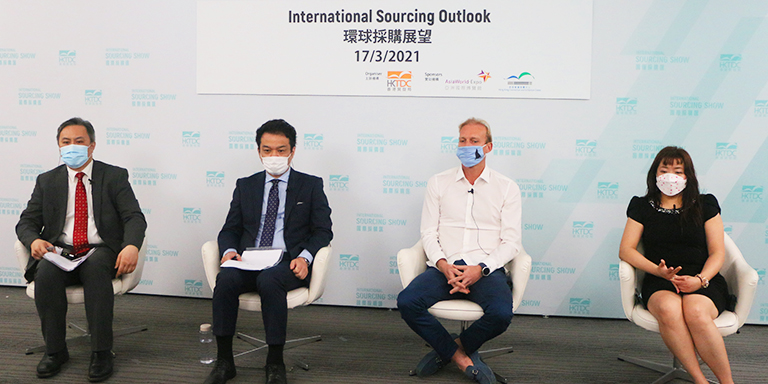 https://hkmb.hktdc.com/en/1X0ALDJE
Recovery path
With Asia seen leading the way in the global economic revival, business leaders share on the new business landscape at a Hong Kong webinar.
Asia is in pole position to lead the world into the post-COVID new normal as it has been less hit by COVID-19 than other advanced regions and is already recovering from the pandemic and effects of control measures, according to leading business consultancy Ernst & Young (EY).
Benson Ng, Hong Kong Business Consulting Leader at EY (main picture, left), also predicted that in post-COVID business there will be new thinking on sourcing and suppliers will need to diversify and decentralise their sales channels.
Mr Ng was speaking at the "International Sourcing Outlook" webinar on 17 March, the first event in the "Let's Go Phygital: Power Up for the New Normal" seminar series launched by the Hong Kong Trade Development Council (HKTDC) at the opening of the hybrid online-offline HKTDC International Sourcing Show.
The sourcing show itself is an example of adapting to the new reality. Opening on 17 March, the show runs online until the end of July while the physical exhibition will run at the Hong Kong Convention and Exhibition Centre (HKCEC) from 26 to 29 July.
Asia stands out
During the webinar, Mr Ng reviewed World Trade Organization (WTO) statistics showing that the volume of world merchandise trade shrank 9.2% in 2020. Asia experienced a lesser decline, however, with imports falling 7.1% and exports dipping 3.9%.
Following a challenging 2020, Mr Ng expressed a degree of optimism for the year ahead. "The anticipation for 2021 is that we will all start to see the light at the end of the tunnel," he said. The WTO projects that global merchandise trade will grow by 7.2% during the first quarter of 2021 and could "recover a significant portion of what was lost in 2020".
To spur trade, Mr Ng suggested businesses focus on three major themes for corporate development. First, they need to pay attention to the changing global supply chain, which saw more customers sourcing within the region during the pandemic. Second, they must be willing to adopt digitisation – an area on which EY is placing considerable emphasis, "not just for content, but also for electronic transactions and insights for automation". Third, they should focus on sustainable products, plant-based nutrition and electric vehicles. In the next 10 to 20 years, these three themes will be highly influential and "enterprises will find tremendous opportunities by focusing on these areas", Mr Ng explained.
Product categories with big prospects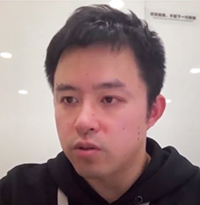 At the same webinar, Devin Dai, Director of Category Management at Alibaba.com, identified the sales trends of 2021 by deciphering the market data collected by his company. He said casual is the most popular style for fashion, while for home furnishings the keywords are "transitional, modern luxury, glam and minimalist". In the beauty products arena, home-use beauty equipment is a breakout category while the market for natural and organic products is growing substantially with a loyal customer base. In addition, the printing and packaging market grows at a blistering pace, in part because beauty products need reliable packaging for overseas sale and also because brands are increasingly looking for environmentally friendly biodegradable packaging materials to enhance their branding power.
Bright spots
Shinya Hisanaga, Director of Hong Kong supermarket chain AEON Stores (HK) (main picture, second left), told the webinar that while restaurant attendance declined during the pandemic supermarket food sales grew.
Similarly, Flavien Serra, Founder of Hong Kong-based sourcing company DTL Sourcing (main picture, second right), noted that COVID had brought a big drop in orders of standard products but strong demand for some specialised lines, such as medical personal protective equipment (PPE). Touchless appliances such as water dispensers were also sought after. He expected many of the changes brought by the pandemic would last, such as high demand for equipment related to working from home. Mr Serra shared that clients, bound by travel restrictions, had started asking DTL to visit factories in Mainland China for them.
Behaviour driven
Fione Tan, Co-founder of Hong Kong e-commerce site 28Mall.com (main picture, right), advised suppliers to use consumer behaviour to drive sourcing strategy. She noted that reluctance to leave homes boosted kitchenware sales while the work-from-home trend changed clothing habits. Consumers sought clothes that looked formal for online meetings but felt casual and comfortable. Even when clients did visit physical outlets, they were uncomfortable about staying a long time there and browsing items, leading to requests for shops to prepare short-lists of items for shoppers to browse through quickly. Ms Tan said there was also demand for athleisure ware suitable for both sport and home.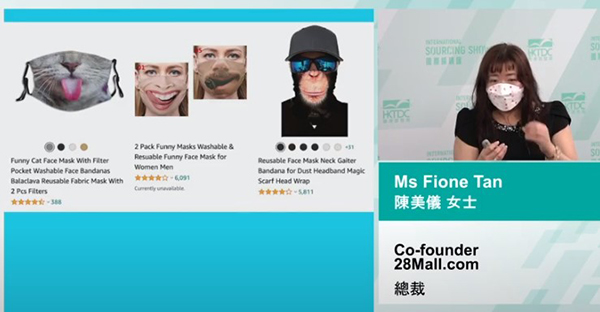 Since homes had become offices and many people needed to present a professional appearance when remote conferencing, there was also demand for home studio equipment such as lighting setups and professional webcams. Demand from would-be influencers for live broadcast devices was particularly strong in the Middle East, according to Ms Tan.
Exercise and outdoor activity equipment, such as dumbbells and fitness apps on smartphones were also in demand as people no longer attended gyms. High-tech fitness devices are also popular, such as a smart exercise bike connected to the internet which achieved a 232% increase in revenue at her company, she shared.
Me Tan said firms need to retrain staff, as well as directors, to make sure they can react to changes.
Related links
HKTDC International Sourcing Show
Full webinar