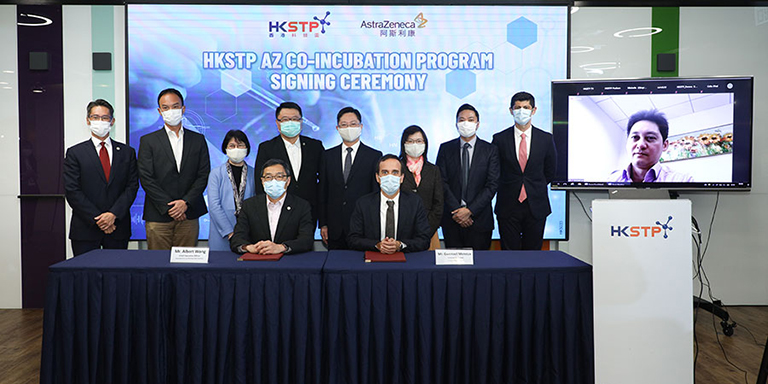 https://hkmb.hktdc.com/en/1X0ALAWA
Pharmaceutical pioneer seeks HK talent
AstraZeneca links up with a Hong Kong technology park to develop new cancer diagnostics and treatments.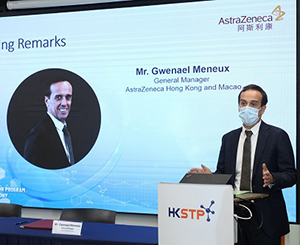 Hong Kong is Asia's biggest fund-raising hub for biotechnology, and the world's second-largest, behind the United States' Nasdaq. The city would become the world's number one between 2025 and 2030, according to predictions made last September by the then Chief Executive of the Hong Kong Exchanges and Clearing (HKEX), Charles Li.
The city's biotech rush is partly attributable to authorities' relaxation of rules allowing pre-profit companies to list on HKEX boards but the thriving community of biotech start-ups in the city plays no small role.


Incubator

Noting this potential, United Kingdom-Swedish research-based pharmaceutical firm AstraZeneca and the Hong Kong Science and Technology Parks Corporation (HKSTP or HKSTPC) launched a co-incubation programme this month to support biomedical start-ups in their mission to develop integrated cancer treatment solutions to accelerate innovation in oncology, foster biomedical technologies in Hong Kong and enhance the city's status as a leading biomedical innovation hub.
In the past decade, malignant cancerous tumours had been the number-one cause of death among all diseases in Hong Kong, according to Astrazeneca.
"Today's cancer treatment solutions, physical check-ups, diagnosis, treatment, follow-up and rehabilitation, are all interrelated. Improvements in either aspect of the patient journey will create huge opportunities to drive better treatment outcomes," Astrazeneca said in a statement .
R&D boost
The programme will attract local and overseas start-ups to embed themselves in the Science Park and develop comprehensive oncology diagnosis and treatment solutions. Successful programme applicants will qualify for professional support from HKSTP, including funding support of as much as HK$6 million, working space and advanced laboratory facilities, as well as access to HKSTP's value-added services platform which provides business matching opportunities with strategic partners and potential investors, and talent support.
In the programme, AstraZeneca will back start-ups and help link them to industry stakeholders and partners, so they can better understand industry information and related opportunities. AstraZeneca will also leverage existing networks with mainland and global markets, including the Wuxi International Life Science Innovation Campus (I·Campus) co-built with local government and Emerging Markets Health Innovation Hubs, SLUSH and Cambridge Network, to provide platforms for exploring opportunities overseas.
The plan will last for two years. Participating start-ups will also become members of HKSTP's Incu-Bio programme incubating biotech start-ups.
"We look forward to our first collaboration with HKSTP, which hopefully will create a vibrant medical ecosystem," Gwenael Meneux, General Manager of AstraZeneca Hong Kong and Macao, said at the HKSTP-AstraZeneca Co-Incubation Programme Collaboration Agreement Signing Ceremony on 9 February .
HKSTP CEO Albert Wong said: "With the professional knowledge, rich industry experience and global cooperation network from AstraZeneca, together with our world-class infrastructure and support, we will be able to attract high potential start-ups to land in Hong Kong, accelerate their growth, bring widespread benefit to cancer patients, and establish Hong Kong as a global leader in biomedical innovation."
Oncology partnership project
The ceremony was also attended by Alfred Sit, Hong Kong Special Administrative Region Secretary for Innovation and Technology, who hailed the collaboration as "a great leap" in the biotech field of the local ecosystem, creating a unique "one-stop solution integration platform" for the whole course of action in combating cancer from diagnosis.
"The hands-on experience and extensive networks of AstraZeneca coming together with the state-of-the-art incubation support of HKSTPC will complement the strengths of each other in facilitating the development of biotech start-ups. Hopefully, these start-ups will excel in technical and business knowledge under AstraZeneca's mentorship and in solution development with HKSTPC's incubation support," Mr Sit said.
"We firmly believe in nurturing a vibrant innovation and technology ecosystem for start-ups and talents to thrive. In this regard, we have committed over HK$100 billion [US$12.9 billion] to support the I&T (innovation and technology) development in Hong Kong in eight major areas," he added.
"One area showcasing the software aspect of the government support is to enhance the local research capabilities and build the city into a hub for global research collaborations," he said.
A major government initiative to develop Hong Kong as the hub for global research collaboration is InnoHK, which involves the establishment of world-class research clusters at HKSTP's Hong Kong Science Park featuring research laboratories set up by world renowned institutions and/or commercial entities to conduct collaborative research.
"Two InnoHK research clusters, one on healthcare technologies and the other on artificial intelligence and robotics technologies, are being set up at the Science Park for pulling together world-class institutes and scientists," noted Mr Sit.
"As the world's second-largest biotech fundraising hub, Hong Kong provides lots of resources and opportunities for biotech businesses to prosper."
Related links
Astrazeneca
HKSTP Incu-Bio
Medical Supplies & Medicine
Finance & Investment