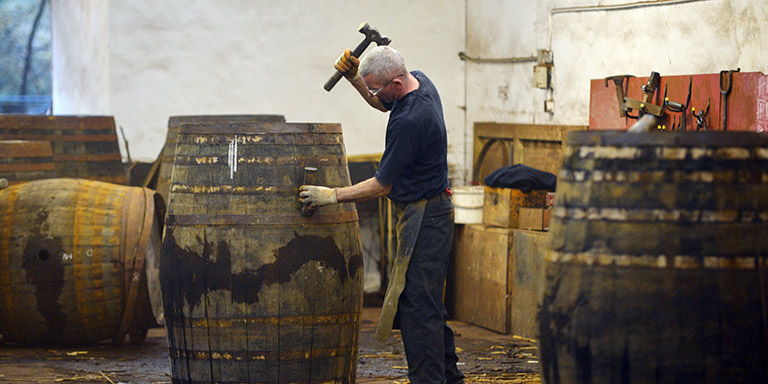 https://hkmb.hktdc.com/en/1X0ALAFR
Young investors take to whisky
As tastings move online, the age and gender profile of scotch holders updates.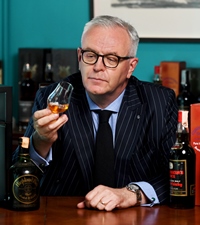 Fine single-malt Scotch whisky casks have been the highest-performing alternative asset of the 21st century, according to the 2020 Knight Frank Luxury Investment Index, which found the return on investment (ROI) from whisky grew 586% in the past decade.
Jonathan Macey, CEO of Hong Kong auction house Macey & Sons, confirmed the increased interest in whisky cask investment. "Last January, the amount of casks we were selling doubled and we have never been busier," he noted.
Mr Macey, who set up the auction house in 2012 and deals in art and silver alongside whisky, said digital conferencing application Zoom had been a lifeline during the COVID-19 pandemic. The auctioneer has been busy arranging live tastings where clients sample whisky alongside its specialists in Scotland, who are on hand to deliver tasting notes.
One advantage of whisky investment over art or jewellery is that investors do not need to see the whisky before buying it, Mr Macey said.
He believes the days of selling face-to-face in the auction house may well be over. "Everything's gone digital and you have to adapt," he said. "People are more relaxed sampling at home, and there's more chance of them buying as they're not being sold to." The CEO said about 95% of people who sign up for a live tasting call will make a purchase.
What excites you most about the whisky market?
It's casks, which is still a relatively young market, having been around for less than 10 years. The growth of casks is huge, and the major auction houses are now putting them on as lots, as we have done, alongside rare bottles. If an auction house is selling casks, you don't need to move them – you can be anywhere in the world.
Has your customer profile changed a great deal?
At the moment, 87% of our customers are women, and most aged between 25 and 35. If you turned the clock back 10 years, then a lot of whisky investors would have been men in their 60s. There's a lot of good whisky bars and places to enjoy whisky-based cocktails in Hong Kong, so perhaps that's what's driving it, plus some of the top whisky salespeople are female. The staff is getting younger, too – my two sons, both in their 20s, work alongside me.
We're mostly selling to Hongkongers along with some Singaporean, Malaysian and Swiss clients. Around 80% of new business comes from word of mouth.
Which whiskies find favour at the moment?
Glenrothes has enjoyed tremendous success recently, while Macallan's whiskies aged in sherry oak casks go down well in Hong Kong, particularly with women, who like the sweet sherry flavour. Hongkongers also like strong, smoky, peaty whiskies like Laphroaig.
Scotch whisky remains the most popular over others. What gives it the edge?
It's the passion, the history and the journey of these whiskies – it's unbelievable what goes on in those casks. I went into the warehouse at Macallan and it felt like one of the seven wonders of the world. The casks that are built in the distilleries are lovingly looked after, and it's fascinating how the wood changes the colour of whisky. It was like Willy Wonka's chocolate factory for whisky aficionados…It's almost a spiritual experience.
How does an investor build a whisky portfolio?
What I say to clients is: do it gently. Look at investing in one or two casks and think of spending up to HK$150,000. I don't want people to spend HK$1 million or HK$2 million. I'd also advise clients not to put all their eggs in one basket, and accept that whisky can go up and down in value, too.
What is the return on investment?
You can expect to earn around 10% to 20% annually on your investment. I've made 13.2% on my collection this year, and 12-15% per annum is a fair market appraisal.
How do you expect whisky investment to evolve?
We're expecting Mainland China to open up and to see some record-breaking prices at the auction houses, as demand for whisky is stronger than ever. To meet demand, the owners of the distilleries we work with are expanding: Gordon & MacPhail, for example, is building another distillery in Scotland.
You founded Macey & Sons in 2012. What are your long-term plans for the business?
My son Tom will take over from me, and my other children will hopefully get involved, too. We'd like to be a Gordon & MacPhail-style family business in Hong Kong, with third and fourth generations managing it. We'd like to have more retail outlets for casks (there's already a cask master shop in Central, [Hong Kong's main business district]) and build our online presence.
We'd love to have our own warehouse in two or three years' time, but they are not cheap to build, and perhaps establish an office in London or Scotland. Who knows, maybe we'll even distil our own whisky one day.
Related link
Macey & Sons
Food & Beverages
Finance & Investment