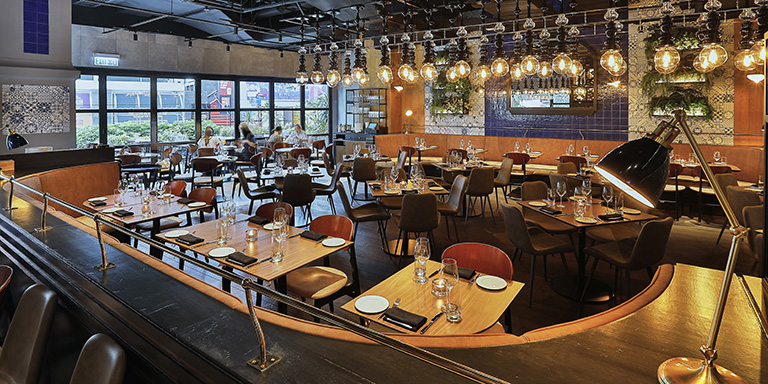 https://hkmb.hktdc.com/en/1X0AL8SK
Peak prospects undimmed
An Italian restaurant opens at a tourist-heavy hotspot in Hong Kong despite the pandemic.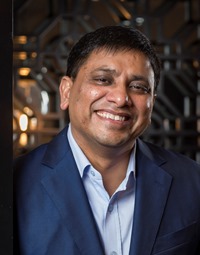 As Hong Kong's tourist market remains under a COVID-19 cloud, setting up a restaurant in prime tourist territory such as the Peak is going to be difficult. But founder of S&S Hospitality, Sandip Gupta, who recently opened Italian eatery Fiamma at the Peak Galleria, remains optimistic on the restaurant's future thanks to takeaways, deliveries and its Grab'n'Go service, where hikers stock up on coffees, pastries and pizza slices after their walks. Serving up family-style Italian cuisine developed by Michelin-starred chef Enrico Bartolini, Fiamma is the second Hong Kong restaurant featuring his menus, after Spiga, another S&S establishment. Mr Gupta talks to Hong Kong Means Business about the new venture.
Your restaurant is located at the Peak. Were you concerned about launching when there are so few tourists around?
No, and we never thought of delaying it. I opened my first restaurant in 2002 just before SARS, then debuted three more restaurants by 2004. It was the same during the financial crisis in 2008 – right after that, I opened five restaurants. You have to look at the long term as well as the short term. The pandemic has been a good time to take a pause, reflect and consolidate what we have. There's always a positive way of looking at things.
How did you manage to liaise with Enrico Bartolini, the visionary for Fiamma, from overseas?
I've been working with Enrico for three years on Spiga, and our head chef, Paolo Olivieri, had worked with him previously, so we understood his vision. As he couldn't travel here, we arranged weekly Zoom calls and plenty of one-on-one calls with Paolo. As Enrico wasn't as busy in Italy, he had more time and could monitor the minutest of details for us.
What gives you the edge over the many Italian restaurants in Hong Kong?
Fiamma takes its name from "flame" in Italian, so the concept is a traditional Italian family kitchen where the stove is never cold and there's always the aroma of home-cooked food. It captures the essence of the family dining room and dining with friends. Considering it's a restaurant by Enrico, the chef with the most Michelin stars in Italy, it also offers excellent value for money.
Are you finding that people are more open to eating out now?
People definitely want to go out and eat out but they are also conscious of abiding by government regulations. We're operating at 50% capacity and close at 6pm. It's been a bit of a start-stop arrangement so far but I think there are better days ahead.
How does the Grab'n'Go, takeaway and pickup service help to drive business?
At the Peak, you get a lot of tourists who may want to grab a coffee, or a slice of pizza, but there just hasn't been enough people up here recently. We're doing delivery and self-pick-up, and the pizzas always do well on delivery. Self-pickup is getting better for our pastas and pizzas. Customers are residents in the neighbourhood, or hikers and foodies – Enrico is a big name in the dining scene. The plan was to rely heavily on tourists, and that will eventually happen.
You've been in F&B (the food and beverage industry) in Hong Kong for 25 years. What do you like about doing business here?
The pace of the city embraces you. Eating out is a way of life here, and Hongkongers have very discerning palates. The cosmopolitan nature, awareness of different cuisines and relatively high disposable income set the game beautifully and inspire you to step out of your comfort zone to add value to the dining scene. The transparency of doing business here helps you focus on what you do best.
How can the dining industry bounce back in 2021?
With preventive measures in place and the vaccine in sight, 2021 has the potential to be much better. By September, things should be close to normal and by 2022, we'll be there.
What will dining out look like in 2021 and beyond?
All measures focusing on cleanliness will still be place long after COVID-19 is gone. It's an awakening and we have been reminded this is how it should be, so health and hygiene will be a permanent focus. Social distancing will stick around for quite some time. It may cause some restaurants to have tables more spaced out, while takeaway and delivery will become more important, as will single-use menus and online offerings.
What are your long-term goals for S&S Hospitality?
When I started the business, the aim was to create boutique dining experiences – it wasn't a numbers game. I'm not sure about opening too many new restaurants as we already have 10. If, say, we had 20 restaurants, then that's 20 different concepts [to deal with]. It's easier if you're a chain like Starbucks or McDonalds, but each of our restaurants is different.
Related link
S&S Hospitality