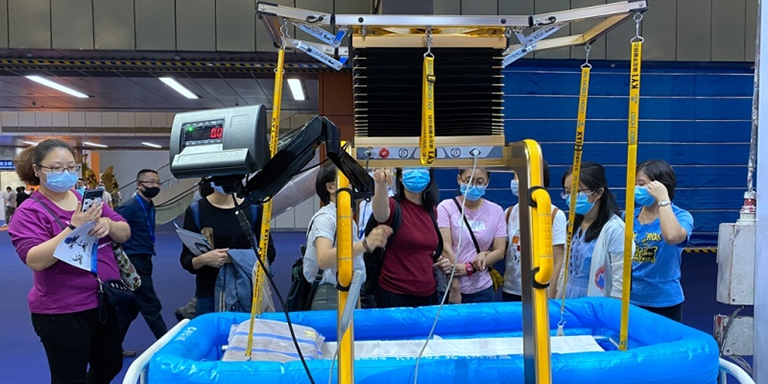 https://hkmb.hktdc.com/en/1X0AL5I3
'Silver' expo integrates health, elderly care
Technology offers solutions to the problem of caring for seniors with limited staffing resources.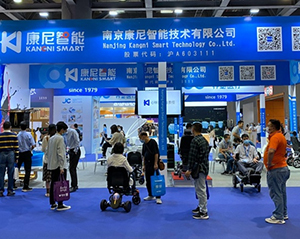 Guangzhou's China International Silver Industry Exhibition offered an upbeat update on the sector, with exhibitors presenting a wide range of senior-friendly smart products, while acknowledging that the integration of health and elderly care is very much the emerging service model.

The seventh China International Silver Industry Exhibition extended across an impressive 22,000 square metres and attracted more than 200 senior-care brands. On its sidelines, meanwhile, the China International Silver Industry Summit Forum turned its attention to such topics as policy, the integration of health and elderly care, geriatric rehabilitation medicine and nursing, smart community care applications, and the training of elderly care professionals.

The event gave a clear indication that Mainland China's senior – or silver – economy is booming, despite the ongoing COVID-19 pandemic. In terms of overall themes, meanwhile, the integration of healthcare and elderly care, the trend towards home care, and the shortage of elderly care professionals dominated the exhibition and forum. Exhibitors, meanwhile, proffered a wide variety of high-tech rehabilitation equipment and one‑stop elderly care services.
Booming sector
With the integration of healthcare and elderly care – such as rehabilitation services, dietary services and entertainment – a major focus for exhibitors, Shenzhen Riyouchen Technology had on offer a range of fashionably designed, easy‑to‑use spas, labour‑saving bathtubs, chair beds and other products.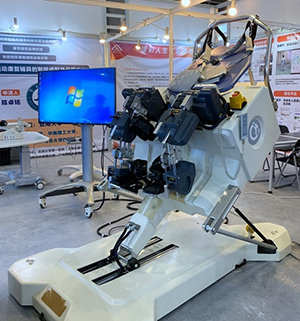 Outlining the company's particular niche, Deputy General Manager Wu Huifeng said: "The market share of the integrated health and elderly care model is growing and is expected to be a future development. At the same time, some elders still opt for health‑therapy services as a way to stay fit.


"Some well‑known insurance companies and property developers have already launched consumer propositions that combine healthcare and elderly care elements. Despite this, mid‑ to high‑end services remain in short supply, with high‑value insurance policyholders having to wait in line."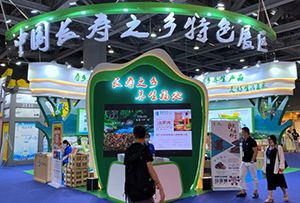 For its part, Riyouchen primarily supplies rehabilitation equipment to elderly care institutions, rehabilitation institutions and hospitals. According to Mr Wu, the company's spa equipment was its best‑seller and likely to play a key role in delivering a 30% rise in revenue this year.

Elsewhere, the smart health service platform presented by Guangdong Yishou Enjoylife Co Ltd was drawing considerable attention. Equipped with smart robots, temperature and humidity sensors, sleep trackers, smart nursing cameras, body sensors, gas detectors and a number of other systems, the platform is said to be a prime example of how information technology and artificial intelligence (AI) should be used in home care.

Giving his take on the current state of the market, Yu Tongli, the company's Technical Chief, said: "The so‑called '90‑6‑4' model is the mainstream on the mainland, which sees 90% of elderly people having home care services, 6% having elderly care through community‑run institutions, and the remaining 4% cared for in institutions like nursing homes.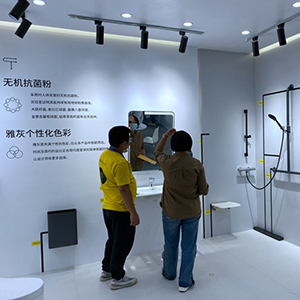 "Traditionally, elderly mainlanders want to spend their twilight years at home in the company of their families. At the same time, a growing geriatric population has meant elderly care institutions have no way of keeping pace with demand. As a result, home care is clearly the preferred option."
Smart rehab equipment

The mainland's silver industry boom has also precipitated the emergence of a growing number of rehabilitation‑equipment manufacturers, with more and more smart products becoming available of late. Looking to take a lead here was Guangzhou Atget Decoration and Hardware Co Ltd, which this year showcased a wide range of senior‑friendly bathroom products, including a unit that combines a mirror, washing basin, shower, shower chair and effluent filter.

Outlining the company's philosophy, sales manager, Huang Wenshan, said: "Our bathroom products are designed to suit the physical conditions of elderly people. They are easy to use and durable. Some of them have a special coating that can effectively inhibit the growth of such bacteria as aflatoxin, Escherichia coli and Staphylococcus aureus.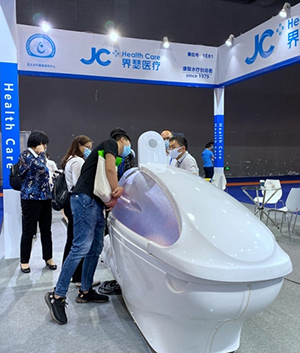 "Elderly care institutions, nursing homes and home care all need age‑friendly appliances. The demand is particularly great from families. As the ageing population increases, more families are becoming aware of the need to make their homes age‑friendly and are inclined to buy age‑friendly products when decorating their homes."

Another distinctly eye‑catching exhibit was Riyouchen's Spa-oceana. Reminiscent of a space capsule, complete with a self‑operating hatch door, it's billed by the company as a fully automatic physiotherapy rehabilitation bed. Detailing its functionality, Mr Wu said: "The bed provides steam therapy, infrared therapy, music therapy, aromatherapy and other therapies. It comes with 10 pre‑set treatments but can be adapted to suit individual needs.

"It's something we have imported from Japan as, while the mainland's silver industry is growing fast, foreign brands still dominate the mid‑range and high‑end segments. Many mainland manufacturers, however, are now beginning to increase their investment in research and development with regard to smart rehabilitation equipment."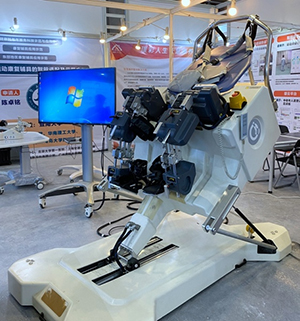 Following this overall trend, Guangzhou Yueshen Medical Equipment (Yuesen Med) was showing a fully automated Japan‑made system for handling excretion. Introducing its capabilities, Business Manager Hu Xiaoxue said: "The system can eliminate odour and is very quiet. A remote control, a special insulation mat, excreta bags, a water tank, an excreta collection tank, an excretion tube and a purification system host also all come as standard.

"Through the utilization of 20 sensors, the system can automatically detect bowel movements and urination, remove the excreta by negative suction, clean bodily parts with warm water and dry with warm air. As no manual operation is involved, the product helps reduce the workload of nursing staff and carers while protecting the privacy of users."
Personnel shortages

While a plethora of one‑stop service offers were on show this year, the 361 Service System, operated by Shenye, a Shenzhen‑based health industry investment company, still managed to achieve a degree of standout. Detailing the system's core strengths, Deputy General Manager Liang Dong said: "Basically, it majors on the integration of healthcare, traditional Chinese medicine (TCM) rehabilitation and senior care. Its six service systems extend across medical rehabilitation, TCM wellness, daily care, professional nursing, social and recreational activities and spiritual care. These systems involve more than 100 distinct services, including 43 basic services, 41 healthcare services and 16 services by special appointment.
"It's particularly relevant as one‑stop service offerings and branded elderly care homes are in great demand among mainland consumers. In order to cater to this, we design tailored services and homes that meet the requirements of different consumers based on their health needs and household finances.

"This means we can provide elderly people with meticulous care at a fixed time and location."

Mr Liang did, however, have one particular concern about the current state of the sector, saying: "China's acute shortage of trained elderly care personnel is proving a real obstacle to the delivery of the required care. In order to try to remedy this, we are actively co‑operating with universities in the training of more professional people. In all, we plan to train 1,000 elderly-care service professionals next year, although this will still fall far short of market needs."

Echoing Mr Liang's concerns, Yishou Enjoylife's Mr Yu said: "Although AI is making elderly care and rehabilitation products increasingly smart, there are still things that require human intervention. Additional well‑trained manpower is still needed, especially in the field of rehabilitation physiotherapy."

The China International Silver Industry Exhibition was held at the PWTC Exhibition Hall in Guangzhou from 6-8 November.

Related links
HKTDC Research
<<<PLEASE HIGHLIGHT & INSERT CONTENT HERE>>>
Medical & Healthcare Services