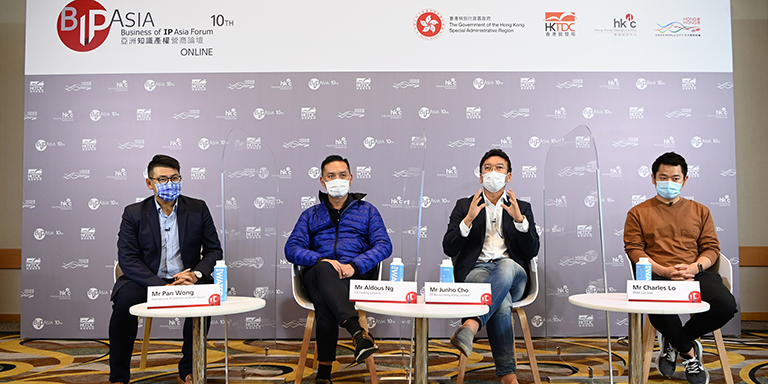 https://hkmb.hktdc.com/en/1X0AL45J
Hong Kong open for IP business
The online BIP Asia Forum shows travel restrictions are no barrier for the exchange of information, ideas and talent.
Walk half a block down any street in the Central business district of Hong Kong and you will pass people from two dozen countries and regions. Much of the city's success is built on its cosmopolitan heritage, with powerful network effects making it a magnet for talent from across the globe.
The COVID-19 pandemic has put a damper on this vibe, however, tightly restricting movement. This very restriction has, however, spotlighted virtual collaboration. Hong Kong is very much open to the exchange of information, ideas and talent – in cyberspace. Meanwhile, the "new normal" also highlights the need for innovation. Little wonder, then, that "open innovation" -- an innovation management model that promotes collaboration with external parties – is gaining traction.
Addressing the importance of open innovation and collaboration in corporate development in times of change, the online 10th Business of IP Asia Forum (BIP Asia Forum) ran on 3-4 December. Jointly organised by the Government of the Hong Kong Special Administrative Region (HKSAR), the Hong Kong Trade Development Council (HKTDC) and the Hong Kong Design Centre, the event featured more than 60 international intellectual property (IP) experts and business leaders sharing on the latest industry trends.
In a welcome message, HKTDC Executive Director Margaret Fong said the BIP Asia Forum is a platform for IP professionals and business leaders to discuss industry developments and explore collaboration opportunities. "The theme for this year's forum is: 'Open Innovation: Driving Collaboration in Times of Change', a topic that will no doubt be foremost on everyone's mind as the world economy is buffeted by the combined winds of the global pandemic and geopolitical tensions," she said.
"The online format helps us take the event beyond the limitations of a physical location to connect global participants to a world of industry insights and expertise."
Entrepreneurs share ideas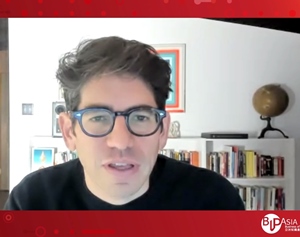 At the online forum's keynote session Yancy Strickler, Co-founder and former CEO of Kickstarter, shared his experience of creating Kickstarter, the global crowdfunding platform, and his subsequent career. The first successfully funded project on the platform was "drawing for dollars", with other projects including Peloton, Cards against Humanity, Oculus Rift, Allbirds and more, many of which since have become well-known brands.
Mr Strickler believes Kickstarter is a platform where entrepreneurs and start-ups can share ideas they are passionate about, and where creative projects can be opened up to the public. Kickstarter was "a funnel for ideas" – creators and the audience could build trust using the platform. Kickstarter has become a facilitator in creating billions of dollars of profits and hundreds of thousands of jobs, opening a door to the public and the things they care about. Kickstarter is the "dream of the Internet" as it fulfils the idea of what the World Wide Web aims to be, Mr Strickler said.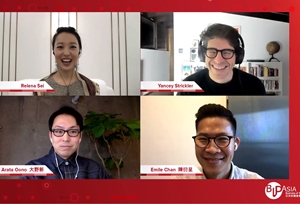 He said he makes a "bento" plan every Sunday, reminding him of his goals and priorities. The bento has four spaces – now me, future me, now us, future us. The bento plan can help people  to be actively aware of what they will do and prioritise. He said we should make decisions that can fulfil all the bento spaces.
Arata Oono, founder of smart-helmet developer Borderless, said he ran a Kickstarter campaign and reached his goal in one day. He said the pre-campaign is as important as the real campaign because it can build awareness and develop a community around the products. Mr Oono said crowdfunding is not about fundraising but more about developing a marketing platform that can help companies grow.
Emile Chen, CMO and Co-founder of Origami Group, said Kickstarter can help generate awareness, find people with the same values and elicit valuable feedback. He was concerned people may copy Origami's idea but said there will always be risks involved in marketing. Mr Chen also said IP protection should be approached in the same way as good hygiene – the best protection is always to act fast and think about what needs to be done next. He suggested new start-ups plan for a longer campaign period on the crowdfunding platform as it takes time for people to digest ideas and build trust with the company.
IPHatch merits

Jari Vaario, Head of Asia Patent Transactions & External Alliances, Nokia, said the company is finding unique new possibilities and innovations and believed the open-innovation competition IPHatch, details of which were announced during the forum, could provide unique innovation opportunities for start-ups. Mr Vaario said IP matters are becoming more important in the new era as having IP assets can be a way for start-ups to win against their competitors. Mr Vaario suggested start-ups should look into IP carefully as it takes time and money to secure a patent.
Yoshinori Nakagawa, Chief Intellectual Property Specialist, Panasonic Corporation, said that since the 2000s, Panasonic had shifted focus to creating technology that contributed to its future business. He hoped to find good partners to tackle problems together through IPHatch. He said IP has two important roles – helping firms maintain and update the newest technology and understand their value through IP, while protecting the business and its technology assets through exclusive patent rights. That was why it was important for start-ups to obtain an initial patent.
Tony Chen, Business Development Director for Hong Kong X-Tech Startup Platform, described the HKSAR Government's IP policy and support schemes. He said IP and technologies are important for start-ups and investors would back firms that had certain IP protections in place. He said patents are important for start-ups in terms of attracting big customers and generating a good profit. He hopes IP can become more accessible in future, especially for start-ups.
Previous IPHatch winners were on hand to share insights. Aldous Ng, Co-founder and CEO, CU Coding Limited, said the company is working on network coding for 5G technology in Hong Kong. IPHatch is a good platform for start-ups to present ideas and connect with more experienced partners, adding that persistence is important because innovation can be a lengthy process. Junho Cho, Chief Technology Officer, EC Bento Hong Kong Limited which developed intelligent vending machines, said IP is important to his business as it protects his innovations, while IPHatch allowed him to develop his networks. Charles Lo, Founder & Director, MAE Limited which developed an emotion tracking system that aims to improve customer service, said there are two benefits of joining IPHatch, namely mentorship and media exposure. He explained that IP is a way for start-ups to gain creditability and make their company more attractive to investors.
Related links
BIP Asia Forum
Kickstarter
IP Hatch