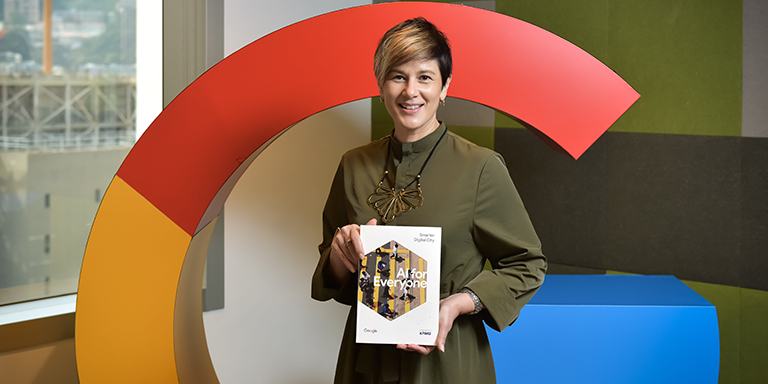 https://hkmb.hktdc.com/en/1X0AL2YW
AI ready to fly?
A survey shows Hong Kong is ready for a digital world but knowledge and skills issues could present obstacles.
Google and global business-services firm KPMG are conducting a detailed study to determine Hong Kong's readiness to adopt artificial intelligence (AI) and advance the city as a "smarter digital city". Leonie Valentine, Managing Director, Sales & Operations, Google Hong Kong, talked to Hong Kong Means Business about the survey findings.
How are you going about assessing the city's readiness?
Google Hong Kong has embarked on a new three-year programme of longitudinal research, conducted by KPMG. In preparing the just-released first-edition whitepaper – Smarter Digital City – AI for Everyone, residents and businesses were canvassed on four key business verticals to compile this year's AI Readiness Index, with score ranges from 0 (least ready to adopt AI) to 100 (most ready to adopt AI). This new report outlines how adopting technology and realising the benefits of AI assist the city's recovery.
Why initiate this programme?
Since 2017, Google Hong Kong has been committed to supporting the city's smart-city development and digital transformation. The first phase of the research programme focused on understanding trends and progress of the city's digitisation, along with helpful recommendations to key stakeholders supporting technology for good and economic recovery and opportunity.
Hong Kong's digitisation has gathered pace, and the topics of AI and machine learning came to the fore with AI remaining top-of-mind for policymakers, businesses, and residents.
In 2020, Google Hong Kong embarked on a new three-year programme of longitudinal research delving specifically into the topic of AI adoption and readiness in Hong Kong.
What have you discovered?
Overall, both residents and businesses recognise the value of AI and the need to equip AI-related knowledge. Of residents, 65% expect that AI can help improve society in general, while 63% cite ease and convenience as the key reasons for adopting AI, including smart translation (80%) and route optimisation (79%) as the most frequently used AI-powered products and services.
However, residents are worried about the use of data without prior know-how and permission (49%) and cost (40%) associated with those AI-powered products and services.
Encouragingly, residents showed interest in areas of general understanding of AI and machine learning (44%), application and use cases of AI and machine learning (44%), as well as data science and data analytics (42%). They also considered that the private (70%) and public (81%) sectors play an important role in educating the public about AI.
What did businesses say?
Of businesses 78% believe AI is beneficial, particularly in improving quality and enhancing efficiency, and are keen to investigate future investment in AI. Yet financial gaps (56%), knowledge gaps (51%) and talent gaps (50%) remain the key barriers in their AI journey.
Taking a closer look into organisation-wide strategy, 49% of businesses said they have a data strategy for the company in place but only 31% currently operate an in-house data warehouse or seek to enrich data from third-party sources.
To build a solid foundation for their AI journey, it's critical for businesses to have the right set-up and realign operating models, for example, by leveraging cloud solutions and formulating data management guidelines.
How can small and medium-sized enterprises (SMEs) overcome the cost barrier?
With many small and medium-sized businesses having been hard-hit by COVID-19, their adoption of digital technologies is especially important. There are many AI-powered solutions relevant for Hong Kong's SMEs that can help mitigate risks, improve efficiency, enhance products and services, and deliver experiences that align with fast-changing customer needs. For example, smart translation can help SMEs broaden their reach into overseas customers, while image recognition can help improve online catalogues.
SMEs often look for immediate ROI (return on investment) on AI investments, with 31% citing insufficient financial support as a barrier to adoption, compared with 21% of corporates. Business owners should clearly identify critical business needs to be addressed and consider plug-and-play solutions, for example, applying analytics to optimise their product and stock mix or to manage their supply chain.
What's the best way forward?
COVID-19 has triggered an immense increase in digital solutions and game-changing moments for both private and public sectors to rethink and reset the journey ahead. It is important to promote trust in AI for good and help people better understand and manage their data while making good use of products and services powered by AI.
Policymakers and regulators also play a crucial role in nurturing the AI ecosystem by boosting confidence and addressing businesses' uncertainty with regulatory requirements. There is enormous potential for the public and private sectors to work together on education and reskilling. For private sectors, building data capabilities across the business helps make smarter strategic decisions, while bridging the knowledge and talent gaps bring long-term success.
Related link
For Hong Kong with Google