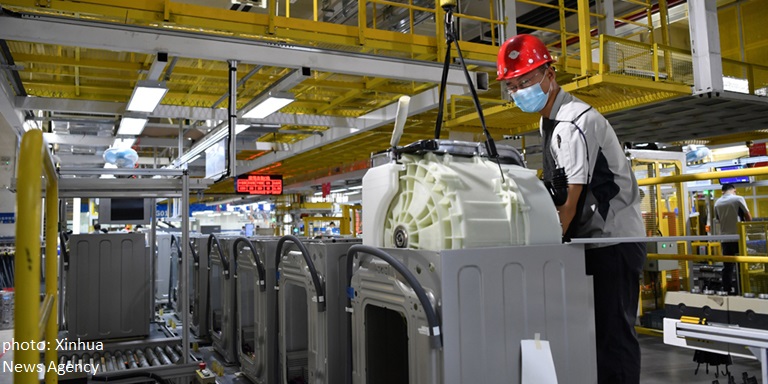 https://hkmb.hktdc.com/en/1X0AKYIO
Mainland IIoT needs unique approach
Export-focused Hong Kong firms seeking to capitalise on the Industrial Internet of Things revolution need to consider the unique environment in Mainland China.
Many Hong Kong companies would do well to study Mainland China's fervent embrace of Industrial Internet of Things (IIoT) technology. Many of the mainland's well‑known home‑appliance manufacturers – notably Midea, Changhong and Haier –  have successfully harnessed IIoT technology as a means of consolidating their industrial, production and value chains and enhancing their overall corporate competitiveness.

According to Jiang Feng, President of the China Household Electrical Appliances Association, the industry's Beijing‑headquartered trade body, it is this widespread adoption of IIoT that has ushered in an era of digital transformation for the sector. Expanding upon this, he said: "Digital home appliances are evolving from being independent smart units to becoming interconnected networks featuring multiple devices, often as a result of a single smart upgrade that extends across an entire household.

"In order to further facilitate this, many mainland‑based appliance manufacturers are committed to developing a truly collaborative ecosystem, one in which a wide range of home appliances – regardless of application, brands or platform affiliation – can connect and interact. Once this is achieved, the next objective is to optimise the standard of interconnectivity between smart homes, the wider smart community and local smart vehicle networks."
IIoT Pioneers
In order to gain a greater understanding of the level of engagement with IIoT across the mainland and the likely direction of its future development, the HKTDC's Guangzhou Office visited a number of the sector's pioneers – including Huawei's Cloud Industrial Internet Innovation Center in Dongguan and Midea's facilities in Foshan.

For its part, Huawei's Cloud FusionPlant IIoT platform has three distinct components – a connectivity‑management platform, an industrial AI facility and a dedicated application platform. According to the company, it was conceived as an intelligent decision‑making system with an emphasis on corporate capacity enhancement as a means of delivering efficient cloud‑based business development and optimised edge computing. This is intended to allow its partner companies, across an array of different sectors, to focus on their core businesses while maximising their digital adoption with the minimum of upgrade downtime.

In the case of Midea, it maintains its switch to a cloud‑based industrial platform has allowed it to cut its standing inventory of raw materials and semi‑finished products at its smart production facility in Changsha, the capital of Hunan. In addition, the proprietary automated distribution system it introduced at its 2D injection mould depot is said to have increased its overall logistical efficiency by between 200% and 400%.

The company's current successes are said to be down to its longstanding commitment to the digital upgrade process. It is an approach it first embraced in 2013 and that led it, in late 2018, to launch its bespoke Midea M.IoT industrial internet platform, an innovation that established it as the first company in the mainland to develop a proprietary IIoT platform.

Since the launch, the company has spent a further Rmb10 billion (US$1.5 billion) on refining its systems and applications.
Outlining how the company has found success in the sector, Chairman Fang Hongbo said: "The route to successful digital transformation always begins with optimising production, which provides the required framework for all subsequent automation, informatisation and digitisation.

"By 'digitisation', of course, I mean the digital transformation of the whole of the corporate value chain, a process that sees cutting‑edge technology deployed to analyse, process and reconfigure all available corporate data in order to deliver truly profound insights into the whole of the operational and management process."
Key Concerns
Given the significance of these developments within the mainland market, as well as the changed realities occasioned by the COVID-19 outbreak, there are four key IIoT‑related lessons Hong Kong companies are particularly advised to bear in mind:
Adapt to new environment

With living standards continuing to rise across the mainland, consumers are increasingly interested in new / novel experiences and services of a more premium nature. In order to capitalise on this, a number of mainland businesses have looked to implement collaborative IoT platforms that allow for seamless integration with the products of certain designated partner companies.

A prime example of this is the Haier Smart Home System, a development that pioneered the concept of a 1+N Cloud-based Broadcasting Experience, an innovation that facilitates the digital convergence of agents, customers and staff in terms of devices, settings and platforms. In practice, this means that when a consumer expresses a want, this triggers a series of related responses among all connected parties. Should a connected customer, for instance, require kitchen facilities particularly geared to healthy eating, as well as the core proposal, various associated suppliers will be prompted to submit details of related requirements, such as ancillary electrical appliances, air‑purification systems and installation arrangements.

So as not to be excluded from such arrangements, Hong Kong companies should look to step up their level of cross‑sector cooperation with mainland suppliers. This will allow them to properly integrate with requisite supply chains and be able to deliver the kind of responsive solutions now required to successfully survive in the highly competitive mainland market.

Build e-commerce presence

With Hong Kong companies having long focused on export sales and overseas certification, this has left them with comparatively little understanding of the mainland's market regulatory requirements or the growing significance of its domestic e‑commerce channels. As a result, many Hong Kong companies may find targeting the mainland's Generation Z consumers (those born between 1995 and 2009) something of a challenge.

In light of the difficulties in finding appropriately skilled personnel, the relevant hardware, the high labour costs when it comes to designing promoting and operating online stores – as well as the required investment in learning the prevailing mainland e‑commerce protocols – any Hong Kong company set on entering the sector is best advised to secure the services of an experienced external team. Outsourcing such requirements also allows companies to focus on their core strengths and future product development.

Track mainland policies

In recent years, the mainland has invested heavily in establishing its domestic consumer market as the mainstay of its economy in a bid to reduce its reliance on fluctuating export demand. This has seen the State Council and various associated national, provincial and municipal authorities introduce an array of policies designed to facilitate the sale of items traditionally destined for overseas markets within China. As well as familiarising themselves with the various local incentives currently in place, Hong Kong companies should also actively participate in the appropriate mainland expos in both digital and conventional formats. It is also worth investigating the possibility of securing a subsidy for attending such events from the appropriate local government body.
Upgrade and transform
In order to be able to compete effectively in the mainland market, Hong Kong companies should consider taking advantages of one of the upgrade and transformation programmes offered by the Hong Kong Special Administrative Region Government and several related organisations. A prime example of this is T-Box programme – an initiative put in place by the Hong Kong Trade Development Council – which provides free support for small or medium‑sized business looking to digitally upgrade in a number of key areas, including branding, e‑commerce, production relocation and new market development. As part of the programme, the T-Box team works with each applicant to identify its goals and provides support throughout a three‑month transition period. Businesses also get access to consultancy services, workshops, information on available government funding, market research databases and a range of networking opportunities.
Related link
HKTDC Research
Information Technology
Machinery
Hong Kong
Mainland China