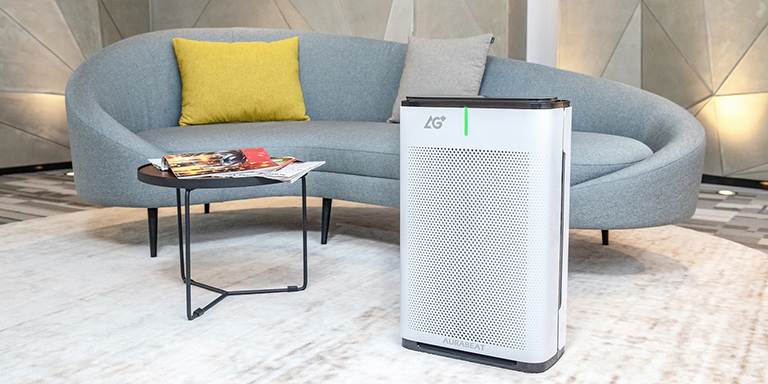 https://hkmb.hktdc.com/en/1X0AKX81
Clean air in demand
Hong Kong start-up seeks to purge virus from indoor air.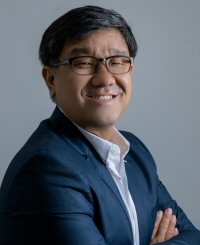 Start-ups are agile and adaptable by definition, responding rapidly when changes in the business environment bring fresh challenges and opportunities.

A Hong Kong start-up that originally produced energy-saving air purifiers underlines the point – the firm began to develop a device that could eliminate airborne viruses and bacteria when it recognised the severity of the COVID-19 outbreak.

Developing an air purifier that not only filters but also eliminates airborne COVID-19 particles with an antiviral air-filtration technology, Aurabeat CEO Phil Yuen, and Chief Technical Officer, Roger Sze To, are offering an extra level of protection from the virus.

The result of the firm's switch is the Aurabeat AG+ Silver Ion Plasma Sterilisation Air Purifier, an air purifier certified by US research institute MRI Global and cleared by the United States Food and Drug Administration, certified to eliminate more than 99.9% of airborne COVID-19. Trapping and eliminating COVID-19 on contact, along with other bacteria and viruses found in the air to reduce the risk of secondary infection and airborne transmission, the purifier uses five stages of filtration and disinfection to eliminate bacteria and viruses – pre-filter, silver ion air filter, nano-crystalline filter, ultraviolet disinfection and plasma sterilisation.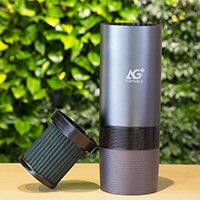 Aurabeat's technology is already deployed in Hong Kong after the firm won a government open tender for air-filtration solutions, Mr Yuen said. The air purifiers have been installed in infection-prone environments such as COVID-19 sample collection points and quarantine facilities, and are also in place at the Legislative Council complex and other government buildings. First-responders such as the Hong Kong Fire Department, St John Ambulance and more than half of Hong Kong's public hospitals also rely on Aurabeat's antiviral air filtration technology to protect against COVID-19 air transmission. The air purifier can cover areas as large as 538 square feet (50 square metres), while a portable device can be used within vehicle interiors and small workspaces.

Mr Yuen said they were motivated to develop such a device to give everyone an added level of protection from the virus, particularly as there is mounting evidence to suggest that aerosols – tiny droplets in the air less than five micrometres in diameter – can carry the virus. "When we first started, we really wanted to see one of these devices protecting people everywhere – my daughter's school, whenever we go to a restaurant or shopping mall … it's about helping businesses to reopen, instilling customer confidence and protecting the environment too. I think all these things together will help us get back to normal as fast and easy as possible."
Skyrocketing demand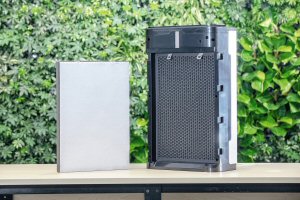 Aurabeat is seeing "skyrocketing demand" for its product globally and it is currently in talks with several health ministries outside Hong Kong. The biggest demand comes from the United States, which accounts for about 90% of its orders at present, with universities, banks and other businesses all investing in the technology. Demand has been generated by positive press and word of mouth rather than marketing, the CEO said. He has ambitions for its technology to become truly global. "We would love to talk to more people. We see the European Union as being a strong market for us, along with the Middle East and South America. We're actively recruiting people in those areas," he confirmed.

Mr Yuen said that Hong Kong retailers have shown a lot of interest in the product, with some chains buying devices for each outlet. Educators are also interested with one US university using the air purifier in a dormitory it set up as a quarantine facility for students. The firm has also seen individuals buying the devices then giving them to schools and churches, he added.

To meet global demand for its products, the start-up has asked its manufacturer in Mainland China to switch to maximum capacity and is looking into expanding production. "We've gone way past the initial maximum already, but it's a good problem to have, [to be] thinking, 'how do we expand from here?'" he said.
Clean set of wheels
Aurabeat is developing filters and air-circulating devices that can address contamination and circulation in two specialised environments – ambulances and the areas around hospital beds. If deployed in an ambulance, the technology would add extra protection in the patient cabin and the driver's area, Mr Yuen said.

Aurabeat has observed that the only way to filter out the air at hospital beds is through a central air-filtration system or stand-alone device. "An environment like a shared hospital space presents a slightly higher risk category of patients, and you can imagine the air they're breathing out is quite dangerous. Our device would immediately filter out the air being expelled from the patient to limit cross-contamination between patients within the same hospital room." The start-up is working to have these products ready by year-end, Mr Yuen confirmed.
Safer transport
Beyond public-health settings, the CEO believes the technology could be deployed in various modes of transport, including cars, buses and aircraft. "We'd like to have more products that can offer air filtration and virus elimination and see more manufacturers using our technology. We're already speaking to a few car manufacturers keen to provide in-cabin protection for passengers inside cars, and similar technology could also be utilised on buses. This would significantly reduce the chance of secondary transmission and airborne infection," he said.

Mr Yuen confirms the firm has also had some interest from airlines to develop a purifier to eliminate airborne COVID-19 particles inflight (smaller pollutants, including viruses, can escape a HEPA filter) but he admits that developing a product for an aircraft would be a much longer process, with weight being the primary issue.

The CEO believes the pandemic will fundamentally change the way we all work, play and live. "There will be a new normal, and our technology is very much part of that new normal. We really want to see this device in as many places as possible as businesses re-open to protect students, employees and customers so they can get back to their day-to-day activities."
Related link
Aurabeat
Medical & Healthcare Services
Medical Supplies & Medicine