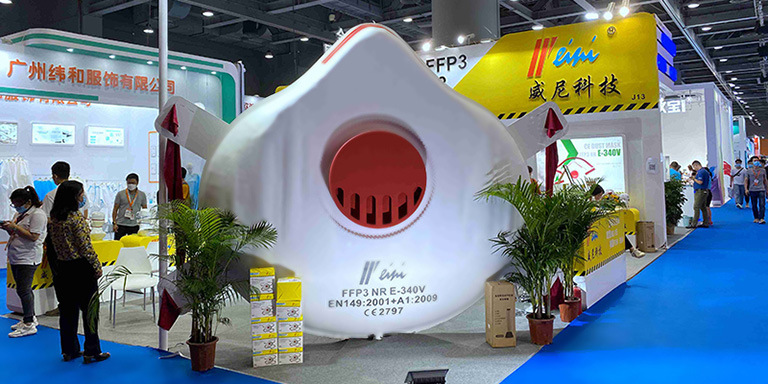 https://hkmb.hktdc.com/en/1X0AKV87
COVID-19 boost for expo
Demand for virus containment products and relatively short lockdown were good news for the 5th China (Guangzhou) International Cross‑border E‑commerce & Goods Expo.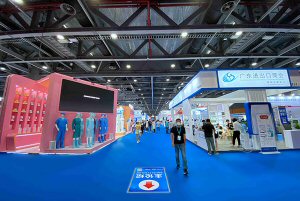 With Mainland China one of the few economies to resume anything like a normal expo programme, the 5th China (Guangzhou) International Cross-border E-commerce & Goods Expo (ICEE) took place at the Guangzhou Poly World Trade Center Expo in late July. Occupying an exhibition area of 25,000 square metres and with nearly 400 exhibitors, three particular issues loomed large – meeting the challenge of the pandemic, capitalising on the mainland's early emergence from the crisis, and building product/services brands as hallmarks of quality.
Mass mask exports
Overall, perhaps the least surprising aspect of this year's event was the introduction of an Epidemic Products Zone. In order to simplify navigation among the zone's 200‑plus exhibitors, this was further sub‑divided into dedicated areas for equipment, raw materials and services.

Predictably, this area attracted the heaviest footfall at the show, with attendees flocking to inspect the array of masks, goggles, protective clothing, respirators and sanitiser dispensers on offer. A number of exhibitors even opted to demonstrate their mask‑production processes as a means of highlighting their quality‑control protocols.

Looking to take a lead in this sector was Zhengzhou‑based Wanshenshan Healthcare PPE, with the company having on offer a range of KN95 particulate respirators, medical protective masks, surgical masks, 3D protective masks and disposable medical masks. Assessing the current state of the market, Customer Manager Chang Shuya said: "Globally, the demand for anti‑epidemic products remains enormous, particularly in many overseas markets. As we specialise in producing protective masks, our outlook is currently very positive.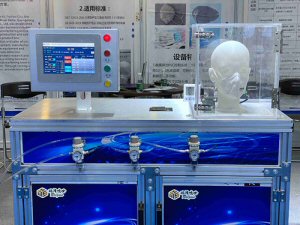 "At present, we operate 80 automated mask production lines – 27 for flat masks, 52 for folded masks and one for 3D protective masks. This gives us the capacity to produce up to 3.9 million masks a day, including 1.8 million flat masks, two million folded masks and 100,000 3D masks."

Highlighting what the company sees as its competitive advantage, fellow Customer Manager Li Xiaocui said: "Unlike a number of rival operators, we have secured all of the relevant certification. Our disposable medical masks and surgical masks, for instance, carry the EU's CE Mark while also having been approved by the FDA in the US and the TGA in Australia. As a result, we are free to export widely and currently have clients throughout the US, Europe, the Middle East and Africa."

Inevitably, with demand for masks so high, there has been a corresponding increase in the use of the related quality‑control equipment. Looking to capitalise on this particular development was Mingshi Technology, a Guangdong‑based supplier of mask respiratory resistance testing systems.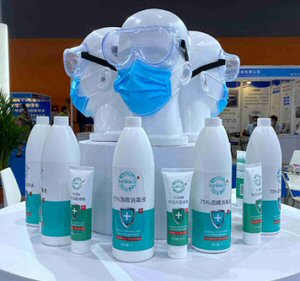 In line with this, the company was looking to showcase its box‑shaped taster, which comes complete with a digital display screen and a prosthetic head for mounting candidate masks. Outlining its applications, Business Manager Wan Yaling said: "Mask manufacturers can use our equipment to test their products across a number of different indices, including particulate matter concentration, filtration efficiency, inspiratory resistance, expiratory resistance and inhaled/exhaled airflow.

"While we have done a huge amount of business over recent months, it's fair to say the mainland mask market is now somewhat saturated. As a consequence, one of our clients failed to find a domestic buyer for its order of 150,000 masks. Fortunately, with our help, an overseas buyer was secured within two weeks. Subsequently, the client received an additional overseas order for 200,000 masks, resulting in a net profit of Rmb700,000 [US$100,000]."

Broadly agreeing that the mainland was now somewhat oversubscribed in terms of surgical mask supplies was Li Xiaoqin, a spokesperson for Shenzhen's Welands Supply Chain. Largely offering export support to the sector, Welands specialises in streamlining customs declaration procedures for mask exports, managing logistics, assisting customs clearance at both the port of departure and port of entry, and supervising warehousing and sales in overseas territories.
Cross-border e-commerce
In addition to the COVID-19 windfall, many exhibitors at this year's event also saw increased opportunities with regard to cross‑border e‑commerce. Particularly upbeat about such prospects was Enpro Supply Chain Management, a 13‑year‑old company with a focus on supply chain integration and a range of comprehensive logistics services, including transportation, bonded and non‑bonded warehousing, customs clearance, commodity inspection, cargo collection, packaging, cargo assembly and LCL consolidation.

According to Ms Zhong, the Manager of the company's expo stand, the sector has seldom looked so healthy. Expanding upon this, she said: "Many mainland consumers have developed a distinct partiality for imported alcoholic drinks and chilled products, a sign that they are becoming more selective when it comes to their food and beverage choices. We have been able to capitalise on this thanks to our one‑stop service offer, which sees imported goods clearing customs and being made ready for delivery within two days.

"Currently, many mainland‑based cross‑border e‑commerce export operators are seeing demand for their products and services surge. This is partly because the coronavirus outbreak has adversely affected many overseas players, while domestic operators have been among the first to recommence activity."

Another company finding its services in demand as a direct result was Shenzhen's eVat Master Technology, a specialist in the third‑party filing of value-added tax (VAT) declarations for EU‑destined goods. Outlining the current state of play, Promotions Director Zhang Jie said: "There are a number of reasons why businesses in the cross‑border e‑commerce export sector are doing pretty well at the moment. While traditional service providers usually require long lead times and substantial administrative work when it comes to negotiating declaration procedures, specialists such as ourselves give vendors the facility to directly communicate with the tax authorities in the country of export. This can, in turn, help reduce declaration cost by up to 85%, while enhancing declaration efficiency by about 90%."
Brand building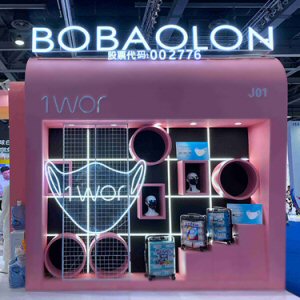 One consequence of the pandemic‑related surge in demand for personal protective equipment (PPE) is that many businesses have actively looked to move into the sector. While some have been start‑ups and others existing enterprises looking to extend their product portfolio, the sheer volume of new entrants has led to growing concerns that item quality is being compromised in the name of expediency, speed to market and a less than scrupulous approach to turning a profit.

As a consequence, many players in the sector have put a premium on brand building, believing this will act as a hallmark of quality for both trade and consumer purchasers. One company that has particularly embraced this approach is Folunsi Industry, a Guangzhou‑based supplier of disposable, protective medical clothing.

Detailing the company's strategy, Marketing Director Xu Jinhua said: "Brand building has always been our priority and, as we plan to continue producing protective clothing after the current crisis, we are also committed to continuing to refine our product portfolio.

"We can produce more than 10 million items of protective clothing a year at our 10,000 square metre factory, all of which comply with the relevant biosafety standards, including those relating to antistatic properties, anti‑flaming, anti‑permeability and anti‑blood penetration. As a result, we are very confident of being able to sustain our long‑term profitability within this sector."

Looking to refine its service-sector brand, meanwhile, was Guangzhou‑based Kaigen International Logistics, a company with a particular specialty in serving the Japanese market. Introducing the company's operational capabilities, Sales Representative Liang Ying said: "We have our own fleet of vehicles, a dedicated customs declaration department, proprietary container yards and a range of customs‑supervised warehouses, offering a total capacity of about 10,000 square metres.

"Our key proposition is the provision of efficient cargo freight services for any mainland company engaged in Japan‑destined cross‑border e‑commerce. In order to facilitate this we offer a number of specialist fulfilment options, including guaranteed seven‑day delivery, all‑Japan delivery and a priority Japan airfreight service."

This year's 5th China (Guangzhou) International Cross‑border E‑commerce & Goods Expo (ICEE) took place from 24 to 26 July at the Guangzhou Poly World Trade Center.
Related link
HKTDC Research

Medical & Healthcare Services
Medical Supplies & Medicine
Hong Kong
Mainland China