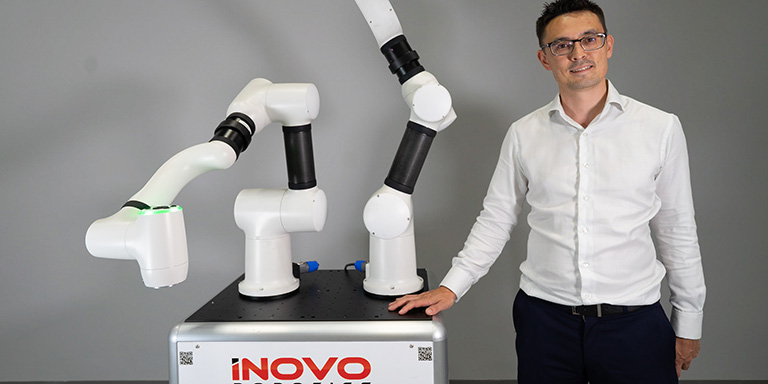 https://hkmb.hktdc.com/en/1X0AKTAB
Flexible robotic arm for SMEs
Lightweight, easily programmed mechanical limb takes drudgery out of small-firm manufacturing.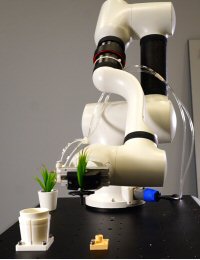 Whether in film or real life, robots are considered high-end technology. Not too long ago, industrial robots were large, clunky pieces of equipment that required highly trained engineers to operate. This preconception is now long gone. Single-purpose, mass-production industrial robots still have a role to play in large factory settings but more lightweight and nimble robots are coming on to the market. These robots can be operated with minimal training and are redefining manufacturing automation.

One company contributing to this trend is Inovo Robotics, a start-up based in the United Kingdom with research and development (R&D) and sales teams in Hong Kong. It develops modular robotic arms which can be programmed by tracing out the movements and processes. The small, inexpensive machines provide an affordable automation solution for small and medium-sized enterprises (SMEs), aiming to help save staff and other costs and increase productivity.

Jonathan Cheung, one of the co-founders who launched Inovo in 2016, spotted a gap in the SME automation market.

"Large-scale factories such as vehicle assembly plants often have many large, powerful robotic arms, each one specially procured and programmed for one task, such as bolting on a door. Such robots are very expensive to set up.

"SMEs, on the other hand, have limited resources and space. Most also manufacture a diverse and ever-changing range of products in low volume. As such, single-purpose machines that require a large single investment are not cost-effective for SMEs, discouraging them from adopting automation in their production line.

"Inovo hopes to make robotic arms that are slim, simple, easy-to-use, and cost-effective – ideal for SMEs," Mr Cheung said.
Modularity wins
The key feature of Inovo's robotic arm is its modular assembly bringing flexibility since several different kinds of "hands" can be attached.

"SME users do not need to purchase different machines for each unique task. Instead, they only need to purchase our arm components and assemble them for different tasks," Mr Cheung said.

SME factories can adapt the arms for a variety of production procedures through a "teach-and-repeat" computer program. An operator "teaches" the robot to perform a task by physically guiding the arm to trace through the desired motion. The robot records the motion trajectory, after which it can retrace the exact trajectory accurately and repeatedly. It can record motion sets lasting as long as 20 minutes.

While the robotic arms can perform demanding and complex tasks, Mr Cheung acknowledged that they can never completely replace human workers. However, they can free workers from repetitive labour, enabling them to concentrate on improving product quality and upgrading the production process.

Giving a factory that produces potted plants as an example, Mr Cheung said that currently the plants are sorted, positioned, and packaged by hand. The production process is manual and highly repetitive. To cut staff costs and increase productivity, Inovo and the factory manager are implementing an automated process based on Inovo's robotic arm. This should free up staff to focus on tasks such as quality control and add value to the company.
Automation in Asia
Inovo set up R&D and sales operations in Hong Kong three years ago due to the increasing demand in the local SME market. Since then, Mr Cheung has also seen that the SMEs in Southeast Asian countries such as Singapore are beginning to automate workflows. Thanks to Hong Kong's geographical location, Inovo has a strategic advantage when accessing potential buyers from that region.

Mr Cheung hopes to develop more accessories and tools for Inovo's robotic arm in future. In addition to the current finger-like grasping, clamping, and holding mechanism, the start-up plans to offer other features such as machine-vision functions to improve versatility.

Inovo's innovative concept earned it a place among the winners in this year's Start-up Express Pitching Final organised by the Hong Kong Trade Development Council (HKTDC). Mr Cheung said participation in the competition was a valuable experience.

"The competition offered us a good opportunity to meet people from different Hong Kong start-ups as well as potential inventors and partners. It was also a platform for us to let the world know more about our robotic-arm technology," he said.

Mr Cheung said the company is currently discussing potential cooperation with two investment consultants who attended the event, including one from Singapore.

"The competition brought a great deal of benefit," he concluded.

Related link
Inovo Robotics