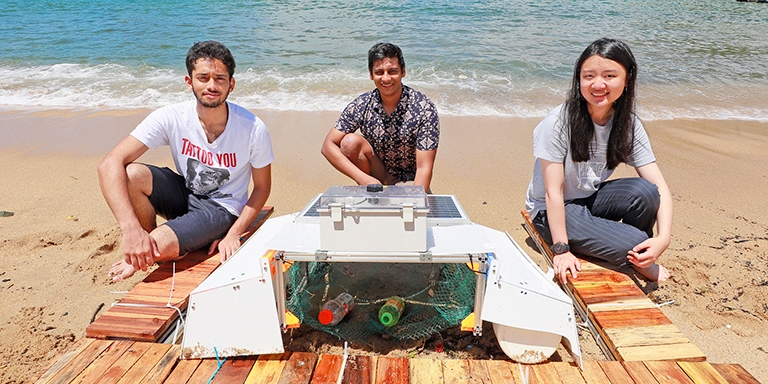 https://hkmb.hktdc.com/en/1X0AKPGH
Self-driven scoops scour waters
A Hong Kong start-up is creating autonomous plastic gathering robot swarms which could clean up the world's waterways.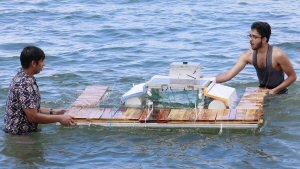 Plastic pollution in oceans, rivers, harbours and lakes has become a hot-button issue around the world, including in Hong Kong where most people live and work near waterways and see the problem every day.

A group from the University of Hong Kong, clearly following the philosophy that a problem is the starting point for a solution, decided to clean waterways in Asia. To meet their needs, Hong Kong start-up Clearbot is creating swarms of robots that can autonomously clean up waterways.

Clearbot was one of the winners in the pitching competition of the 2020 Start-up Express, the Hong Kong Trade Development Council's (HKTDC) leading entrepreneurship development programme. The winners are arranged to participate in a series of activities that help them build connections, explore markets, seek partners and enhance brand awareness.

Sidhant Gupta, Clearbot's Founder (centre, main picture), said the award made in June 2020 brought rewards for the start-up. "We have been able to network with brilliant minds, form media-connections and have been given the opportunity to join various networking events. Our team is grateful for this platform to learn and grow."
Intelligent swarm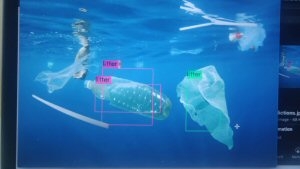 The start-up is named after its product. "Clearbot is an AI-[artificial intelligence] driven swarm robotics system," Mr Gupta explained. The system comprises floating trash baskets with cameras, solar-powered motors, on-board computers and a networking system linking them together.

"Putting it simply, they use the camera on-board to scan the trash in the water, and drive to collect it autonomously. In addition, a group of them can work collectively to plan cleaning and collection for an area in a water body.

"Clearbot actively scans the trash it is collecting and keeps a lot of the trash collected. This data is made available to the user, which makes sorting much easier. Once it has finished the collection of trash, it returns back to its dock, which doubles as a charging station for the trash to be unloaded before it can get back to work."

A swarming approach offered several advantages, Mr Gupta said. "Swarming allows our product to behave in a more robust manner, adapting easily to the different shapes of water bodies. From an environmental conservation standpoint, if one robot stops working, our system will continue to perform its cleaning function. Swarming behaviour therefore allows Clearbot to survive potential environmental problems."
Modular approach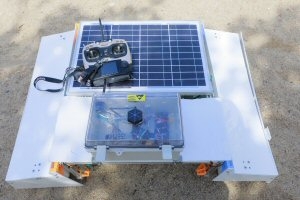 Travel restrictions brought by the COVID-19 outbreak had posed challenges for a hardware start-up such as Clearbot, Mr Gupta said. The team had planned to be running pilot trials in Surabaya (in eastern Java, Indonesia) at present, having previously conducted such exercises in Bali, but the pandemic put that on hold. In exposing the fragility of supply chain networks, the outbreak did underscore the importance of a modular approach to production for the firm. "We're still able to ship components to local partners. We plan to expand production via online orientation and tutorial videos that will allow partners to assemble our product by themselves," he said.

Clearbot aims to cut the price of the units to less than US$1,000 but is also working to ensure reliability. "One of our major aims is to drive down unit costs to ensure our product is affordable for all parties," Mr Gupta said. "On the other hand, we are primarily looking to ensure our product is reliable, and works at scale under different environments. This would include rivers, lakes, shorelines and the ocean."

He said Clearbot would initially focus on Hong Kong and its near-abroad. "We are currently focusing on harbours, marinas, public-sector contractors as well as corporate-backed community projects. We are concentrating on both Hong Kong and Southeast Asia."

Clearbot machines are still in the development phase, although the firm is ready to provide pilot units and hopes to launch on a commercial scale soon.

The project began with the concept of cleaning up waterways, which brought together a team of like-minded developers. "After working with 14 to 15 different people that were passionate about our project, we were able to find a team fit," Mr Gupta said.

Clearbot has enjoyed support from several programmes in addition to Start-up Express. "We joined the [University of Hong Kong Engineering Faculty's] Tam Wing Fan Innovation Wing incubation project in May of 2019 for a four-month period until we won the Global Grand Challenges Summit in London Competition in September," he said.

Clearbot is is featured in Hong Kong Means Business' "Voice of Start-ups" series, showcasing the city's vibrant entrepreneur scene. It also participated in a technology promotion campaign organised by the HKTDC in collaboration with the Hong Kong Special Administrative Region Government in the middle of 2020. The three-month campaign promoted Hong Kong companies in healthtech, medtech, e-learning, e-business and smart-city technology, showcasing their products or solutions to overseas markets.
Related link
Clearbot