https://hkmb.hktdc.com/en/1X0AKO2Y
Tech-focused Russian pizza maker tucks in China pie
Durian is on the menu as a digital-only Russian fast-food chain caters to local tastes to make its mark in Hangzhou, dubbed "China's hub for digital economy".
When the first Dodo Pizza shop opened in 2011, founder Fyodor Ovchinnikov, an archaeologist by training, was rebounding from his previous business – a bookstore chain that grew from an initial, single bookshop.  

The bookshop chain fared well but the 2008 global financial crisis precipitated events that led Mr Ovchinnikov to sell his full stake to a competitor for a tiny sum. 

"Back then, I was a failed entrepreneur," he said. "I had to sell my shares in my existing business for basically nothing – but I gained a lot of experience and had the drive to move forward."

With this drive, Mr Ovchinnikov raised US$15,000 in funds to set up the first-ever Dodo Pizza in his hometown – Syktyvkar, a frosty northern town in Russia's Komi Republic, 1,000 kilometres northeast of Moscow, with a population of 235,000.

Less than a decade later, Dodo Pizza operates 611 shops (including both company-owned and franchise outlets) in 13 countries. The expansion is continuing – and Mr Ovchinnikov's new aspiration is to win the loyalty of Chinese consumers. 
Tech-first pizzeria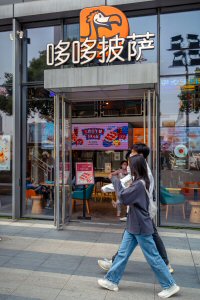 The Dodo Pizza vision is first and foremost technology-centric – "half food and half tech", as the company describes it.

The technology foundation is the pizzeria's in-house operating software, known as Dodo IS – a cloud-based enterprise planning system.

Rather than purchasing a third-party, ready-made solution, the company opted to spend eight years utilising internal developers and "millions of dollars" to create its own platform.

 "You can't outsource the core of your business. We don't regret any dollar invested," Dodo Pizza wrote on its frequently updated blog. 

Dodo IS fundamentally integrated with every aspect of the business – its websites, mobile apps and contact centres are all powered by the platform. Real-time data is fed to all layers of management – whether a general manager at the shop or an executive at the corporate office.

The platform also provides tech tools for sales analytics and kitchen workflow management. For instance, order tracking is at the core of Dodo's built technology for its pizzerias. Each order pops up instantly via each kitchen's iPads – customers can then track orders while shift managers can view the prep-to-delivery time and kitchen workload.

 "Only tech-driven chains will survive. Every QSR (quick-service restaurant) chain that [hopes] to stay in business in the long run will have to turn itself into a software company eventually," Mr Ovchinnikov emphasised.
Chinese Dream, Chinese Tastes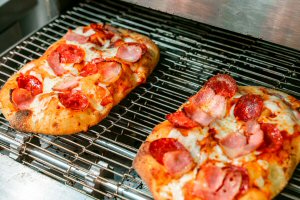 And it is this belief in a tech-driven pizzeria that has galvanised Dodo Pizza to expand into global markets. Mainland China is a key part of this international expansion – the Middle kingdom is Dodo's top-priority growth market, along with the United Kingdom.

"I'm the CEO of global Dodo Pizza, but our China [business] is my pet project and personal responsibility," Mr Ovchinnikov recently wrote on LinkedIn.

In May 2019, Dodo Pizza launched its first company-owned, flagship pizzeria in Hangzhou, capital of eastern China's Zhejiang province and a technology-focused city dubbed "China's hub for digital economy". A few months later, it opened an express pizzeria in the same city – a 20-square-metre (215 square feet) shop that cost just US$16,000 to set up. 

Dodo's mainland venture, however, began a few years earlier. Together with partners, it opened shop in Hangzhou and Yantai, a port city in eastern China's Shandong province, in 2016. The company, never shy about successes –or failures – noted that the first Hangzhou shop was ultimately shut because of profitability issues.

"It was a brave venture," said Max Kotin, "Chief Storyteller" at Dodo Pizza. "Back then, we could allocate only limited resources to our China project." But the experience highlighted the critical challenges they needed to solve.

Dodo Pizza relaunched its mainland strategy in 2019. The focus is on creating a strong, local brand following in Hangzhou – and to open 15 to 20 shops in the city throughout 2021.

Hangzhou is a modern, "new tier-1 city" that offers a plethora of choice when it comes to quick meals. Competition ranges from international brands Kentucky Fried Chicken and Pizza Hut to domestic brands Magelita Pizza and Le Cesar.

Even Pizza Hut in the mainland underwent a costly makeover in 2018 in the face of keen competition and slumping sales, Reuters reported.

Similarly, Dodo Pizza had to invest – to innovate and to better understand mainland consumers. Company research and customer surveys found that mainland consumers did not view pizza as a "real meal".
Durian on menu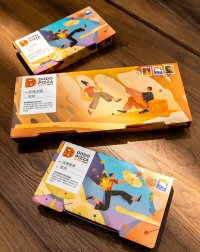 This brought a menu upgrade, showcasing Dodo's pizzas as trendy snacks and dessert offerings for their target demographic of office workers and families with children. Dodo's durian pizza – offered only in mainland shops -- has become the firm's most popular item in this market. Dessert pizzas garnished with blue cotton candy are also on the menu.

Consumer sentiments emphasised to Dodo that "Chinese tastes" mattered – this meant light dough, rich tastes, more fruit and less cheese. A made-in-China Dodo pizza could be topped with Peking duck and tangerines, or durian and pineapple.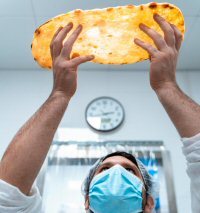 Price, speed and food safety also ranked high on consumers' lists. This meant an opportunity for Dodo's signature technology to be integrated and showcased in its mainland shops and strategy – and also a platform for new tech to be tested.

Adapting to cashless norms in the mainland, Dodo Pizza shops within the market operate via cashless payment – without cashiers or checkouts. Orders and payments are made via a mini-app within WeChat, downloadable by QR code, while plans are ahead to launch payments on Alipay, Android and iOS. In Dodo's mainland shops, pizza orders are always ready within five minutes, meaning quick service and maximum efficiency, according to the company.
Ambitions ahead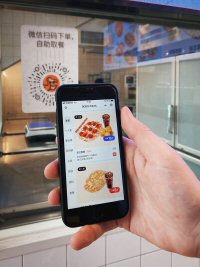 It is evident that the world will have to adapt to a "new normal". The COVID-19 pandemic brought disruptions but Dodo Pizza said its long-term strategy remained the same – building scale through technology and global ambitions, of which the mainland is an integral element. The global goal is to open 2,000 pizza shops within five to seven years.

Dodo Pizza recently closed a mainland financing round on "better and differently structured terms, compared with what we announced in our [official] pitch deck", Mr Kotin noted.

Globally, an initial public offering is in the works, which Dodo hopes to consider by 2022 – but pandemic disruptions have shifted this timeline to between three and five years down the line. Dodo previously announced a US$500 million revenue target by 2021 but this goal may or may not be met "[depending] on how fast the economy will be restored", Mr Kotin said.

Hiring and shop openings have been temporarily halted but new concepts are under development. Future plans include doner kebab shops and "digital cafes" where customers can also find friends within an app; and exploration in computer vision and artificial intelligence.

 "The consumption model will change. It will become much more digital. And while with our current expenses, we will be as efficient [as possible], investments in new concepts won't [stop] – they are our opportunities for future growth." Mr Ovchinnikov noted.

For now, Dodo Pizza will "look to the future with cautious optimism" and remain focused on technology, retail business and franchising.
Related link
Dodo Pizza
Hong Kong
Mainland China