https://hkmb.hktdc.com/en/1X0AKL81
Artworks go under digital gavel
Restrictions on travel, physical browsing and assembling in sales halls lead auctioneers to the digital model.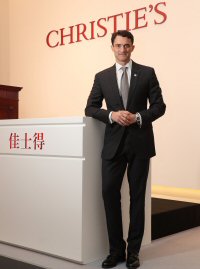 With live auctions cancelled since January and no offline events scheduled until July, Christie's Asia-Pacific has needed to be creative in its approach to keeping buyers and sellers interested. And while social distancing measures have been relaxed lately, the auction house is still seeing strong interest in buying and selling online, with the number of Asian online sales predicted to double over the next few months.

The pandemic may have put the brakes on live auctions but the market has remained resilient, said Christie's Asia-Pacific President Francis Belin, adding that the auction house has weathered challenging conditions in the past, such as global trade wars and the 2008 global financial crisis. "Buyers remain active in pursuit of top-quality works that are rare on the market. Serious collectors are long-term focused and not immediately reactive to market turbulence," he noted. The strong performance of its recent online-only sales show buying appetites are still robust, he said.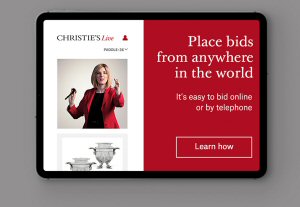 The latest online sale statistics show how much interest there has been in Christie's online sales. An online auction held this April, Pavilion Online: Chinese Art, drew 45% more registrations than the same event last year. Sales were 86% by lot and 169% by value. The HK$7.67 million (US$983,494) in total sales was the best performance for any Pavilion Online sale, with 47% of lots selling above their high estimate. Of the new buyers, 80% hailed from the Asia-Pacific region, Mr Belin said.

Last month's Contemporary Art Asia online auction fared similarly well, with registrations up 92% from last year, and sales up 99% by lot and 211% by value.

"With total sales of US$783,000 – double the overall sale estimate – 64% of lots sold above their high estimate and 42% of new buyers transacted in the sale," said Mr Belin.

The Jewels Online sale in April, curated by the New York jewellery team, recorded a 99% rise in registrations from last year while sales for 2020 were up 82.4% at HK$10.94 million compared with HK$5.99 million in 2019. The percentage of lots sold above the high estimate (47%) was 15 percentage points up from 32% in 2019. The number of buyers in 2020 also rose 15%, from 80 to 92 bidders, Mr Belin said.
Online offerings triple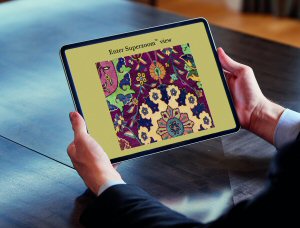 Christie's will open a new batch of online-only sales for bidding on a weekly basis, with each timed auction ranging from 14 to 21 days. The number of sales planned for the second quarter will continue to grow. "As an early investor in online capabilities, Christie's existing digital infrastructure has enabled our team to swiftly expand our online sales. We tripled online offerings for April and May to 27 sales worldwide, with more to be announced soon," he said.

The auctioneer has accelerated its long-term strategy to connect digitally with global audiences. Several enhancements let clients shift seamlessly from live to digital. "Christie's clients are very receptive to bidding and interacting with the auctioneer remotely. More than 70% of our global clients are utilising our bespoke online features to inform buying decisions," he said.

Refined WeChat functions offering e-catalogues, condition reports, editorial content, live auction access and object estimates have additionally cemented the auctioneer's online presence, as have interactive virtual tours of pre-sale exhibitions and viewing rooms.

"Viewing rooms are like a dynamic visual presentation of top lots, enabling clients to examine objects like they would in the salesroom from the comfort of their home."
Going live again
Looking ahead in the short to medium term, client events and viewings will probably be by appointment, on a smaller scale or fully digitalised where possible, Mr Belin said.

Meanwhile, a digital strategy will remain core to the business. "Christie's online platforms continue to be the largest recruiter of new clients, with Asia currently the fastest growing region. We will continue to innovate our online sale offerings, and provide greater fluidity between collecting categories. It is also likely that the average lot value will increase as collectors gain confidence in purchasing online," said Mr Belin.

The rescheduled Hong Kong spring auctions, which will kick off on 8 July with a sale of Fine Chinese Classical Paintings and Calligraphy, will jumpstart the live auction calendar and set the stage for the Hong Kong Autumn Sale later in the year, Mr Belin said. A new thematic collaboration between Christie's and [Mainland Chinese auction house] China Guardian in Shanghai in September will be another defining moment for the Asian art market.

Mr Belin believes the COVID-19 outbreak has led to a greater understanding by collectors of art and the objects they are interested in, as they have had more time to research the pieces. "Our digital platform has brought us closer to our global clients over this period, and website traffic has been up substantially."

To further engage clients, Christie's has increased its bespoke online editorial content. Christie's Education Asia Pacific, for example, has launched Weekly Virtuals, a series of online programmes led by global specialists and renowned art historians. Websites such as Building Collections: Arts of China, meanwhile, take viewers on an immersive journey though dynastic Chinese art.
Related links
Christie's
Christie's Education Asia