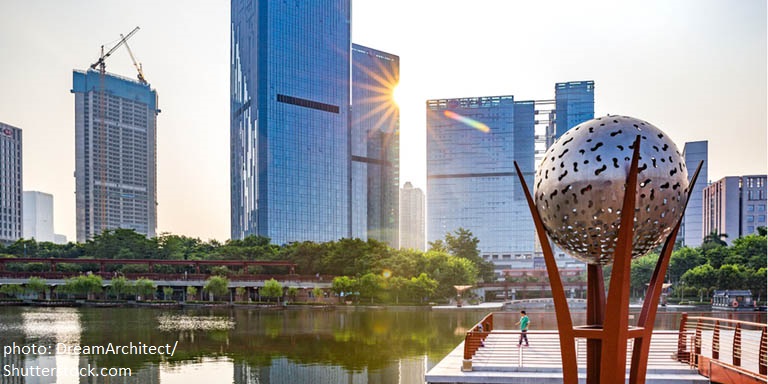 https://hkmb.hktdc.com/en/1X0AKGF9
Tourists trip to tinseltown in Foshan
Film comes to the fore in Foshan as the Guangdong-Hong Kong-Macao Greater Bay Area Development Plan supports greater integration of tourism and cultural innovation industries.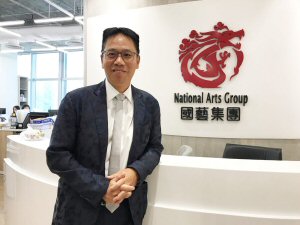 Seeking high-end service cooperation with other cities in the Guangdong-Hong Kong-Macao Greater Bay Area, Foshan aims to become the "Hollywood of Guangdong". The city's incentives have drawn Hong Kong's film and TV firms north to develop tourism products and explore business opportunities.

Foshan, covering 3,798 square kilometres, is located in the south-central part of Guangdong, in the Pearl River Delta and about two hours away from Hong Kong. The Mainland Chinese government has long seen strong development potential in the city. Last year Foshan's gross domestic product (GDP) was about Rmb993.6 billion (US$140 billion), Foshan lies behind just Shenzhen and Guangzhou on a per capita GDP basis, with the average resident accounting for Rmb128,000 (US$18,100).

Foshan has a population of more than 7.9 million and services account for 42% of GDP. In 2018, the city welcomed 54.24 million visitors.
The city is known for its Foshan Xiqiao Mountain National Arts Film and Television City, a film studio built by Hong Kong's National Arts Entertainment and Culture Group Ltd. Running also travel and hotel businesses in Foshan, the company arranges for tourists to visit the film studio and attend a series of experiential features and entertainment productions.

Company Chairman Checkley Sin believes the 2015 opening of the film city befitted the positioning of Foshan as a film and TV cultural tourism centre. "Foshan is regarded as a capital for southern kung fu. It is also steeped in the culture of lion dancing and Cantonese opera," explained Mr Sin, who is also a financier, film producer and martial art practitioner whose teacher was a student of late wing chun master Ip Man.

"I was also optimistic about the development of the mainland's film and TV industry in the next 20 years. Because the mainland economy was developing, people liked to watch films, and the market potential was huge. That's why we built the film city in Foshan," Mr Sin said.
Tax concessions draw film-makers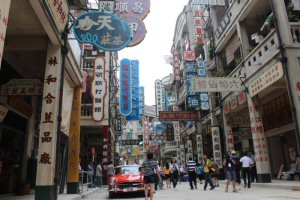 Mr Sin also said a number of large-scale live-action shooting venues have been built in the complex. Themes include ancient palaces and historic gateways, as well as characteristic streets. There are also permanent scenery sets that use Hong Kong streets and Kowloon Walled City as design models; these prove popular with visitors. Leading film and TV drama producers have used these sets for shooting.

The Foshan Municipal Government and Guangdong Provincial Party Committee have since 2018 allocated Rmb5 billion yuan (US$706 million) to promote a programme that directly funds some film projects.

Mr Sin said that among the film companies registered in Foshan, 40% were filming locally and could receive cash subsidies from the Foshan Municipal Government.

"The government also implements tax exemption policies and incentives, such as script and box-office awards. This is good for the industry. I am lobbying for optimisation of policies and simplification of application procedures and thresholds. The relevant authorities are studying the feasibility of these."

Film and TV and tourism development are linked at the hip. The widespread reach of cinema and TV meant shooting venues become famous overnight, attracting tourists, Mr Sin said. He hopes mainland authorities will further relax restrictions on Hong Kong-produced films on the mainland, and make good use of the international vision of Hong Kong film and TV companies to lead the sustainable development of the film and TV, culture and tourism industries of the two places.

He hopes Hong Kong film companies can be granted national treatment, so that 100% Hong Kong films approved by Guangdong Province or Beijing can be automatically released in the 70 million-strong Greater Bay AreaWith film production, Mr Sin hopes the State Administration of Press, Publication, Radio, Film and Television will send a special team to the Greater Bay Area to approve film shooting. "This will speed up the approval process, and many people in the industry agree with this approach," he said.
Consumer boom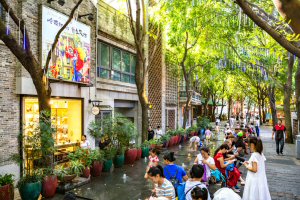 The investment-project upsurge and inbound tourists in Foshan have strongly boosted consumer revenues in Foshan, taking its consumer-spending level above that of some first-tier cities. Many Hong Kong people have opted to take their shopping dollars north in recent years, and the mainland government promotes  cooperation between Guangdong, Hong Kong and Macao in high-end services, as well as cooperation between Hong Kong and Foshan in various industries in.  The Foshan Lingnan Tiandi mixed-use development and tourist attraction, for example, was developed by Hong Kong firm Shui On Land.
Hong Kong city
Mandy Ng, the Hong Kong Trade Development Council's Regional Director, Southern China, said Hong Kong and Foshan authorities had stepped up promotion of cooperation projects in various fields since July 2018, including the construction of the "Hong Kong City" in Sanshan New Town, Nanhai, Foshan, as a way to promote Hong Kong's lifestyle products and services. Foshan is rich in traditional tourism resources, she said, and after the Guangdong-Hong Kong-Macao Greater Bay Area Development Plan was introduced, Hong Kong businesses can seize business opportunities by accelerating the integration and development of local tourism and cultural innovation industries, she said.

"Hong Kong's tourism industry can use this to collaborate with the Foshan industry to develop more tourism products or routes, especially to integrate Foshan's culture with Hong Kong's creativity. Basically, Foshan has a high standard of living, and the local people are also familiar with Hong Kong," Ms Ng said. If companies open shops themed on internet influencers locally, or try to operate new consumer entertainment and catering industries, there is a greater chance of success.

She said Foshan has a large population and is an open platform that incorporates a lot of Hong Kong culture and will accept many new cultural and creative concepts.
Preferential measures
Alex Li, CEO at data backup and recovery solutions provider BizCONLINE Limited, said that in order to improve its competitiveness in various provinces and cities, the Foshan Municipal Government has actively formulated some preferential measures and convenience policies, including a high-speed rail fare subsidy programme for Hong Kong and Macao youths. The plan proposes that qualified graduates, teachers, experts and scientific research personnel from Hong Kong and Macao, who take the high-speed train from Hong Kong West Kowloon Station to Guangzhou South Railway Station or Foshan West Railway Station, will receive a maximum subsidy of Rmb160 per person per one-way fare the maximum monthly subsidy per person is Rmb10,000.

Mr Li said Foshan has a special geographical advantage, and the rapid development of the transport network reflects the huge potential still to be released.

"From Hong Kong, you can take a boat to Foshan, and from Foshan you can also take a bus to Zhongshan and Jiangmen, so Foshan is a central point. From Foshan, you can go to Jiangmen, Zhongshan, Zhuhai and Macao to the west, and Guangzhou and Zhaoqing to the east," he said.

Mr Li said "Foshan New City" was a hot topic, with Foshan and Guangzhou integrating, linking their subway systems. He said Foshan Metro currently has only one line, and believes it will gradually develop in the next three years, bringing Foshan closer to Guangzhou.
Related link
HKTDC Belt and Road
Hong Kong
Mainland China