https://hkmb.hktdc.com/en/1X0AKG1N
Schools launch cyberspace stations
Online learning platforms proliferate as virus outbreak closes classrooms.
Hong Kong had a chance to burnish its reputation for resourcefulness when the COVID-19 outbreak abruptly shut primary and secondary schools in the city after the Lunar New Year break.

Teachers, parents and education administrators have been striving to ensure children continue to learn from home in digital classrooms.

Schools have begun using video-conferencing software and online learning platforms to continue teaching, and many companies and institutions have taken the opportunity to launch online learning platforms, learning software and applications.
Zooming in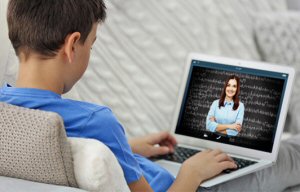 Hong Kong Special Administrative Region Secretary for Education Kevin Yeung said: "There is no sign of the epidemic going away and the date of resumption of classes is still to be determined but I am confident that everyone can achieve the goal of suspending classes without stopping schooling through a systematic e-learning programme."

Mr Yeung said advances in technology had made distance learning much easier. "With the popularisation of the Internet and cloud technology, there are many free and easy-to-use online video-conferencing programmes on the market, and the number of people who can go online at the same time can be up to 250."

School managements can apply these programmes to handle school affairs. Teachers can also use video-conference applications to conduct real-time online teaching with student groups, and interact with students through the video screen to give them immediate guidance and feedback, he said. Teachers can record live video clips for students to watch or review at any time.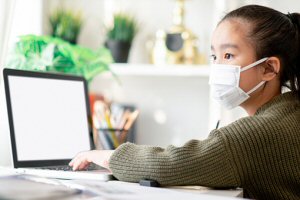 Many remote-learning software suites and applications are on the market, promoting online communication and collaboration, and can be used for distance teaching, Mr Yeung said. Uptake of video-conferencing software Zoom had increased greatly. Teachers can arrange targeted Zoom group discussions or personal consultations tailored to students' requirements.

Founder and CEO of Zoom Video Communications Eric Yuan recently pointed out that the COVID-19 outbreak had greatly increased demand for cloud video conferencing software. The overall market revenue of cloud video conferencing software is expected to reach US$43 billion by 2023.

There are privacy concerns over video-conferencing applications, however. Some authorities suggest schools and parents should pay attention to potential risks when using related software and online platforms, and should take appropriate measures to protect the personal data of students and children.
Enterprises aid learning
Microsoft Hong Kong implemented its "#FutureReady Limitless Learning" support plan to install and use proprietary collaboration tools for all schools in Hong Kong free of charge, helping teachers conduct real-time lessons. Through the Microsoft Teams collaboration platform in Office 365 Education, teachers can connect with as many as 250 people at a time. Teachers can also record lesson content and compile a video, together with other teaching materials and homework assignments and distribute these on the platform. Students can take, and re-take, lessons at any time.

Limitless Learning is part of the Partners in Learning (PiL) programme co-organised by Microsoft Hong Kong and the city's Education Bureau. Microsoft Hong Kong and the Education Bureau have cooperated in the implementation of PiL since 2004, aiming to ready teachers and students for the global digital economy.

In addition, Cherrypicks - a subsidiary of NetDragon Websoft Holdings - uses Amazon Web Services to launch a cloud-based school-based video learning platform as a remote teaching solution. It provides free uploading and playback of teaching videos and related material online during the suspension of classes. Learning services let schools and students achieve barrier-free online learning through education technology and cloud services regardless of geographic restrictions.

To support students studying at home while classes are suspended, Oxford University Press has made many online learning resources available for students and parents, so that students can continue to learn at home and keep pace with teaching. There are many learning resources uploaded on the website. In addition to English content, apps and games that integrate the latest learning trends, multimedia resources also cover the content of different subjects in preschools, primary and secondary schools.
Related links
Microsoft Hong Kong
Oxford University Press Hong Kong
Zoom Video Conferencing