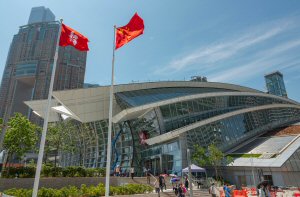 Visitors to Hong Kong in earlier times were often struck by the contrast between the towers of steel and concrete crowded in the central business districts (CBD) on the north side of the Island and Tsim Sha Tsui Peninsula, and the vast area of empty and flat land in East Kowloon, created by the 1998 closure of the former airport at Kai Tak.The airport site has been a flurry of construction and development activity for a quarter of a century and it is fast shaping up to become part of CBD2.0 – as a result of deliberate government policy.
Commercial revival
Adjacent to the site is Kowloon Bay. Its proximity to the airport and, earlier, cargo trade in Victoria Harbour led to the area hosting a cluster of logistics firms, while its neighbour Kwun Tong (main picture) was for many years a thriving industrial area. However, the last aircraft took off from Kai Tak in the 20th Century. Cargo ships weighed anchor from Victoria Harbour decades earlier, while the business of the Kwun Tong factories long ago moved north to Mainland China's Guangdong province and further inland.The area's proximity to the existing CBD, a wealth of transport links (with more being added regularly) made this zone the obvious choice for the next business core.The government said its Energising Kowloon East initiative aims to transform the 488-hectare site comprising the Kai Tak Development Area and Kwun Tong and Kowloon Bay Business Areas.CBD2.0 at present has more than 2.8 million square metres of commercial/office floor area, with potential to further supply 4.2 million square metres.Kai Tak Sports Park, covering 28 hectares, is scheduled for completion in 2023. The Sports Park includes a world-class, 50,000-seat main stadium with a retractable roof, a 10,000-seat indoor sports centre, 5,000 seat outdoor public sports ground, landscaped open space as well as retail as well as food and beverage facilities.East Kowloon Cultural Centre, covering 2.16 hectares, will comprise five facilities of various sizes for music, drama and dance performances. It will incorporate advanced technology including all-round computerised stage facilities and execution system to provide artists, arts groups and arts enterprises with more room for development, while nurturing audiences and enhancing opportunities for arts inclusiveness. Construction is targeted for completion in 2020. Creating CBD2.0 is just one government initiative as Hong Kong grows into its new roles as an innovation and technology hub, the world-facing node in the Guangdong-Hong Kong-Macao Greater Bay Area development and the bridgehead of the Belt and Road Initiative.
Cultural, transport core
Culture is also the focus at the massive West Kowloon Cultural District (WKCD) development in the tourist hub of Tsim Sha Tsui – already a favourite site for visitors with its waterfront promenades, cross-harbour views, glittering array of shops and home to West Kowloon Station, terminus of the Hong Kong Section of the Guangzhou-Shenzhen-Hong Kong Express Rail Link (XRL). The station, which opened in September 2018, connects Hong Kong to the 30,000 kilometre national high-speed rail network. As well as speeding up trips from Hong Kong to many destinations in Mainland China, the XRL shortens traveling time to Guangzhou to just 46 minutes.WKCD is one of the world's largest cultural infrastructure projects. Blending traditional local culture with international and contemporary elements, WKCD showcases the unique identity of Hong Kong as a metropolis where East meets West and establishes Hong Kong as one of the most vibrant arts and cultural hubs in the world.Spanning 40 hectares along the shore of Victoria Harbour, WKCD offers world-class integrated arts and cultural facilities.These include the Xiqu Centre, a landmark offering a platform for the production, education, preservation and promotion of Cantonese opera and other forms of Chinese traditional theatre. WKCD also hosts Freespace – a creative venue for multiple forms of contemporary performing arts, where artists and audiences can exchange and explore new ideas.Supplying green space in the city core, Art Park is a quality open green space and a vibrant venue for open-air performances and other cultural programmes. The succinctly named M+ is WKCD's museum of modern and contemporary visual culture, exhibiting visual art, design and architecture, moving image, and Hong Kong visual culture of the 20th and 21st centuries (expected to open next year).With tradition and history as its themes, the Hong Kong Palace Museum displays invaluable artefacts from the Palace Museum based in Beijing that represent 5,000 years of historical Chinese art from the imperial courts. The facility is expected to open in 2022.Focusing on the art of movement, the Lyric Theatre Complex is a centre of excellence showcasing the best of Hong Kong and international dance and theatre productions and is expected to open in 2024.The exhibition sector is not excluded; ACE (Art, Commerce and Exhibitions) is a joint-development project forming an Exhibition Hub. It will include an exhibition centre (4.7 hectares), a hotel and offices (8.1 hectares) together with embedded retail-dining-entertainment facilities (nearly 7 hectares). The exhibition centre will be designed for multi-purpose functions and will include a main hall for various types of performances with a seating capacity of about 10,000. It is estimated that the tender will be awarded in the third quarter of this year 2020 for targeted completion in 2025.
Related links
Kai Tak Development
West Kowloon Cultural District