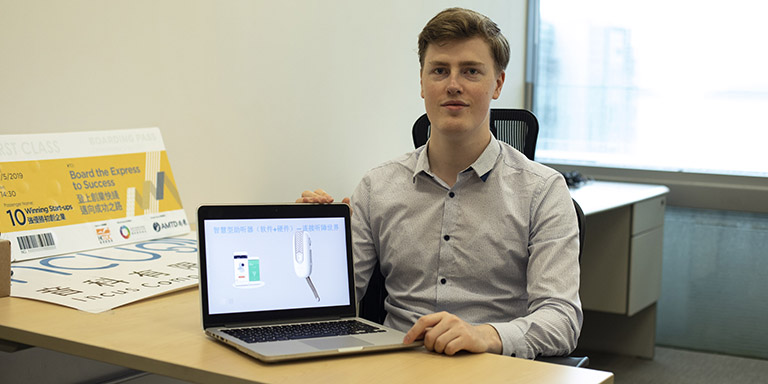 https://hkmb.hktdc.com/en/1X0AK0U6
Hearing aid zooms in on voices
An innovative smartphone-linked device can screen out background noise and focus on desired speakers.
Limited hearing is a common problem among elderly people but many of them do not want hearing aids, or decline to use the devices they have.

Sigurd Anders Berg, Product Manager at Incus, a Hong Kong-based audio-signal processing company, said the firm spoke to more than 500 elderly people about their concerns with hearing aids. The survey responses revealed three issues which resulted in a slow take-up of hearing aids. The first is cost. Clinical hearing aids in the United States cost the equivalent of HK$10,000 [US$1,283] to HK$20,000 per ear, Mr Berg said.
Noisy halls
Another factor is background noise. Current hearing aids amplify sounds reaching the wearer. In a crowded environment such as a restaurant or bus, this means hearing-aid wearers are bombarded by noise and unable to distinguish what the people they are trying to listen to are saying, explained Mr Berg.

Finally, many people who need hearing aids are reluctant to use them because there is a perceived stigma around wearing the devices.

Incus is taking an innovative approach to eliminating these three problems, said Mr Berg.
Solutions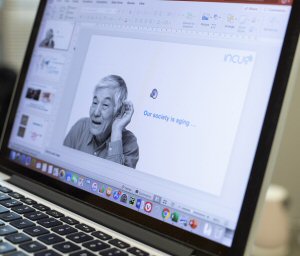 The company would initially concentrate on devices for those with moderate hearing loss, which is common among older people.

When Incus puts its products on the market, it will price the system at about US$599 per wearer, a steep discount to current devices.

To remove the stigma, the device is put in plain sight but does not resemble a clinical hearing aid. In one option, the wearer has the device on a necklace, and it resembles a medallion. Another resembles regular headphones.

Mr Berg said the key technological innovation in the Incus system lay in its ability to screen out background noise, boost specific voices and tailor the device to each wearer's hearing profile.

The Incus device mimics humans' natural ability to distinguish sounds they are interested in and screen out background noise – a faculty that is lost to most hearing-aid wearers.

The system's algorithm can distinguish human voices from background noise such as that from engines or clattering tableware. This brings forward the voices the wearer is trying to listen to while noises recede. The system can also distinguish between different human voices. "If the wearer is in a conversation with three different people - A, B and C – then the system can identify and focus on any one of these three voices," Mr Berg said. The headset can detect which speaker a wearer is looking at, and turn up that voice. Users can switch between an environment mode – picking up all sounds around them as they might want to do in a quiet environment – and a focus mode when they zoom in on particular voices.

Mr Berg described this intelligent source-separation as the key feature of Incus's technology.
Tailor-made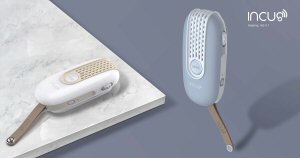 Another unique feature is matching the device to a wearer's hearing profile.

"After they obtain the device, wearers go through a brief hearing test," Mr Berg said. This test reveals the lowest volume at which the wearer can hear sound at each frequency. The wearer can see a graphical representation of their profile on their smartphone. A Bluetooth signal sends the profile to the device, which uses the profile to adjust the volume of each frequency sent into the wearer's headphones. This tones down frequencies the wearer is sensitive to, reducing noise, and boosts frequencies they find hard to perceive, boosting such voices.

The hearing test and hearing-aid app are both on the smartphone (both iOS and Android platforms) and embedded in the hearing-aid device itself.

In addition to picking up sound in the wearer's environment, the device can also stream audio directly from the smartphone, enabling the wearer to hear phone calls or YouTube recordings.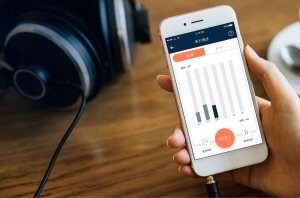 Mr Berg acknowledged concerns that many elderly people find smartphone apps hard to work with, but said family members would be able to help and run simple tests for them as the company's research showed it is usually family members who buy hearing aids for the wearers.

A distribution partner Incus is working with in Mainland China operates through organisations helping the elderly, and their staff can help the wearers set up their systems, he said. Another advantage of working with elderly-care organisations is that it is easy for Incus to gather large numbers of customers, arrange trials and collect feedback.
Innovators
Incus was co-founded by Professor Richard So, Associate Dean of Engineering at the Hong Kong University of Science and Technology (HKUST), and his postgraduate student Calvin Zhang who is now CEO. Incus is a Hong Kong Science Park incubatee.

Having obtained patents for related technologies, Prof So and Mr Zhang established Incus in 2016 to further commercialise the research results, and later launched a mobile phone application to test hearing for potential users and tailor sound based on the results. The intelligent audio separation technology is not only suitable for hearing aids. Other potential applications include voice noise reduction, speech recognition, communication equipment, smart homes and smart vehicle systems.

Incus has won many plaudits for its sound-separation technology. Last year it was one of 10 winners in a pitching competition run as part of the Start-up Express programme, organised by the Hong Kong Trade Development Council (HKTDC) and Our Hong Kong Foundation. The programme gave the start-up a chance to participate in more trade shows - bringing exposure to international markets and investors - and to participate in workshops and network with successful people.

Incus will launch its first product on the market at the HKTDC Hong Kong Electronics Fair (Spring Edition), which is scheduled to be held at the Hong Kong Convention and Exhibition Centre from 25 to 28 July. The firm will launch in the mainland after completing its Hong Kong release.

Mr Berg said the Hong Kong market was small in terms of numbers but many interested parties were already reaching out to them. The mainland market was much bigger and he expected sales could be as high as 100,000 units within two or three years as they were working through elderly-care organisations.
Related links
HKTDC Hong Kong Electronics Fair (Spring Edition)
Incus
Start-up Express
Electronics & Electrical Appliances
Health & Beauty