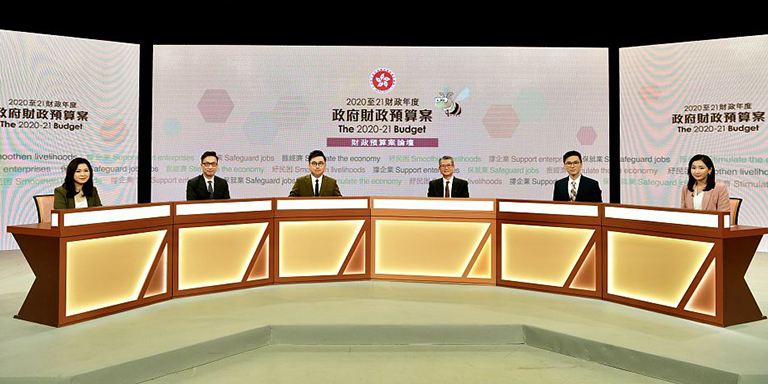 https://hkmb.hktdc.com/en/1X0AK0R9
Makeover budget
A run of challenges is fast-tracking Hong Kong's transformation into an innovation hub integrated with Mainland China.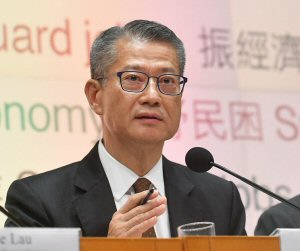 Faced with a rapidly changing world, outward-facing Hong Kong has been re-inventing itself for several years, boosting innovation and technology and deepening its integration with Mainland China.

The pace of change in a fast-evolving globe, and Hong Kong itself, are increasing as issues such as the Sino-United States trade dispute and COVID-19 outbreak pose strong challenges to the city. In its budget for 2020-21, the government has thrown its weight behind a raft of measures to boost the economy and fast-track the switch to an innovative high-technology economy.

Hong Kong Special Administrative Region Financial Secretary Paul Chan on 26 February presented an expansionary budget, [https://hkmb.hktdc.com/en/1X0AK1FI/venture-hong-kong/Trade-takes-centre-stage] lining up spending of more than HK$120 billion (US$15.4 billion) to meet the challenges. He fielded questions on the budget at a radio panel discussion in the same afternoon (main picture).

Listing focus areas, Mr Chan said: "Financial services, tourism, trading and logistics, business and professional services are the pillars of Hong Kong's economy. Apart from strengthening the industries with competitive edges, I see the need to identify new growth engines by actively developing emerging industries. This will not only broaden the foundation of our economy, but also provide diversified and quality employment opportunities for young people to unleash their potential."
Greater Bay Area
The Guangdong-Hong Kong-Macao Greater Bay Area, with a population of more than 70 million and GDP of US$1.6 trillion, presents an enormous market and ample room for development for Hong Kong, Mr Chan said.

"Under the Outline Development Plan for the Greater Bay Area, Hong Kong is positioned in the Greater Bay Area not only as an international financial, transportation and trade centre and an international aviation hub, but also as a global offshore Renminbi (RMB) business hub and an international asset management centre and risk-management centre," Mr Chan said. "Our services industry is heading for the development of high-end and high value-added services, and making great efforts to develop innovation and technology industries as well as international legal and dispute resolution services."

Last year, the Leading Group for the Development of the Guangdong-Hong Kong-Macao Greater Bay Area announced 24 key policy measures to benefit people from all walks of life and facilitate the development of Hong Kong's professional services sector in the Greater Bay Area. 

Discussions between Hong Kong and the mainland on establishing a two-way wealth management connect scheme are proceeding well, Mr Chan said. The scheme aims to enable residents of Hong Kong and mainland cities in the Greater Bay Area to invest in wealth-management products in each other's markets. This will create more business opportunities for the financial industries of the two places, facilitate cross-boundary flow and use of RMB, and reinforce Hong Kong's position as the hub for offshore RMB business as well as the intermediary for capital flowing into and out of the mainland. 

Hong Kong continues to be the world's largest offshore RMB business hub, with the largest offshore RMB liquidity pool as well as foreign exchange and over-the-counter interest rate derivatives market, Mr Chan said. With a leading position in RMB settlement, financing and asset management, Hong Kong has been playing a bridging role by providing a premier platform for international investors to access the mainland market and allocate RMB assets. "We will continue to explore with the industry and mainland authorities on the expansion of the channels for two-way flow of cross-boundary RMB funds."
Belt and Road
Mr Chan said there had been a growing interest in greening infrastructure, debt affordability and exchange-rate risks among various parties in the Belt and Road Initiative, the collection of international infrastructure projects that is now in its seventh year. Hong Kong can provide diversified services for Belt and Road projects in the areas of infrastructure financing, green finance, RMB products and services, insurance as well as other professional services, he said.

Leveraging Hong Kong's platform function for taking forward Belt and Road projects, enterprises can set up their regional headquarters in Hong Kong to open up new markets; carry out financing, treasury and risk management activities; and make use of our insurance, legal and dispute resolution services. "Over the past few years, we have introduced an array of policy initiatives to enhance our competitiveness and attractiveness in this area," he said.
Fund flows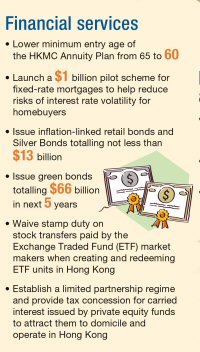 The Greater Bay Area development presented enormous opportunities for the wealth-management sector, Mr Chan said. "To attract more funds to Hong Kong, we have been making full efforts to introduce new fund structures, including the preparation of new legislation on the establishment of a limited partnership regime that meets the operational needs of funds, so as to encourage the setting up of private equity funds in Hong Kong."

Developing private-equity funds in Hong Kong would draw in capital, talent and expertise for many business entities, technology companies and start-ups and drive demand for related professional services such as management, accounting and legal services while creating business opportunities in the service industry, including conferences and exhibitions, hotels, and tourism.  To attract more private-equity funds the government planned to provide tax concession for carried interest issued by private equity funds operating in Hong Kong subject to the fulfilment of certain conditions.



Innovation leader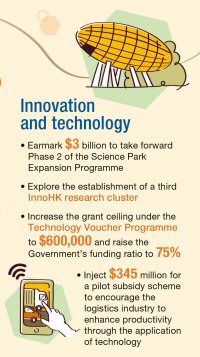 Encouraged by the rapid expansion of the innovation and technology sector into a vibrant ecosystem in response to supportive government policies, Mr Chan said promoting research and development (R&D) is a crucial part of developing innovation and technology. He provided an update on InnoHK, a major government initiative to develop Hong Kong as the hub for global research collaboration.

 "The government is developing two InnoHK research clusters at the Hong Kong Science Park, one focusing on healthcare technologies and the other on artificial intelligence and robotics technologies," Mr Chan said. "They have received overwhelming response from many world-renowned universities and research institutes. With the first batch of R&D centres expected to be set up progressively this year, we are actively exploring the establishment of a third InnoHK research cluster."

Tax deductions for R&D will continue, along with subsidies through the Innovation and Technology Fund (ITF) to foster technology transfer as well as application and commercialisation of R&D results.

"The government will extend next month the coverage of the Public Sector Trial Scheme to all technology companies conducting R&D activities in Hong Kong," Mr Chan said.
Smart production lines
The government will also inject HK$2 billion into the ITF to launch the Re-industrialisation Funding Scheme, supporting manufacturers' new smart production lines in Hong Kong on a matching basis. "We will also provide the Hong Kong Science and Technology Parks Corporation (HKSTPC) with an additional funding of HK$2 billion for converting an old factory in the Yuen Long Industrial Estate into a Microelectronics Centre to provide modern manufacturing facilities."

From April 2020 the Technology Voucher Programme promoting wider use of technological services and solutions among local enterprises will be enhanced. The government's funding ratio will increase from to three-fourths, and the funding ceiling to HK$600,000.

"The HKSTPC is exploring the feasibility of Phase 2 of the Science Park Expansion Programme," Mr Chan said. "I will earmark HK$3 billion for the programme."

Hong Kong is a highly internationalised and market-oriented city enjoying the unique advantage of "One Country, Two Systems", Mr Chan said. The city's universities have world-class R&D standards in many areas; advantages include competence in R&D, pool of talent, international experience and safeguards of intellectual property. The Greater Bay Area features a host of leading innovation and technology enterprises, capacity to commercialise R&D results and advanced manufacturing industries.

"Through mutual collaboration, Hong Kong and other cities in the Greater Bay Area can form a comprehensive production chain and bolster our overall competitiveness, benefiting the development of innovation and technology industry in Hong Kong and transforming the Greater Bay Area into an international I&T centre."

Mr Chan said the Hong Kong-Shenzhen Innovation and Technology Park in the Lok Ma Chau Loop will become a key base for cooperation in scientific research and be the largest innovation and technology platform in Hong Kong so far.

"The first phase of ground treatment works is in good progress," Mr Chan said. "We will seek funding from the LegCo (Legislative Council) for commencing the Main Works Package 1 and construction works of the first batch of buildings."
Green technology
He proposed setting up a HK$200 million Green Tech Fund to support R&D and application of decarbonisation and green technologies, and the sharing of R&D findings.

To expand green transport, the government has offered tax concessions, provided subsidies for franchised bus companies for trials of single-deck electric buses and enhanced the public electric vehicle (EV) charging network.

"The number of electric private cars in Hong Kong grew from 70 in 2010 to 13,600 last year, accounting for 2.1% of private cars," Mr Chan said. This is second only to Beijing among major Asian cities. The government will update the Clean Air Plan to, among other things, examine the policy of further promoting the use of EVs. "We will also formulate Hong Kong's first roadmap on the popularisation of EVs."

The government will launch a HK$2 billion pilot scheme for charging facilities this year to subsidise the installation of charging-enabling infrastructure in eligible car parks of private residential buildings.

"We are researching into electric public light buses that are suitable for local use and the basic specifications and requirements of the associated charging facilities," he said. "Relevant guidelines will be formulated. The government will earmark HK$80 million for a pilot scheme under which green public light buses running on fixed routes will pioneer the switch to EVs."

Electric transport is also taking to the water. "To reduce emissions from ferries, the government plans to launch a pilot scheme for electric ferries serving ferry routes in the Victoria Harbour," he said. "I have earmarked HK$350 million for this purpose. Relevant departments will work out details of the scheme."

Related link
Budget report