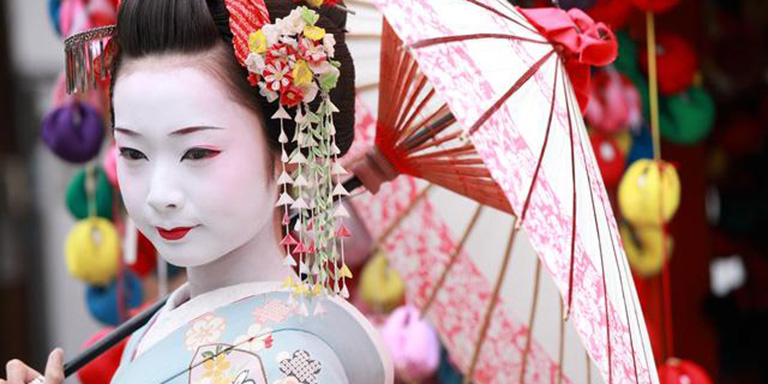 https://hkmb.hktdc.com/en/1X0AJZHM
Japan offers fashion promise
Small order runs and sportswear are two of the key issues for firms wishing to replace declining orders from the US with sales to the archipelago.
The Asia Fashion Fair, held in both Tokyo and Osaka on an annual basis, started life in 2003 as the China Fashion Fair and a showcase for Mainland Chinese companies looking for Original Equipment Manufacturer (OEM) and Original Design Manufacturer (ODM) business in Japan. When it was renamed a few years ago, this was widely seen as an attempt to broaden its focus while maintaining its heritage. At the most recent Tokyo iteration, while there were some signs that this strategy was bearing fruit, OEM / ODM-intent mainland companies still accounted for the majority of exhibitors.

The show also provided some interesting insights into a number of constants of the Japanese fashion scene, as well as several more ephemeral trends. With many of the participants having established global supply chains in order to service markets across the world, the event also highlighted how companies are evolving in order to compete in the fast-changing and currently somewhat troubled international scene.
Indeed, the international trade uncertainties sparked by United States President Donald Trump's avowedly protectionist policies certainly appeared to be having an impact on many exhibitors, most notably the vast contingent of mainland companies that filled the show hall. A prime example was Zhejiang-based Sulyfashion, a specialist in the children's and ladies' fashion sectors.
Fresh markets needed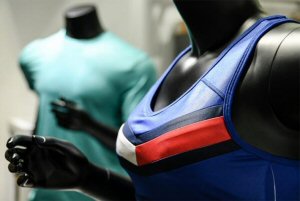 Emphasising the company's change of focus, Sales Representative Sylvia Zhou said: "In the past we did a lot of business with America, with brands like Walmart, but now we have almost no American customers.

"Now, though, the additional tariffs have made things very difficult. In fact, as many US customers have stopped using [mainland] Chinese suppliers, we have had to focus far more on other markets, notably Europe, where we supply Zara and Marks & Spencer. We are also looking to build our presence in Japan, which now accounts for about 30% of our business."

A similar story came courtesy of Cai Jinchen, Vice-President of Jiangsu-based Changzhou Sansong Apparel. Although the company had established an extensive international business network since its launch in 2001, recent global uncertainty has caused further expansion to pretty much grind to a halt. Assessing the current impasse, Mr Cai said: "In terms of the immediate future, we no longer have any big ambitions. In fact, we are merely hoping to maintain our current status."

Although Sansong has been working with Japanese companies for many years, this was its first time at a trade show in the country. While clearly not overly optimistic, Mr Cai was not totally downbeat, maintaining that trade shows could sometimes pay off in unexpected ways while hinting that trade with the US – although tough – is far from impossible. Expanding upon this, he said: "Last year, I was in France for a trade show. It proved quite positive as I found a new customer – an American leisure brand that was there in search of a new supplier."

As has been widely reported, these same tariff issues have also been encouraging companies to relocate production to countries exempt from such measures, particularly those with cheaper labour costs, with Bangladesh and Myanmar popular options. They are, however, not the only choices. Heshan Garments, for instance, a Shanghai-based leisurewear manufacturer, reported it had just opened a 1,000-worker factory in Ethiopia with a focus on producing T-shirts and polo shirts.
African manufacturing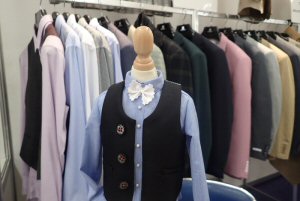 Outlining its thinking, Peng Lin, the company's Trade Development Manager, said: "While our biggest factory is in Bangladesh, where we currently have 5,000 workers, labour in Ethiopia is even cheaper. As a result, that is something we have to consider very seriously."
It was an issue that was also preoccupying another exhibitor – JOC International, a Nanjing-based clothing manufacturer. According to Department Manager Xu Juan, the company was opening a knitwear factory in Myanmar following the success of its first production facility in the country.

Explaining the appeal of the move, he said: "It's a very positive thing for us because there are many young people there who are keen to take on this kind of work. By contrast, in China, it's getting harder and harder to find suitable employees.

"Thanks to improved organisation on our part, the previous gaps in productivity have been overcome. For us, the key has been to produce the simpler, mass-market items at our new overseas factories, while our more highly skilled Chinese workers concentrate on complex garments, many of which have shorter production runs and require greater client consultation."

Indeed, according to Ms Zhou of Sulyfashion, smaller production runs are among the keys to success in the Japanese market. Drilling down into this, she said: "When it comes to Japan, we typically have production runs ranging from 100 to 6,000, while for other countries it's more likely to be 300 to 10,000. This is largely down to the fact that Japanese consumers typically don't want to wear what everyone else is wearing.

"For our part, though, we don't use many production facilities outside China, primarily because it can be difficult to control an overseas supplier and get them to produce exactly what is needed. If it's at all possible, we tend to prefer to use our Chinese workers."

Another believer in the importance of short runs and high quality as a means of finding success in Japan was Suzhou Hengrun, an OEM specialist that has been a regular at the Asia Fashion Fair for more than 10 years. Drawing on the company's long experience in the local market, Sales Representative Cherry Chong said: "Here, they definitely prefer shorter runs, with 500 to 1,000 pieces being fairly typical. On top of that, the kinds of garments that go down well here also place certain constraints on manufacturers.

"One of the items we have on show this year, for instance, is a US$110 lacy tulle dress embroidered with flowers for the Cleo brand. This kind of complex, multi-layered item could not be easily produced in a newly opened factory in, say, Myanmar or Ethiopia."
Sporting look
Such cute garments, which are also designed to flatter the figure, are always popular among many of Japan's increasingly dominant older consumers. Another popular style at the show, however, highlighted an almost diametrically opposed trend – sports-themed items.

JOC's stand, for one, was almost entirely given over to sports casual items, a reflection of its long-term association with such OEM sportswear brands as Yonex and Converse. It was also widely acknowledged that the impending arrival of the Olympic Games in Tokyo had also steered the market in this particular direction.

The popularity of sportswear was also feeding into another trend – a growing interest in specialist materials. Qingdao-based Better Tex, for one, was attending the show with a view to finding licensees for a number of its high-performance textile products.

Among the most intriguing of these is Tempsense, the fibres of which can absorb or release heat through a latent exchange method, resulting in the optimum body temperature range being maintained and making it ideal for sportswear. Another fabric, the appropriately named Green Mint, is said to boast anti-bacterial properties that guarantee a cool "minty" feel.

Clearly optimistic as to how receptive local buyers will be to these high-performance fabrics, Company Manager Carry Sun said: "The Japanese have a particular penchant for multi-function materials."

While such temperature-adaptive fabrics have obvious sporting uses, they also have applications elsewhere on the fashion front. Shandong-based Renoir Apparel, for instance, was applying them to the suits (from about US$400), jackets (US$200), trousers (US$80) and uniforms it currently produces for a wide range of brands, including Top Man, Next and Pierre Cardin.

Introducing one of the most versatile performance textiles in the company's portfolio, Sales Manager Helen Zhu said: "This particular fabric is called Thermolite. It's designed to be warmer without being thicker, meaning suits can be both warm and smart."

The autumn 2019 edition of the Asia Fashion Fair took place from 25-27 September at Tokyo's Sunshine City Alpa.

Related link
HKTDC Research

Garments, Textiles & Accessories
Hong Kong
Mainland China
Japan