https://hkmb.hktdc.com/en/1X0AJX90
Bright prospects for women
A cooperative platform for female entrepreneurs comes to Hong Kong.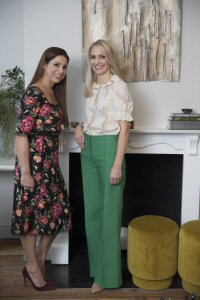 Augmenting resources for businesswomen in Hong Kong, AllBright, a women-only, United Kingdom-headquartered digital learning and networking platform, launched in the city last year (main picture).

The platform has two components: AllBright Connect, which gives all women complimentary access to a raft of online resources. The AllBright Academy offers tailored digital courses, providing the tools women need to achieve their goals and build confidence along the way.

"Think LinkedIn but for women only," explains Debbie Wosskow, a serial entrepreneur who co-founded AllBright in 2017 with Anna Jones, former CEO of Hearst. "The courses are taught largely through the experiences and insights of women who have smashed their own glass ceilings, founded their own businesses and paved their own career paths."

The venture is largely investor-funded, having raised £25 million (US$32 million) to date from institutional and angel investors.
Experience sharing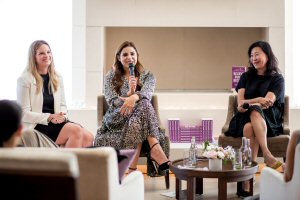 The site features videos of women talking frankly about their experiences. Working with local coaches, worksheets are created, supported by additional reading lists, to help AllBright's students apply the learnings to themselves.

Much of the content is free and "open to every woman, everywhere, regardless of her age, stage, background or experience," Ms Wosskow said. "For those students who want to take their learning a set further, we do offer a subscription service to our Alumni network which provides always-on access to more learning materials, workshops and events. There is a real sense of 'paying it forward' with the women who have contributed their time to the academy; it's a way of reaching out to women – beyond those around you – to show them what can be achieved when you put your mind to it."

For the inaugural Hong Kong course, titled For Executives, the founders captured the experiences of professional coaches Karen See and Gulnar Vaswani, as well as Barbara Yu Larsson, Co-founder PAKT and Vera Lui, Co-founder Sally Coco "who shared their experiences moving from a corporate to an entrepreneurial setting", Ms Wosskow said. "We also feature the wonderful Colleen Yu and Bonnie Chan Wu – they sit alongside our global academy 'faculty' which features other incredible women, not least Sinead Burke, Nicola Mendelsohn, Anastasia Soare, Brigette Romanek and many more."
Free agents
Allbright plans to offer additional courses For Entrepreneurs and For Freelancers as time goes on, she said.
As the AllBright community continues to expand globally – with more than 5,000 members to date - the founders said they are "hugely excited to launch into Hong Kong".

"With women accounting for 45% of Hong Kong's entrepreneurs, compared to the global average of 37%, AllBright will provide opportunities for women in Hong Kong to benefit from the digital resources and the power of the global sisterhood, helping them to achieve their personal ambitions and career success," Ms Wosskow said.

The collective is named after former United States Secretary of State, Madeleine Albright, who famously said that "there's a special place in hell for women who don't help other women".

Ms Jones said the co-founders have "watched with pride" how through the platform, women have empowered each other to strive for more, propelling them forward to achieve their ambition. "In the past two years, AllBright has galvanised a strong and dynamic community of like-minded women of every age and every stage of their career to come together, get inspired and build this global sisterhood which sets us apart," she said.

Actors Naomie Harris and Olivia Wilde, as well as entrepreneur Martha Lane-Fox and MOBO Awards founder Kanya King, are counted among the network's founding members. Previous faculty members have included Sinead Burke, educator and advocate; Thomasina Miers, founder of the Wahaca chain of Mexican street-food restaurants; and Cath Kidston, design entrepreneur, among many more.

In addition to the free online component, AllBright Clubs in London and Mayfair, UK, and in West Hollywood, US, where membership fees are charged, provide elegant spaces to host the AllBright community of like-minded women. Something similar for Hong Kong may be on the cards.

"In the long term we'd love to create a home for the AllBright community in Hong Kong in the form of a physical space," Ms Wosskow said. "Meantime, we're still exploring what women want and need in Hong Kong."
Related link
AllBright

Business Management & Consultancy