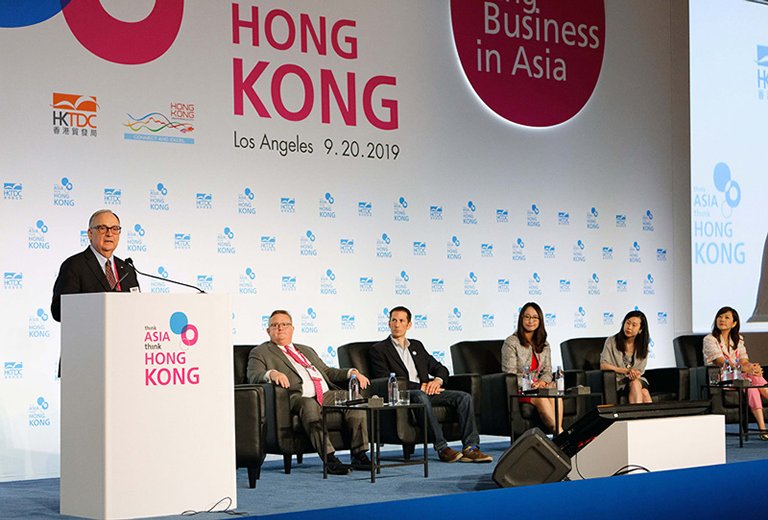 https://hkmb.hktdc.com/en/1X0AJVB4
US Companies Upbeat on the Greater Bay Area
The HKTDC TATHK Survey 2019
Think Asia, Think Hong Kong (TATHK), an international promotional event organised by the Hong Kong Trade Development Council (HKTDC), was held in Los Angeles on 20 September 2019, to showcase Hong Kong's attractive business environment and professional services in Asia for US corporates and start-ups.
With the Guangdong-Hong Kong-Macao Greater Bay Area (the Greater Bay Area or GBA) a feature of a number of mainland China's national strategies, including the Belt and Road Initiative (BRI) and the 13th Five-Year Plan, a wide array of policies have been promulgated in order to advance this particular initiative. Chief among these was the State Council's Outline Development Plan for the GBA, as released on 18 February 2019.
In line with this, a survey was carried out during the TATHK event with a view to better gauging the opinions of US companies with regard to the future development of the Greater Bay Area, the city cluster of which extends across Hong Kong, Macao and nine Pearl River Delta (PRD) urban centres, with a combined GDP of US$1.6 trillion, as well as to get an insight into Hong Kong's role in their GBA business plans. A total of 86 valid responses were collected during the event, of which more than 90% of respondents were US-domiciled companies.
The poll found that US companies expect the GBA development to have a positive business impact in the coming three years. In order to take advantage of GBA opportunities, a majority of the companies have put in place specific business plans with concrete actions such as opening new offices in the region. As these US companies are planning to make bigger and deeper inroads into the GBA, they see Hong Kong as a partner ready to provide a range of services in a timely and professional manner.
The GBA Opportunity
Most US businesses regarded the GBA as an opportunity, with over 60% of the respondents expecting the GBA to bring either positive or very positive impacts on their businesses over the coming three years, while 28% of respondents were undecided.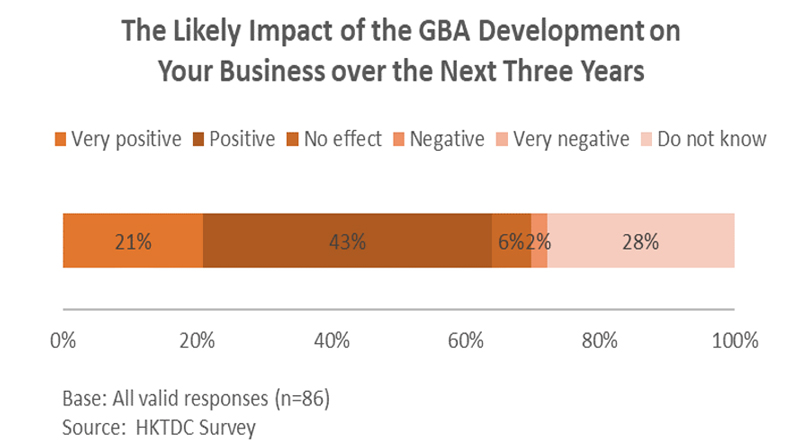 The GBA has a total population of more than 70 million, earning a per-capita GDP of more than US$23,000, in an economy boasting a combined GDP of US$1.6 trillion. The US companies expressed optimism particularly with regard to catering to the sizeable consumer community (47%) as well as providing professional services (30%) and industrial products, service and technology (19%) to the business community.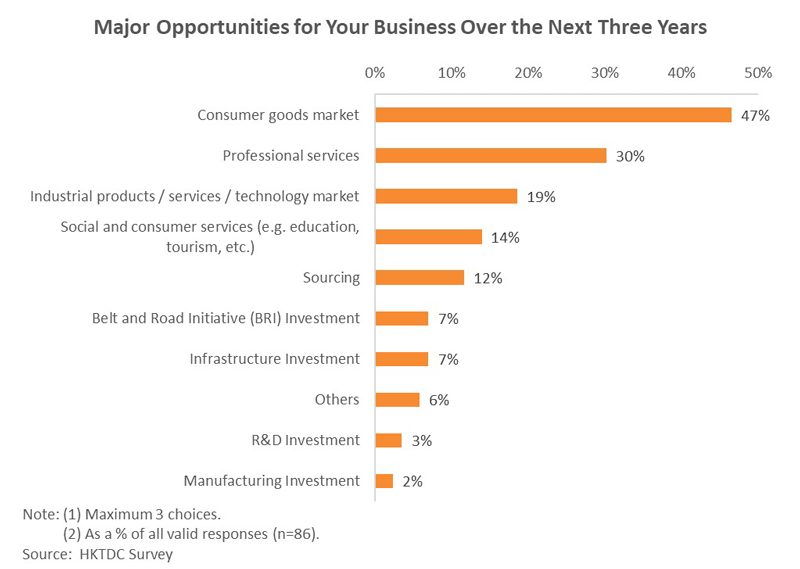 Many US businesses were eager to share a slice of the market by investing in the region over the coming three years, for example by setting up new operations (29%), expanding existing operations (16%) or adding new business functions to their existing operations (5%) in the GBA, while others were still in the process of strategy formulation.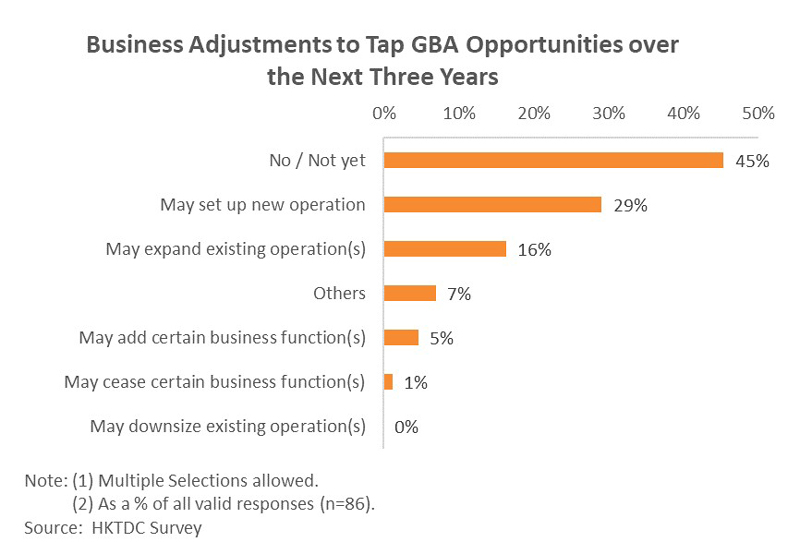 Hong Kong has traditionally been the prime destination of US businesses, and over 700 such companies have set up regional headquarters or offices in the city. They not only cater to the domestic market but also the broader Asian market, thanks to the free flow of information and excellent connectivity, together with the free flow of capital within, into and out of Hong Kong, and the deep talent pool available in the city. This was reflected in the survey, which found that more than one out of every four respondents had set up operations in Hong Kong, the most in the GBA cities, followed by Shenzhen (12%) and Guangzhou (10%).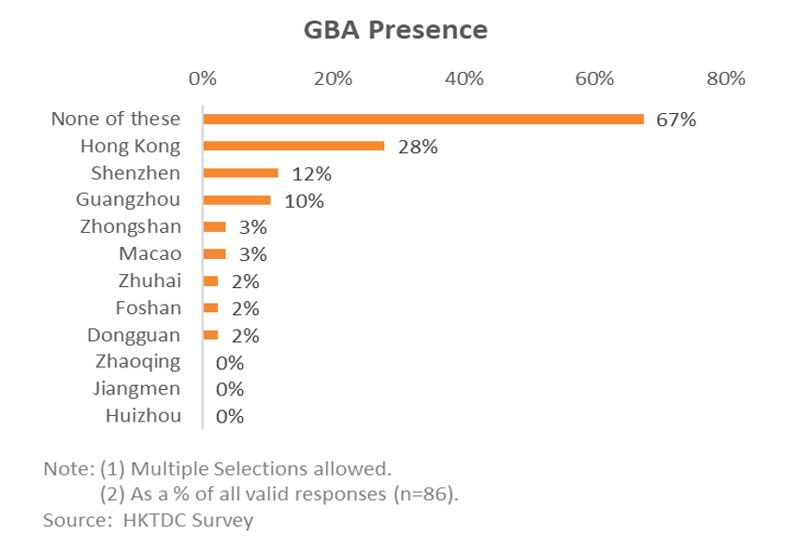 In addition to above-mentioned competitive advantages, the introduction of wide-ranging policy measures, including but not confined to service market liberalisation for Hong Kong-based legal and film and entertainment service providers in mainland China, is set to strengthen Hong Kong's position as a gateway to the GBA market. Detailed policies for different business sectors are available here.
Hong Kong Platform
In the business community, there is growing confidence among US businesses regarding the GBA market, yet they also foresee potential problems when doing business in the GBA, such as cross-border capital movement (24%), the lingering Sino-US trade dispute (22%), legal and regulatory challenges (20%), lack of policy transparency (17%), lack of funding or investment incentives (16%), and information flow and security (14%). To assess and handle the potential risks arising from these challenges in the GBA, the prospective US companies will naturally need the support of professional service providers in the GBA.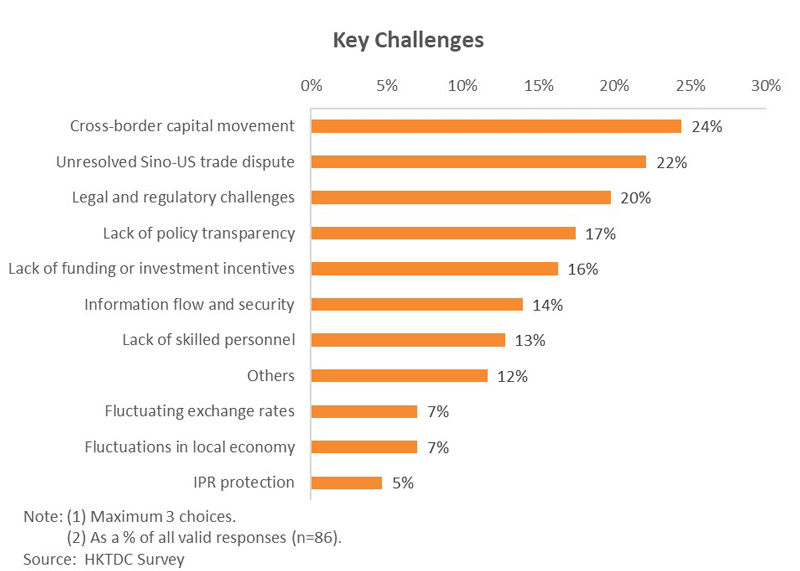 Hong Kong is well-positioned to serve as a service hub in the GBA for these US companies, thanks to the city's close business ties with the US in service trade. In 2017, for instance, the US was Hong Kong's second-largest service export destination, with transport, financial and business services as the key export categories. This goes without saying that the huge business potential in the GBA will open a new window of opportunity for providers of legal services, customs management, logistics and cyber security services, among many others.
The role of Hong Kong was very well-received by US companies. In the survey, some 70% of the respondents indicated they would consider using Hong Kong as a business platform for business expansion. For GBA opportunities, almost 80% of the respondents indicated that Hong Kong is either relevant or very relevant to their GBA plan, implying new demand for Hong Kong professional services, including design, marketing and branding services (29%), banking and finance (23%), creative and content services (20%), intellectual property (17%) and business management & consultancy services (15%), among others.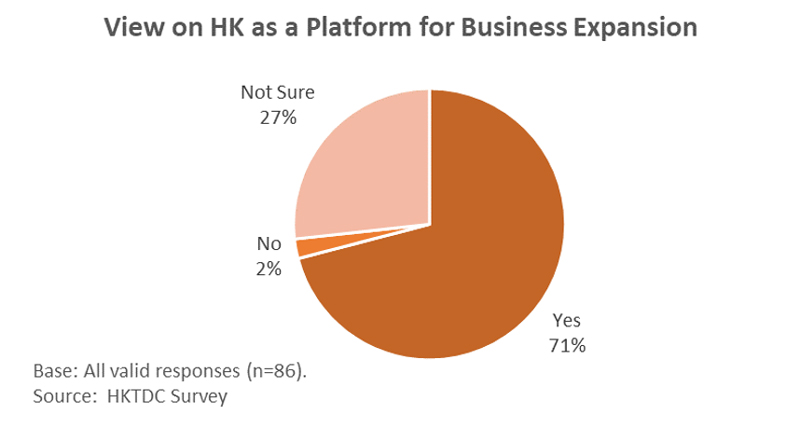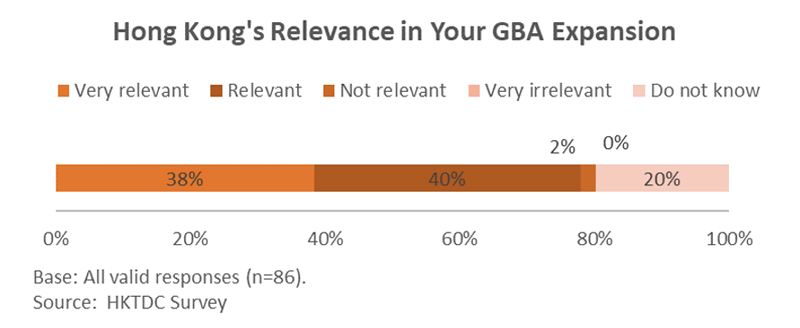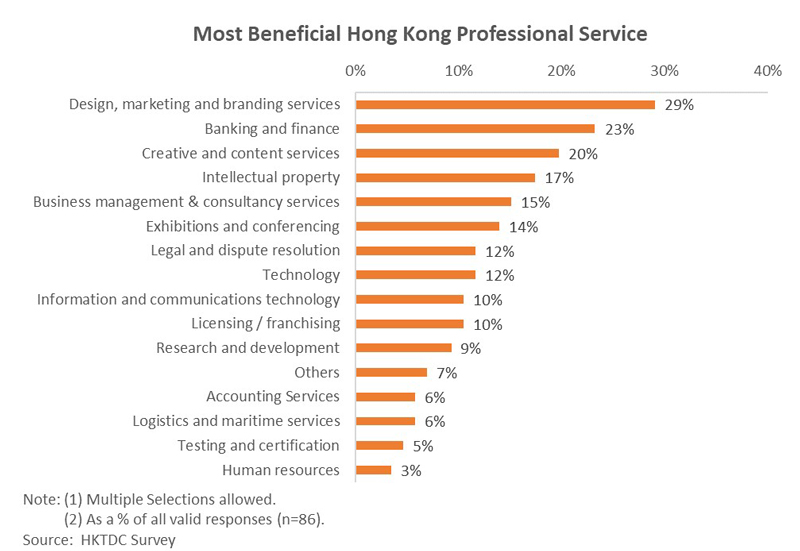 Profile of Respondents
86 valid responses were collected during HKTDC's Think Asia, Think Hong Kong in Los Angeles on 20 September 2019.
Of the respondents, 94% of them were US-domiciled companies, coming primarily from the state of California (88%), which has a long history of close connection and relationship with Hong Kong, making it the largest US state exporter to Hong Kong and the home for more than half of the Hong Kong immigrants to the US.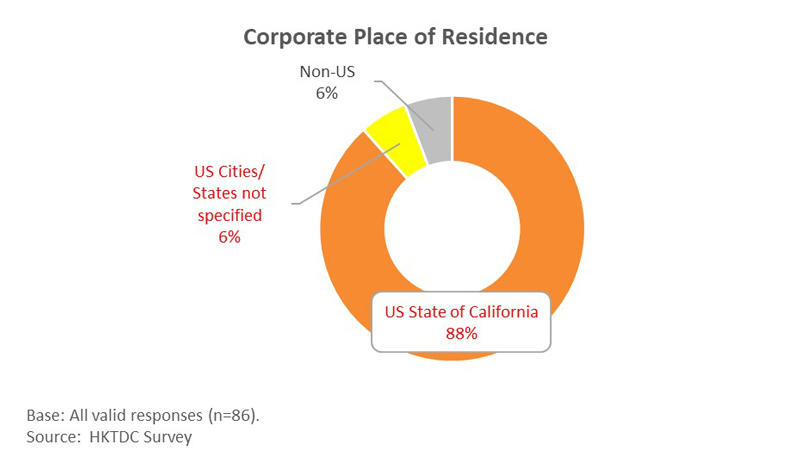 In terms of business, most of the respondents were service providers (77%). Many of them were in the film and entertainment business, design and marketing, and accounting, banking and finance.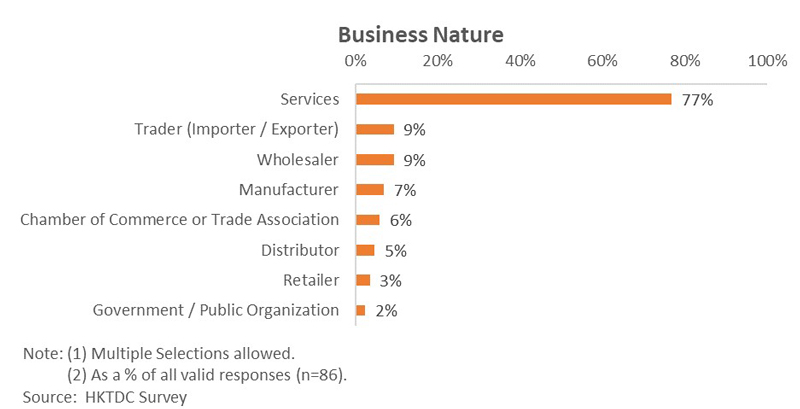 Film & Audio-Visual Production
Design Services
Finance & Investment
Accounting Services
Business Management & Consultancy
Hong Kong
USA
Hong Kong
Mainland China
North America