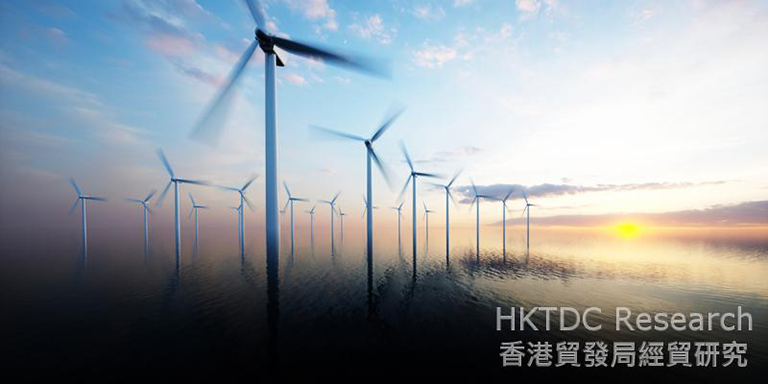 https://hkmb.hktdc.com/en/1X0AJTC9
Taiwan builds itself into a green-energy hub
Inaugurating its first commercial wind farm, the island sets out its plan to become a leader in renewable power.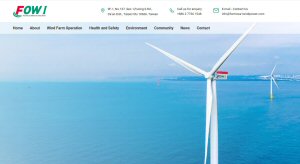 During last month's inauguration ceremony for Formosa 1, Taiwan's first offshore demonstration wind farm, President Tsai Ing-wen took the opportunity to lay out the territory's intermediate and long-term strategy for the development of its renewable-energy sector from 2025 onwards. This saw her outline plans to increase the installed capacity of the territory's offshore wind turbines by 10 gigawatts (1GW = 1 billion watts) from 2026-2035, while confirming Taiwan's ambition to establish itself as a hub for green-energy development within Asia.

Indeed, Taiwan has been actively pursuing a renewable-energy policy since 2016 and avowedly aims to become nuclear-free by 2025. To this end, the government has been energetically promoting wind power, solar power and other renewable-energy projects for the past three years, with offshore wind power receiving the biggest push.

According to its government, Taiwan is committed to delivering 5.7GW of offshore wind capacity and 21.5 billion kilowatt hours of clean energy a year by 2025. This will generate investment worth NT$1 trillion (US$32.8 billion) and create 20,000 jobs, while also reducing annual carbon emissions by 11.92 million tonnes. As the installed capacity of land-based wind and photovoltaic power is projected to increase to 1.2GW and 20GW respectively by the same date, renewable energy will then contribute 20% of Taiwan's total electricity generation.

To date, the government has mapped out a three-phase approach for wind-power development, with demonstration projects paving the way for the selection of "zones of potential" and block development. The demonstration phase already has two projects underway – Formosa 1 and the Taiwan Power Company's Changhua project.

Formosa 1's first two demonstration generating units, offering a combined capacity of 8 megawatts, commenced commercial operation in April 2017 prior to being officially inaugurated by Ms Tsai last month. The addition of 20 generating units increased the total installed capacity of the wind farm – which lies 3 kilometres off the coast of Miaoli county – to 128 MW from 120 MW. With an annual generating capacity of 480 million kwh, it can now supply the needs of 128,000 households.

The biggest shareholder in Formosa 1 is Denmark's Ørsted, with a 35% stake, followed by Japan's JERA (32.5%), investment bank Macquarie (25%) and local firm Swancor (7.5%). Formerly trading as DONG Energy, Ørsted is 50.1%-owned by the Danish government and is a global leader in offshore wind power, having installed and operated 1,200 offshore turbines and built more than 23 offshore wind farms worldwide. The combined installed capacity of its offshore wind farms amounts to 4.4 GW – 26% of the world's total.

The Changhua demonstration project is located 7 to 9km off the coast of Changhua county. With an installed capacity of 110 MW, it is scheduled to be connected to the company's power grid by the end of 2020. With an annual generating capacity of 410 million kwh, it is said to be able to supply up to 94,000 households.

According to the government's development plan, the second phase of the offshore wind-energy project will involve selecting potential wind-farm sites and inviting bidders to develop them. The authorities completed capacity allocation in early 2018, with a total capacity of 5.5GW distributed across 14 projects, which will commence commercial-phase operations between 2020 and 2025. The coming years are also expected to see the commencement of one wind-farm project after another, with Formosa 2 and an additional project in Yunlin slated for both completion and grid connection before the end of next year.

With work officially commencing on Formosa 2 in early November last year, it is expected to be the second of Taiwan's offshore wind farms to begin commercial-phase operations. Construction on the Yunlin project – led by Germany's Wpd – is likely to commence in March this year, with the commencement of commercial-phase operations expected within nine months or so.

Located next to Formosa 1, 4 to 10km off the coast of Miaoli county, Formosa 2 is said to represent an estimated investment of NT$70 billion and will have a total installed capacity of 376 MW. Its underwater structures will be completed in 2020 and it will begin commercial-phase operations in 2021, when it is expected to start supplying power to 380,000 households.

The project is being jointly developed by Japan's JERA, which holds a 49% stake, along with Macquarie and Swancor, which hold stakes of 26% and 25%, respectively. The project has been billed as bringing together the most advanced companies and technologies from Europe, including underwater structure and submarine cables courtesy of Belgium's Jan De Nul Group.

According to the government's energy blueprint, Taiwan's offshore wind programme will enter its "harvest" phase and gradually start hitting its agreed generation targets from 2021 onwards, following the completion of its demonstration wind farms and the selection of zones deemed to have potential. According to Shen Jong-chin, Taiwan's Minister of Economic Affairs, many companies have already expressed interest in the block development phase, while the relevant tender requirements will be published in the first quarter of 2020.

Of late, Ms Tsai has reaffirmed her commitment to promoting offshore wind projects, stating that her government aims to increase total installed capacity by an additional 10GW by 2035 on top of the 5.7GW already agreed for 2025 – the equivalent to the addition of 1GW in block development for each of the following 10 years. She hopes this will attract more foreign firms to invest in the territory while also ensuring they opt for Taiwan as their Asia-Pacific regional operations centre.

The government has also confirmed that many of the necessary new supply chains are now falling into place. These will play a key role in the overall success (or not) of the territory's energy policy and will have an impact on everything from site selection, turbine manufacturing and infrastructure development to the maintenance of offshore equipment.

In order to fully capitalise on the advantages in inherent industrial clustering, the government has also prioritised establishing offshore wind energy industry parks in the northern, central and southern parts of Taiwan. At the Port of Taipei in the north, for instance, an underwater structure production base has been built with backing from Century Wind Power, a division of northwest Taiwan-based Century Iron and Steel Industrial.

At the Port of Taichung in central Taiwan, meanwhile, an offshore wind energy industrial park has been established, with wind power system manufacturers from all parts of the world establishing nacelle-assembly facilities. Over in the south, in the same period, an underwater structure production base has been built at the Hsinta Port of Kaohsiung.
Related link
HKTDC Research

Electronics & Electrical Appliances