https://hkmb.hktdc.com/en/1X0AJSBD
The Greater Bay Area: An Ideal Berth for Boating Billionaires
Luxury yacht builder sees GBA as new Asian frontier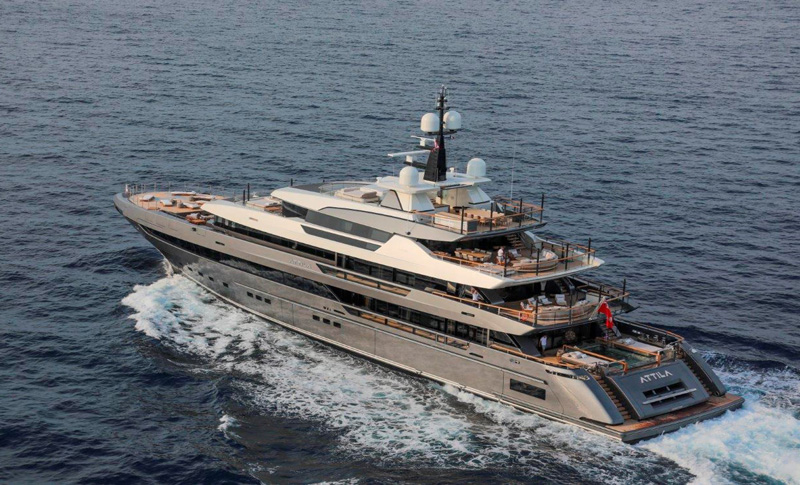 It should be a perfect opportunity, an integrated economic region populated by a burgeoning number of high net-worth individuals in a part of the world with a rich maritime heritage and a thirst for sea travel – be it for business or pleasure.
If you build and sell the ultimate sea-going playthings of the super-rich, the Greater Bay Area (GBA) initiative, with Hong Kong – a city synonymous with shipping – at its core, should be a development you are watching closely.
So for Italian yacht maker Sanlorenzo, one of the world's premier producers of prestige ocean-going yachts and super-yachts, the GBA is viewed as an opportunity to exploit and build on the undoubted expertise and influence the Hong Kong Special Administrative Region brings to the table in all matters maritime, and grow their business into the wider Pearl River Delta Region.
Long History
Sanlorenzo has been building high-end ocean-going vessels for the global elite, who want to do business in style and make leisure a sumptuous pleasure, for many decades.
Its renowned ability to construct 'made to measure' yachts with trademark Italian design and precision has cemented the company's position as one of the most prestigious motor yacht and superyacht builders in the world. Nick Stratton, Vice President Sales for Sanlorenzo Asia, says the company is dedicated to designing and building the "highest-quality yachts on the market".
Italy is one of Europe's leading boat producing countries and enjoys a market share of 95% for pleasure boats over 24m (79ft). In 2018, the country was the world's second-largest exporter of pleasure/recreational boat/yachts, with a 13.2% share of the global market, behind the Netherlands but well ahead of the US. Italy still ranks as world number one in the export of yachts over 24m (79ft).
Asian Growth
Hong Kong is the most mature yachting hub in Asia, having staged its first regatta in 1845. Sanlorenzo is represented here by Simpson Marine, which has called Hong Kong home since 1984. From the 1990s onwards it expanded its presence in the region, opening offices in Indonesia, Malaysia, Singapore, Taiwan and Thailand. Simpson Marine opened its first mainland office in Shenzhen in 2010, followed by another in Sanya, Hainan in 2012.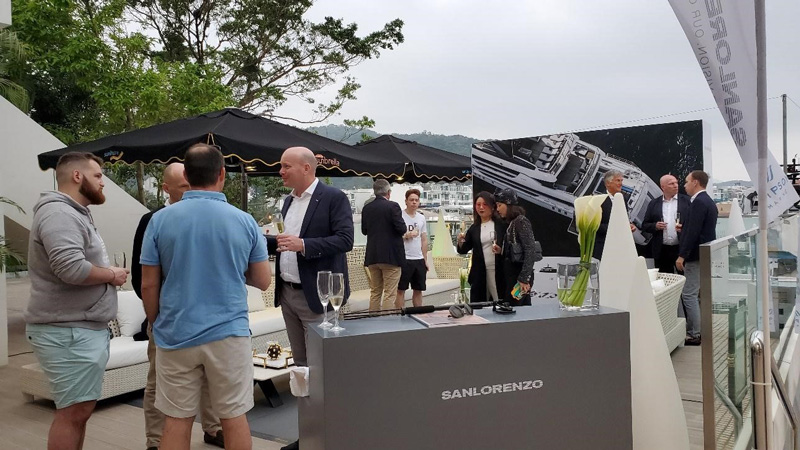 "Hong Kong has the spectacular Victoria Harbour, and much more water than land. The sea has always been important here, from the 1500s when it was first settled by south China clans until today when it is a renowned global logistics hub with world-class container ports," said Stratton, adding that GBA's economy and geography make it fertile ground for the business.
The city has a long and storied maritime history, and this is reflected in the impact its large coastal footprint has on the tourism industry, the businessman said.
"The GBA encompasses 11 prosperous Pearl River Estuary cities, and the outline plan for the initiative not only included commercial sailing, but also a sweeping vision for marine tourism, pleasure boat building, sailing regattas, motor yacht cruises, sportfishing, chartering, boat shows and superyacht services: this has to be a good opportunity for us," Stratton said.
"While the Peak still heads the Hong Kong Tourism Board's (HKTB) list of top five attractions, Victoria Harbour, the Outlying Islands and the Hong Kong Global Geopark of China - better known as Double Haven or Yan Chau Tong at the Sai Kung Country Park and associated islands – always ranks in the top-five must-see sights for tourists," he added.
Taxing Battle for the Seas
In this rarefied business – since Sanlorenzo's inception 60 years ago it has "only" built 900 yachts – competition is keen and according to Stratton, the GBA will only see that intensify: "Southern China is increasingly becoming a battlefield for international yacht builders, thanks to its rapidly-growing number of high net worth individuals (HNWIs)," he said.
According to the Wealth-X Billionaire Census 2019, the only city on the planet with more billionaires than Hong Kong is New York. Shenzhen, which ranks 11th, is the only other GBA city to make the top 15 list. But Stratton believes others will follow if tight tax and cruising laws are further relaxed to enable easier navigation across the region.
The businessman believes overly restrictive tax and cruising laws across the GBA are a significant obstacle for further growth in the GBA.
"China's import tax on pleasure vessels currently stands at 43.6%. When it comes to superyachts – 24 metres or more in length – that carries a price tag of €4-5 million and as a result many owners will choose to keep their boats in Hong Kong – which offers a much better deal and provides a full range of services such as financing, legal support, registration, insurance, sales, boat shows and events, as well as chartering, refitting, maintenance, repairs and catering services," said Stratton.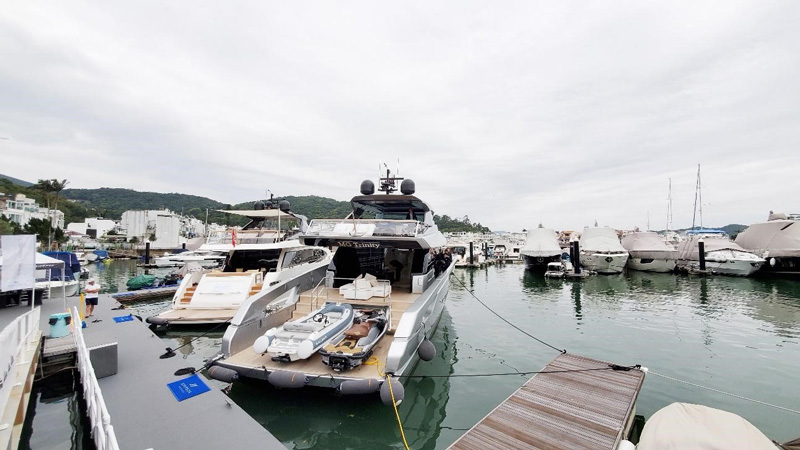 The businessman added: "Hong Kong has always had a strong sailing culture and is widely acknowledged as having the most mature pleasure boating market in Asia, boasting more than 10,000 registered pleasure boats and some 5,000 public and private moorings and dry berths."
Stratton also said that the Hong Kong Cruise and Yacht Industry Association (HKCYIA) recently formed a partnership with China Merchants Industry Holdings to redevelop a 2 km waterfront stretch at the southwest end of Tsing Yi into the Hong Kong Superyacht Management Services Centre, "to provide world-class support" for superyachts over 35m or 110ft, including refits, maintenance and repairs.
"It goes without saying that other marinas and yacht clubs in the GBA, such as Nansha Marina on the Pearl River Coast of Shenzhen, are poised to offer better services. This will trigger an increasing number of yachts coming into the region if an expected relaxation of tax and cruising laws comes into effect," Stratton said.
New Marinas and Showboating
Given its geography, Hong Kong has plenty of room to grow the yachting industry, despite suffering a significant shortage of permanent moorings suitable for pleasure boats.
"Although most, if not all, of the existing marinas are full, various pieces of research by the trade and real estate developers show there are many places suitable for new marinas, either as an extension of existing ones, such as the Aberdeen Marina Club (AMC), or as brand-new developments," said Stratton. In most cases, marina developments are believed to result in substantial increases in land value, both by increasing the value of existing properties and by encouraging new projects.
Such side benefits of marina developments are an illustration of the levels of wealth required to be a player – either a buyer or a seller – in the yacht business. As Stratton points out, a super-yacht is like a floating hotel.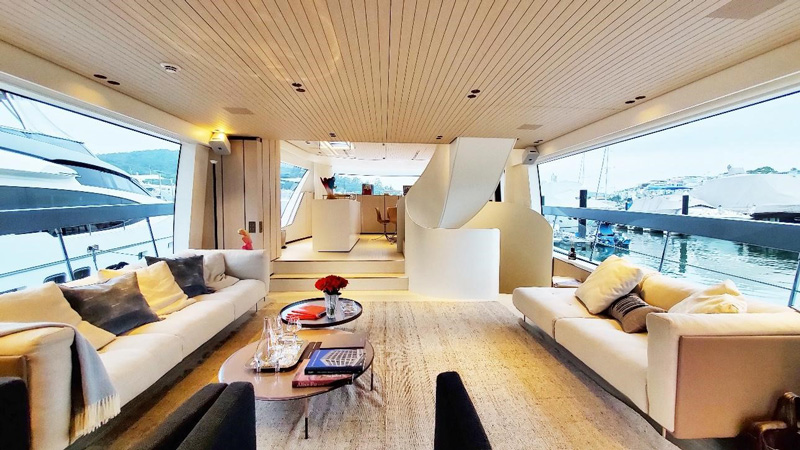 "In many regards a superyacht should be seen as a boutique hotel on water, which runs like a small economy. To go on a voyage, a 50 m yacht will easily require 12 crew, in addition to the refits, maintenance and repairs necessary to keep the vessel sea-worthy, not to mention supporting services from catering and waste management," Stratton said, adding that according to the Italian Marine Industry Association (UCINA), the boating industry accounted for more than 2% of the country's GDP in 2018, while creating direct employment for more than 22,300 people.
Stratton also believes boat and yacht shows can be a boon to the MICE (Meetings, Incentives, Conventions and Exhibitions) industry which will form a significant part of a booming GBA.
"If the tax issue can be tackled better, the GBA can be a rising star in terms of its hosting of world-class boat and yacht shows. Existing boat events in HK are very small scale compared with those in Miami, Cannes, Genoa, Monaco and even that of Singapore, which typically showcases more than 100 boats. Having featured only nine boats in November this year, Hong Kong's event clearly has the potential to grow substantially, especially now it has a good and experienced team on board and hopefully an increasing number of berths available in years to come," Stratton said.
Tourism & Hospitality
Logistics & Supply Chain
Italy
Hong Kong
Mainland China
Western Europe