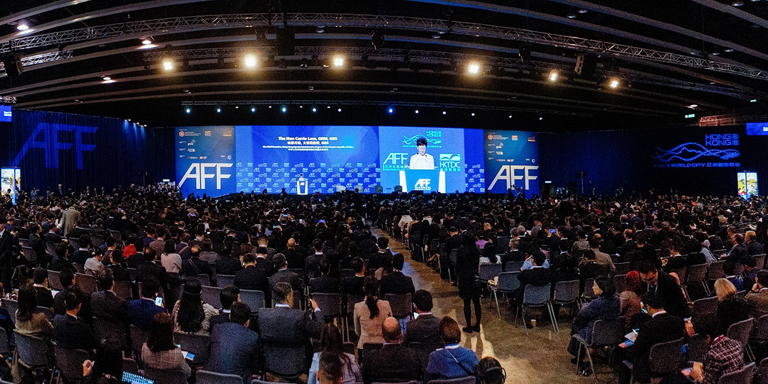 https://hkmb.hktdc.com/en/1X0AJPHG
Innovation drives tilt to Asia
Delegates look to digital solutions amid economic, geopolitical and environmental challenges.
Innovative breakthroughs will see ever more people in Asia achieve prosperity in the digital economy, attendees at the 13th Asian Financial Forum (AFF) heard earlier this month.
 
Digital audience polls conducted through the Hong Kong Trade Development Council mobile apps showed delegates had a bearish view of the outlook for the world economy in 2020 amid geopolitical tensions and the trade tensions between the United States and Mainland China. Delegates also saw environmental issues, particularly climate change, as critical issues going forward. They also heard that, as with any challenges, there are opportunities for industry players to come up with innovative solutions to these problems.
Asian expansion
Addressing the more than 3,500 distinguished speakers, influential global financial experts, policymakers, business leaders, economists and investors attending the forum, Chief Executive of the Hong Kong Special Administrative Region Carrie Lam said the year ahead will mark a milestone for Asia.

"Asian economies, in terms of purchasing power parity, will become larger than the rest of the world combined for the first time since the 19th century," she said. "That represents a quantum leap from about one-third just two decades ago. Asia this year will also be home to half of the middle class of the world. That heralds enormous business opportunities for the world at large. Indeed, Asia, powered by Mainland China, has for some time been a global growth engine," Ms Lam said.

"Hong Kong, with its strategic regional location, and its extensive, ever-deepening cultural and financial links with the mainland, is China's international financial centre, contributing to the sustainable progress of the country, the region and the world."

Ms Lam said integration and expansion in the Guangdong-Hong Kong-Macao Greater Bay Area was becoming a key growth driver.

"Innovation will drive development in the Greater Bay Area. Measures will be rolled out to expand the flow of capital and people, opening up new markets and business opportunities thanks to enhanced connectivity. Among others, with the support of the Central Government, especially a Leading Group on the Greater Bay Area development chaired by the Vice Premier Han Zheng, a two-way wealth management connect scheme is being drawn up to meet the cross-boundary, wealth-management needs of residents in Hong Kong and the rest of the Greater Bay Area.

"Coupled with the Belt and Road Initiative, the Greater Bay Area development will ensure long-term prospects for Hong Kong's economy."
Going green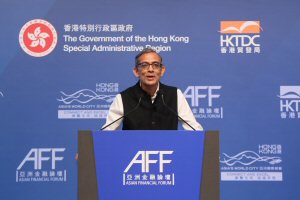 She also said Hong Kong is fast developing into a green finance centre.

"In May 2019, we issued our inaugural green bond under the Government Green Bond Programme. And, with the introduction of a Green Bond Grant Scheme, which subsidises green bond issuers in obtaining certification under the Green Finance Certification Scheme, green bonds issued and arranged in Hong Kong in 2018 reached US$11 billion. A good start, I'd say, in creating financial programmes that also pay off in environmental benefits for our sustainable development."

Prof Abhijit Banerjee, joint winner of the 2019 Novel Prize in Economics and Ford Foundation Professor of Economics at the Massachusetts Institute of Technology, told a keynote luncheon that financial inclusion can benefit poorer people in developing countries, letting them achieve financial self-reliance through access to credit and investment services.

"In this world there are lots of talents. Some of these people are the future of the world and some people are going to do nothing. Somehow what finance needs to do is find ways to identify them, bring them forward, give them what they need, and that way finance can really change the world," he said.
Matchmaking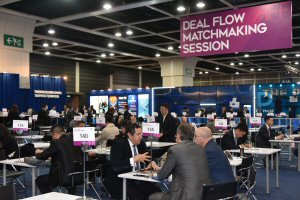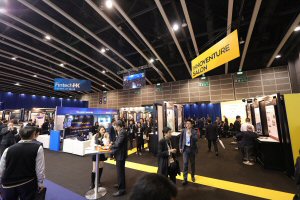 The AFF Deal Flow Matchmaking session provided one-to-one deal-sourcing and matchmaking meetings for project owners and investors, which included Beyond Ventures, Mizuho Bank and Betatron. Nearly 700 meetings were held, covering projects ranging from manufacturing to green technology, the Internet of Things (IoT), fintech and healthtech.

The Fintech Showcase returned in 2020 to, together with the inaugural FintechHK Startup Salon, present a plethora of innovations and next-generation business ideas from nearly 90 fintech start-ups as well as leading financial institutions and technology firms from Hong Kong and beyond. Enriched content in the expanded Innoventure Salon made it the ideal platform to connect start-ups with potential investors and partners. The Startup Zone, Fireside Chat, Pitching, Startup Clinic, one-to-one matchmaking meetings as well as meetups with Hong Kong regulators and market facilitators all facilitated start-up development.
The digital polls revealed a generally bearish forum which eagerly sought digital solutions. Responding attendees' replies to poll questions were as follows: 
| | |
| --- | --- |
| Global economic outlook in 2020 | |
| Optimistic | 22% (of responding attendees) |
| Neutral | 38% |
| Pessimistic | 40% |
|   |   |
| Major challenge for global growth in 2020 |   |
| Limited headroom for growth-supporting policies | 19% |
| China-US trade, technology and investment tensions | 38% |
| Intensifying geopolitical risks       | 36% |
| Elevated corporate debt restraining spending | 6% |
|   |   |
| Outlook for global trade in 2020 |   |
| Optimistic | 25% |
| Neutral | 28% |
| Pessimistic | 47% |
|   |   |
| Key driver for global trade growth in 2020 |   |
| Fair and appropriate treatment for trade capital | 18% |
| Digitalisation of trade       | 26% |
| Effective multilateral system | 50% |
| Commercialisation of blockchain   | 6% |
|   |   |
| How likely would innovative solutions help address structural issues and bolster global growth |   |
| Very unlikely | 8% |
| Unlikely | 28% |
| Likely   | 40% |
| Very likely | 21% |
| Don't know | 2% |
|   |   |
| Environmental, social and governance (ESG) issues for business in 2020 |   |
| Environmental regulations | 27% |
| Climate change and carbon related issues | 38% |
| Green-leaning consumer preferences | 19% |
| Labour rights and regulations | 4% |
| Gender equality in the workforce | 3% |
| Product safety   | 3% |
| Corruption | 6% |
|   | |
Related link
AFF