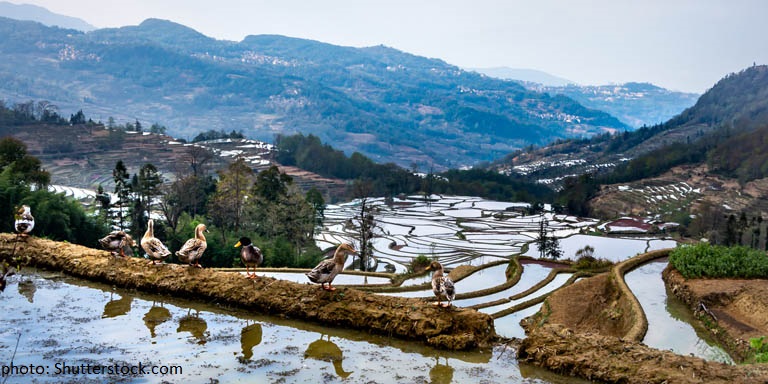 https://hkmb.hktdc.com/en/1X0AJJVK
Farmers take on the world
A new agreement between Mainland Chinese agricultural authorities and Hong Kong helps to open up the global field.
The label "factory of the world" is often aptly pinned to Mainland China – and the factory is rapidly upgrading as supply chains becoming more complex and sophisticated. This same process is taking place in an industry which has been a bedrock of the mainland economy for millennia – agriculture.

Hong Kong's role as a service, trade and communications centre and its close links with the mainland make the city a perfect platform for mainland farmers and food processors to expand their business overseas.

The Hong Kong Trade Development Council (HKTDC) has moved to further strengthen its role in taking mainland across the globe. On 1 December, the HKTDC signed a memorandum of understanding (MoU) with the Agricultural Trade Promotion Centre (ATPC) of the Ministry of Agriculture and Rural Affairs in the mainland. Under the MoU, the ATPC will become a supporting organisation of both the HKTDC Food Expo and the HKTDC Hong Kong International Tea Fair. The partnership underscores the continued confidence of mainland authorities and industries in Hong Kong as a global business hub.
Cooperative agreement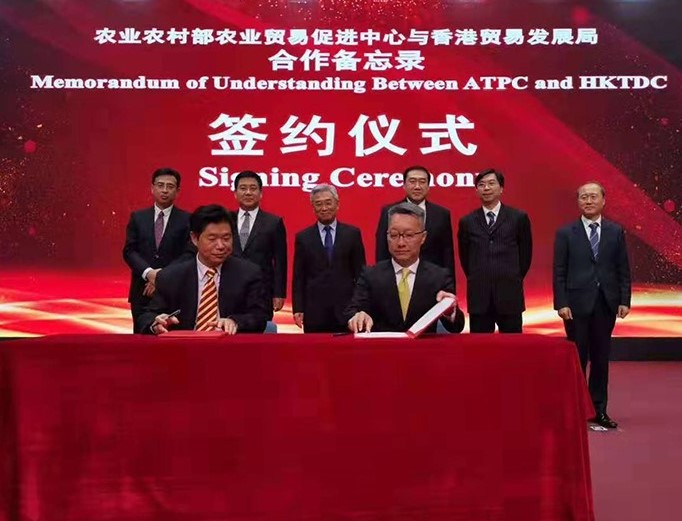 The MoU was signed in Beijing by Zhang Lubiao, Director of ATPC and Kevin Chan, Regional Director, Northern China, HKTDC. Zhang Taolin, Deputy Minister of the Ministry of Agriculture and Rural Affairs, Zhang Shaogang, Director General, Department of International Trade and Economic Affairs, Ministry of Commerce, Sui Pengfei, Director General, Department of International Cooperation, Ministry of Agriculture and Rural Affairs, and Brian Ng, the HKTDC's Director, Chinese Mainland were among the witnesses at the signing ceremony.

Riding on the MoU, the ATPC and HKTDC will strengthen their collaboration in promoting mainland agricultural and food products.

"The high-level support from the Ministry of Agriculture and Rural Affairs reaffirms Hong Kong as an ideal platform for Mainland China companies to tap into international markets," said Mr Chan.

Under the MOU both parties will help mainland agricultural product companies to develop international markets, to raise their brand awareness and to make full use of Hong Kong as an international business platform to promote exports.
International marketing platform
The two partners will exchange visits and organise economic and trade promotion activities. Specifically, the HKTDC will support the China International Food Ingredients Expo, while the mainland partners are invited to attend the Food Expo and Hong Kong International Tea Fair.

In the HKTDC's plan, the mainland bodies can promote agricultural products through various HKTDC channels, including international trade fairs, product magazines, mobile media (such as the HKTDC Marketplace App), e-commerce platform (https://sourcing.hktdc.com/) and online exhibitions which effectively run all year around because of e-commerce applications.

Overall, the HKTDC will enhance the image of mainland food brands and further expand their presence in Hong Kong and the world.

In particular, under the MoU, in the next three years (2020-2023) the mainland authorities plan to continue organising participation by quality agricultural-product brands in the Food Expo, an important industry event held every August. The HKTDC will also arrange special brand launches and product promotion meetings at the Food Expo to promote agricultural products from the mainland.

Related links
ATPC
HKTDC Exhibit Online
Association & Government
Food & Beverages
Hong Kong
Mainland China