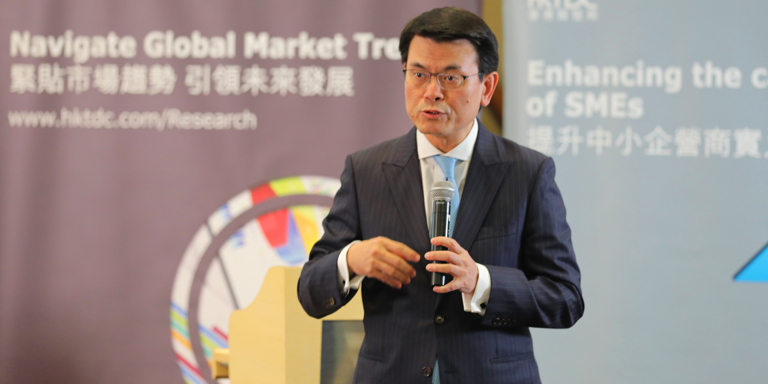 https://hkmb.hktdc.com/en/1X0AJI8A
Toytown takes to road
Manufacturers diversify their production facilities amid Sino-US trade dispute.
Toy boxes have received a run of upgrades in recent years as toy manufacturers in the city and nearby parts of Mainland China integrate toys, high-tech applications and scientific knowhow. Playthings now have smart camera eyes while clued-up telescopes can track stars.

Manufacturers need to apply sharp intelligence themselves as the trade dispute between the United States and Mainland China continues to cloud prospects, attendees at the HKTDC Research Seminar "Sino-US Trade Dispute: Production and Market Diversification", organised by the Hong Kong Trade Development Council (HKTDC) and held in mid-November, heard.

Industry players need to devise fresh, original strategies to maintain profits. Possible strategies include moving production lines as well as upgrading and transforming their business. The requirements of manufacturers around the world differ, however. Small and medium-sized enterprises (SMEs) must choose production lines carefully to avoid hitting the rocks in their new home. For many SMEs coming up with enough capital to transform their business is the thorniest issue. The 90% Credit Guarantee Scheme approved by the Hong Kong Legislative Council's Finance Committee recently gives local SMEs a welcome boost.

The seminar showed Hong Kong-based SMEs how to adapt and thrive in the complex trading environment.
Brand building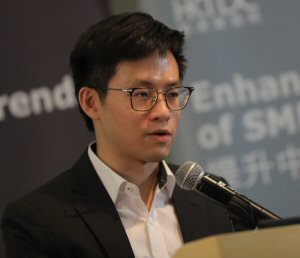 Speakers included a representative from Hong Kong scientific and educational toys maker Eastcolight, which was established in 1991 and set up a production line in 2000. The firm sells more than 500 toy products in 110 countries around the world. Eastcolight has integrated a number of technologies into its toy design, such as near-field wireless communication (NFC) and augmented reality (AR). A strong presence in overseas markets meant it has borne the brunt of the Sino-US trade dispute and needs to move quickly to maintain its competitiveness.

Sharing the firm's experience during the seminar, Eastcolight Deputy General Manager Johnny Sze said: "The company has been focusing on brand building. It has begun to register products as early as the 1990s. Under the Sino-US trade dispute, it is even more important to focus on market promotion and maintain brand profits, ensuring potential buyers know about the products.

"When consumers think of an industry, they will associate it with a certain brand; when it comes to AR toys, which company do you think of?" Mr Sze hopes that name be Eastcolight. Once consumers know more about brand quality and safety, they will be willing to buy even if tariffs push up the price of products. "I hope that the market positioning does not just amount to a production factory that can be easily abandoned."
Read the fine print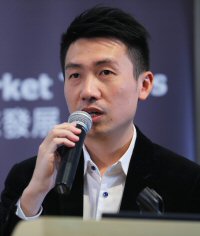 The northward shift of factories, which took place mostly in the 1980s, is an important page in the history of Hong Kong's economic development. The current Sino-US trade dispute caused many Hong Kong SMEs with production lines in the mainland to face new pressures to relocate. The business challenges led many of them to move away from the mainland and into Association of Southeast Asian Nations (ASEAN) countries. But the region is diverse. Requirements foreign manufacturers in ASEAN countries need to fulfil on such issues as sanitation, power safety and flammability testing are not uniform across all the countries.

Martin Fan, Executive Director of Rheinland TUV in Hong Kong, said: "To enter the toy markets in these countries, manufacturers should pay attention to the requirements of international standards such as the International Organization for Standardization (ISO) and toys EN71 certification. Countries still need to carry out tests locally, such as in Indonesia." Mr Fan recommended that companies with less experience give priority to areas that do not require local tests, such as Malaysia. Some had attempted a move but returned to their original production lines, he pointed out.
Funding broadened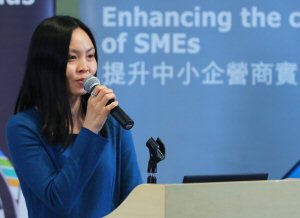 The Hong Kong Government has always helped SMEs, with financial support arguably the most direct assistance. Christine Wai, the Assistant Director General of the Hong Kong Special Administrative Region's Trade and Industry Department, said: "New progress has been made in the SME credit scheme. In addition to delayed repayment of the principal, which began in September this year, the Finance Committee approved an appropriation of HK$33 billion in early December this year. The government guarantees 90% of credit, with a maximum loan of HK$6 million per company and a maximum guarantee period of five years, and hopes to start accepting applications as soon as possible by the end of this year."

Hong Kong Secretary for Commerce and Economic Development Edward Yau (main picture) attended the seminar's question-and-answer session and answered queries from SMEs.  "The low labour costs in ASEAN countries have attracted many Hong Kong businesses to invest," he noted. "The experience of those who have made the move shows that Hong Kong companies cannot simply relocate production lines without making any change, and [they] recommend upgrading and transforming at the same time."

A leading government financial scheme to boost upgrading and transformation by SMEs, the Dedicated Fund on Branding, Upgrading and Domestic Sales (BUD Fund), which was previously limited to helping Hong Kong companies expand in the mainland market, has been expanded recently to cover ASEAN and other free trade agreement economies. The cumulative funding ceiling has been increased from HK$1 million to HK$2 million, aiming to help SMEs gain a foothold in the challenging trading environment.
Related links
BUD Fund
HKTDC Research
Hong Kong
Mainland China
ASEAN