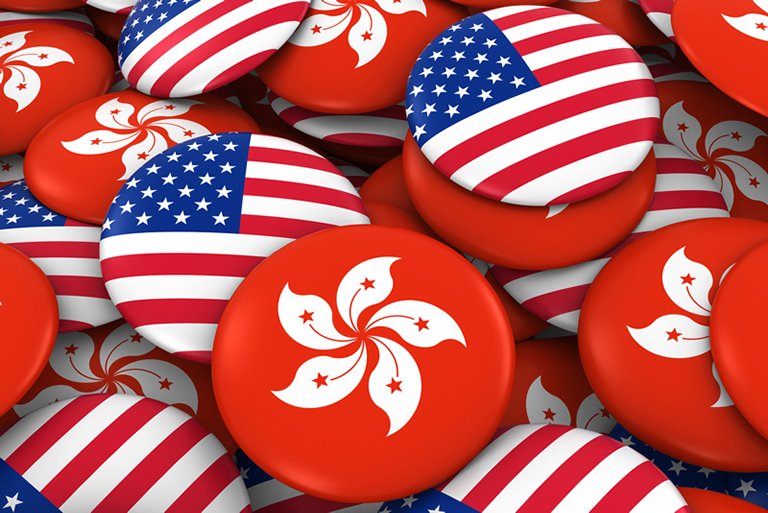 https://hkmb.hktdc.com/en/1X0AJFVW
US Legislation Assessing Hong Kong's Autonomy
The US Congress approved two pieces of legislation during the week of 18 November 2019 (S. 1838 and S. 2710) that require the US government to, among other things, (1) annually certify whether Hong Kong is sufficiently autonomous from mainland China as to continue to warrant separate treatment under US law, and (2) prohibit the issuance of licences to export covered munitions items to the Hong Kong Police Force and Hong Kong Auxiliary Police Force. The US president signed the bills into law on 27 November 2019.
Overview of the Legislation
The Hong Kong Human Rights and Democracy Act of 2019 (S. 1838) amends the United States-Hong Kong Policy Act of 1992 – the legal basis governing the US relationship with Hong Kong vis-à-vis mainland China – to require the US State Department to annually certify whether Hong Kong is sufficiently autonomous from mainland China as to continue to warrant treatment in the same manner as US laws were applied to Hong Kong before 1 July 1997.
The report must address the following issues: (i) commercial agreements; (ii) law enforcement co-operation, including extradition requests; (iii) sanctions enforcement; (iv) export controls and any other agreements and forms of exchange involving dual use, critical or other sensitive technologies; (v) any formal treaties or agreements between the US and Hong Kong; (vi) other areas of bi-lateral co-operation that the State Department determines to be relevant; (vii) decision-making within the Hong Kong government, including executive, legislative and judicial structures, including freedoms of assembly, speech, expression and the press; (viii) universal suffrage; (ix) judicial independence; (x) police and security functions; (xi) education; (xii) laws or regulations regarding treason, secession, sedition or subversion against the mainland Chinese government, or theft of trade secrets; (xiii) laws or regulations regarding foreign political organisations or bodies; (xiv) laws or regulations regarding political organisations; and (xv) other rights enumerated in the Universal Declaration of Human Rights and the International Covenant on Civil and Political Rights.
The report requires:
1. an assessment of the degree of any erosions to Hong Kong's autonomy in each of the aforementioned categories resulting from actions by the mainland Chinese government that are inconsistent with its commitments under Hong Kong's Basic Law or the Joint Declaration between the UK and mainland China;
2. an evaluation of the specific impacts to any areas of co-operation between the United States and Hong Kong resulting from erosions of autonomy in Hong Kong or failures of the Hong Kong government to fulfil obligations to the US under international agreements within the aforementioned categories; and
3. a list of any specific actions taken by the US government in response to any erosion of autonomy or failures to fulfil obligations to the US under identified international agreements.
In making its certification, the State Department is required to consider the terms, obligations and expectations expressed in the Joint Declaration with respect to Hong Kong. The State Department has the authority to waive the annual certification process if (1) it determines that such a waiver is in the national security interests of the United States, and (2) the appropriate congressional committees are duly notified.
Separately, the US Department of Commerce (DOC), in consultation with the State Department and the Treasury Department, is required to produce a report no later than 180 days from the date of enactment, and annually thereafter for seven years from that date.
Each such report should contain the following:
1. an assessment of the nature and extent of violations of US export control and sanctions laws occurring in Hong Kong;
2. to the extent possible, the identification of (i) any items that were re-exported from Hong Kong in violation of US export control and sanctions laws, (ii) the countries and persons to which any such items were re-exported, and (iii) how such items were used;
3. an assessment of whether sensitive dual-use items subject to US export control laws are being transshipped through Hong Kong and used to develop systems of mass surveillance and predictive policing or mainland China's social credit system;
4. an assessment of efforts by the mainland Chinese government to use Hong Kong's status as a separate customs territory to import items into mainland China from Hong Kong in violation of US export control laws, whether as part of the Greater Bay Area plan, through the assignment by Beijing of Hong Kong as a national technology and innovation centre, or through other programmes that may exploit Hong Kong as a conduit for controlled sensitive technology;
5. an assessment of whether the Hong Kong government has adequately enforced sanctions imposed by the United Nations;
6. a description of the types of goods and services transshipped or re-exported through Hong Kong in violation of such sanctions to North Korea or Iran, or to other sanctioned countries, regimes or persons; and
7. an assessment of whether shortcomings in the enforcement of export controls or sanctions by the Hong Kong government requires the assignment of additional Treasury, DOC or State personnel to the US Consulate in Hong Kong.
The legislation also includes a number of additional provisions of potential interest. For example, it further requires the administration, within 30 days from the date a determination is made that any legislation proposed or enacted by the Hong Kong government would put US citizens at risk of extradition or rendition to mainland China or to other countries that lack protections for the rights of defendants, to submit a report to the appropriate congressional committees with certain information, including a strategy for protecting US citizens and businesses in Hong Kong and an assessment of the potential risks of the legislation to US citizens residing in, travelling to, or transiting through Hong Kong.
Moreover, the legislation allows the president to impose various sanctions on foreign persons for undermining fundamental freedoms and autonomy in Hong Kong and establish certain sanctions reporting requirements. In addition, the legislation makes clear that otherwise qualified applicants who resided in Hong Kong from 2014 onwards may not be denied visas primarily on the basis of the applicant's politically-motivated arrest, detention or other adverse government action.
The legislation also includes a sense of Congress – a non-binding resolution – that the DOC, in conjunction with other relevant federal agencies, should consider appropriate adjustments to current US export controls with respect to Hong Kong to prevent the supply of crowd control and surveillance equipment that could be used inappropriately in Hong Kong.
A separate bill (S. 2710), passed by the US Congress at the same time as the Hong Kong Human Rights and Democracy Act of 2019, on the other hand requires the president to prohibit beginning on the date that is 30 days after the date of enactment of the legislation the issuance of licences to export covered munitions items to the Hong Kong Police Force and Hong Kong Auxiliary Police Force.
The term "covered munitions items" means tear gas, pepper spray, rubber bullets, foam rounds, bean bag rounds, pepper balls, water cannons, handcuffs, shackles, stun guns and tasers. This ban will not apply to items certified by the president as being important to US national interests and foreign policy goals. The prohibition will expire one year after the date of enactment of the legislation.
Potential Impacts on US-Hong Kong Trade
The likely impacts of S. 1838 are potentially multi-fold but difficult to predict with any degree of accuracy. First and foremost, both the Beijing and Hong Kong governments have sharply criticised the legislation, describing it as a form of US interference into internal Hong Kong and mainland Chinese affairs, and could affect the negotiation and conclusion of the trade agreement that the US and mainland China are pending to hammer out, triggering a "substantial increase" of US import tariffs on mainland Chinese goods.
There is also a risk that Washington could try to use Hong Kong as some sort of negotiating chip as it seeks to redefine its economic relationship with mainland China, attracting much undesired attention to Hong Kong in the process. Moreover, the continuation and potential intensification of the trade war with the expansion of the universe of products subject to additional tariffs as well as higher tariffs on a broad range of products would continue to negatively affect Hong Kong.
Having said that, S. 1838 itself does not impose any sanctions on US exports to or US imports from Hong Kong, or on US investment flows to/from Hong Kong. Then again, the reporting requirements in the bill could eventually lead to the tightening of US export controls vis-à-vis Hong Kong or to a modification of Hong Kong's status as a separate customs territory, although any such action would likely not occur until late 2020 at the earliest as the annual report by the State Department must be submitted by late November 2020 and the DOC report on Hong Kong's compliance with US export controls and sanctions requirements is due by late May 2020.
Scrutiny of Hong Kong by these government agencies would likely begin right away, giving Hong Kong little time to, for example, address any real or perceived inadequacies related to the effectiveness of its re-export controls regime. While Hong Kong has been regarded by the US as having a fairly robust regime on re-exports of controlled US goods – as recently as April 2017 the DOC's Bureau of Industry and Security established new support documentation requirements on exports of specific controlled items to or through Hong Kong – US officials will nonetheless be looking closely for violations or potential inadequacies. Issues related to Huawei as well as general violations of US export control and sanctions requirements by Hong Kong entities are also likely to come up during the DOC's review.
Another potentially troublesome provision in S. 1838 that may cause problems down the road is language that allows the president to impose sanctions against foreign persons who are found to be undermining Hong Kong's fundamental freedoms and autonomy. The president has the authority to use the International Emergency Economic Powers Act (IEEPA) to block and prohibit all transactions in property and interests in property of any identified foreign person if such property and interests in property are in the US, come within the US, or come within the possession or control of a US person. The legislation allows the president to use all authorities provided under Sections 203 and 205 of the IEEPA, which may potentially include restrictions on monetary transactions.
In the longer term – and in the most extreme and unlikely scenario – were the US to decide that Hong Kong's status should be no different to that of mainland China, the impact could be considerable. This could result in, among other possibilities, stricter US export controls, additional tariffs under Section 301, possible non-market economy treatment in line with US antidumping and countervailing duty protocols, and more stringent scrutiny of Hong Kong's investments in the US.
At this point, though, the legislation represents more of a reputational threat to Hong Kong than anything else. Given the existing uncertainty stemming from the ongoing Sino-US trade war, however, any added complications could undoubtedly undermine the confidence and interest of many of the US companies that currently maintain a presence in Hong Kong, as well as those using Hong Kong as a platform for their Asian operations.
Such uncertainty will of course endanger the mutually beneficial relationship between the US and Hong Kong. While this may also affect other global companies, some may see it as an opportunity to penetrate the local and regional market with reduced US competition.
There is also the fact that many countries – including the US – have a substantial vested interest in Hong Kong. In 2018, for instance, US direct investment in Hong Kong totaled US$82.5 billion. On the trade front, Hong Kong, as its 10th largest export market, earned the US the largest trading surplus for the ten-year period ending 2018.
On the other hand, it is difficult to estimate the monetary impact of the temporary (one-year) ban on exports of covered munitions items to Hong Kong under S. 2710, although any such impact is very likely to be small. For example, US official statistics show that exports of arms classified under heading 9304 (where some, but not all, of the covered munitions items are classified) amounted to only US$235,498 in 2018 and US$210,916 during January-September 2019. Additionally, it appears that the prohibited items could be procured from alternative sources with relative ease, should that be necessary.
USA
Hong Kong
North America
Hong Kong
Mainland China