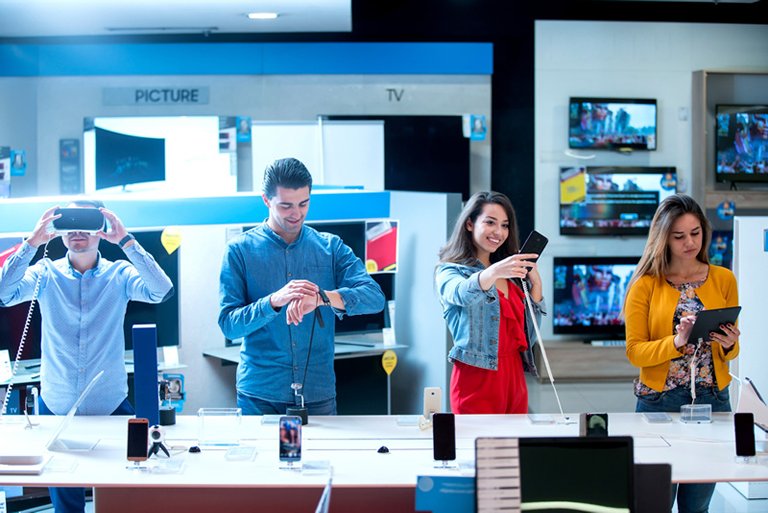 https://hkmb.hktdc.com/en/1X0AJBNG
The Philippines' Consumer Electronics Market: Pricing and Marketing Strategies
About half of the 100 million-plus population of the Philippines is under the age of 25. There is a high level of demand among these young, tech-savvy consumers for electronic gadgets and accessories. Between 2014 and 2018, retail sales of consumer electronics in the Philippines grew at a strong average annual rate of 10%. As the country's middle class expands and rapid urbanisation continues, its consumer electronics market is expected to register further healthy growth in the near future. In view of the growing export potential in the Philippines, HKTDC has commissioned Euromonitor to conduct a study on the consumer market opportunities in six ASEAN countries. This article presents the study's key findings on the consumer electronics market in the Philippines.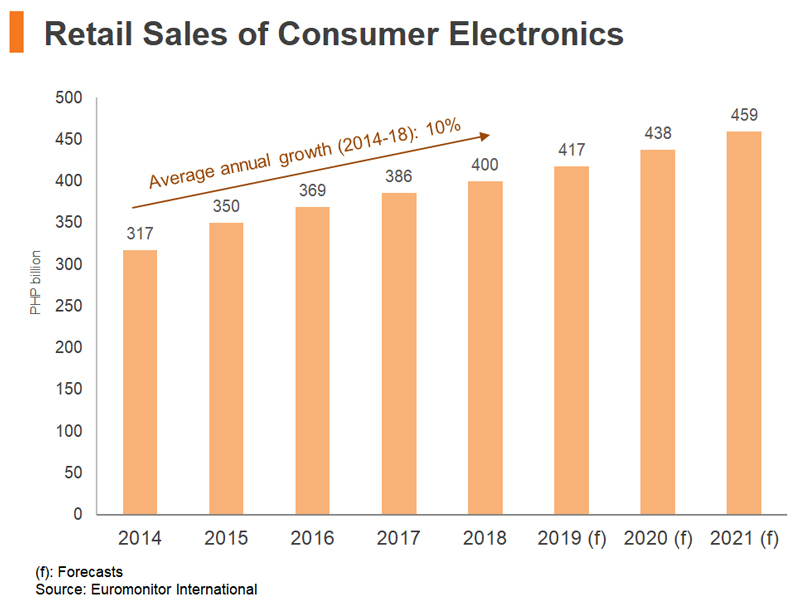 Filipinos are ranked among the most active social media users on the planet. In an online survey by OPPO Philippines, for example, about half the respondents said they took at least two selfies a day, a phenomenon which has led to the Philippines being labelled the "selfie capital of the world". In recent years, Filipino users of Facebook and Instagram have rapidly taken to posting short videos (known as vlogs) and professional photography. Demand for gadgets used to make vlogs, such as portable phone stabilisers, selfie sticks, microphones and wireless charging docks, has surged. Sales of mobile phone accessories, like portable power banks, have been boosted by urban consumers who, partly because of traffic congestion, spend a large amount of time commuting to and from work.
Case Study: Finding a Niche with Aggressive Marketing
Firefly Mobile, which started out as an Original Equipment Manufacturer (OEM) based in Hong Kong, used to manufacture mobile phone parts and materials. In 2009, the company evolved into a consumer-facing brand with its headquarters in the Philippines. When it entered the Philippines market, Firefly Mobile had to take on large existing players such as Samsung and Apple. It differentiated itself by targeting a specific niche within the affordable-premium smartphone category.
Being a new entrant, Firefly Mobile had to create awareness of its brand. Although the Philippines is experiencing a rise in median incomes, the majority of the population remains within middle to low income bands, which tends to make them highly price sensitive. This allows Firefly Mobile to capitalise on this niche market sector by selling aesthetically pleasing low-priced smartphones, packed with features, which provide excellent value for money. Its most recent product, the AURII Ultra, boasts the latest Android OS, Quad Core processor and HD resolution, but is priced at just PHP3,799 (around US$74). The company also offers basic internet-capable phones at PHP499 (around US$10). These affordable smartphones are very popular with the young and with people living in regional provinces on lower incomes.
Firefly Mobile has established a comprehensive distribution network nationwide with more than 100 branches in chain malls such as SM, Waltermart and Metro Gaisano. It has also set up official online shops in Lazada and Shopee. To generate buzz and brand awareness, the company deploys an aggressive marketing strategy with sales promotions and freebies. In order to take advantage of the high level of social media penetration in the Philippines, the company also has a presence on Facebook, Instagram and YouTube.
Adopting these approaches has helped Firefly Mobile quickly gain market share in the Philippines. The company's success is underpinned by competitive pricing across all their phone tiers in comparison to market rivals. It wins over consumers with a market position based on strong value for money, while still offering premium features that its target niche demands.
Low-to-Mid Market Pricing with Product Niche
In the Philippines' consumer electronics market, existing brands already have a strong following and consumers are unlikely to pay a premium for a relatively unknown brand. However, there is a strong demand for mid-priced and mass-market products, especially among consumers in second and third tier cities and younger consumers looking for good value-for-money gadgets. Hong Kong companies are likely to find more opportunities by adopting a mass-market or mid-end pricing strategy, as opposed to the sort of premium pricing strategy that global brands such as Apple employ. In the case of smartphones, low-price products are priced below PHP5,000 (US$100), while premium-priced ranges such as Apple and Samsung cost at least PHP40,000 (US$790).
Hong Kong companies targeting the Philippines market should avoid competing directly with incumbent brands that have already secured a strong market share, and instead position themselves in certain market niches and price their products according to that niche. Hong Kong SMEs should market their products as being able to perform specific functions extremely well, rather than offering a full package of features and competing within the premium market segment.
Social Media Marketing and Local Trade Shows
The Philippines has a social network penetration of over 90%, one of the highest levels in the world. If Hong Kong companies want to target Filipino consumers, they must create strong social media hype, particularly on Facebook and Instagram. Filipinos often go to companies' official Facebook pages to check reviews, look for promotions and browse products. Using local celebrities to endorse products is also a good way of raising brand awareness.
Hong Kong electronics suppliers may find the key trade shows in the Philippines a useful place to launch products and connect with potential local partners. The main electronic exhibitions in the country include the World of Consumer Electronics Expo and Consumer Electronics and Information Technology Expo, which are attended by distributors, retailers and consumers from across the Philippines.
Selecting the Right Distribution Channel
Hong Kong suppliers looking to develop their presence in the Philippines market need to select the appropriate distribution channel based on their target customer groups. While millennials may be comfortable shopping for electronics online, many consumers still prefer to test-drive products at a brick-and-mortar store first before they buy. This is particularly true for advanced or experimental electronic products. Specialist retailers continue to be the dominant distribution channel for many types of consumer electronics. Meanwhile, internet retailing continues to record strong growth, with an average annual growth rate of 22% between 2014 and 2018.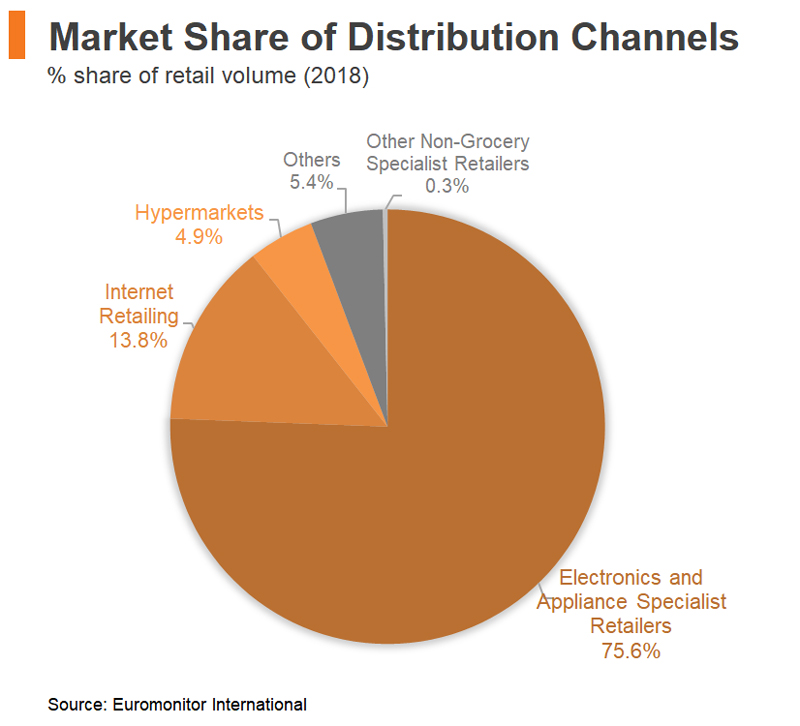 In the Philippines, specialist retailers for gadgets and accessories are mainly concentrated in shopping malls, and certain city streets such as Gilmore Avenue in Quezon City and Hidalgo Street in Metro Manila. The leading retail mall developer, SM Retail, has a dedicated retail space for electronic gadgets, called SM Cyberzone. Mobile phone cases and screen protectors are the most popular items. Sales of earphones and cables are largely replacement purchases.
In recent years, increasing numbers of consumer electronics brands have been entering the online retail market, either by partnering with e-commerce retailers or by creating their own online platforms. At the same time, many retailers are expanding their businesses outside Metro Manila in emerging cities, such as Zamboanga City and Pampanga. There is unmet potential in these emerging cities that can be tapped into if retailers are able to identify and cater to the needs of local consumers - for example by offering reasonably priced consumer electronics.
Online sellers offering mobile gadgets and accessories are targeting mobile media experts and enthusiasts. Kimstore is one of the most popular and established online gadget stores in the country. The company offers a wide range of original branded products and latest models.
Electronics & Electrical Appliances
Philippines
Southeast Asia