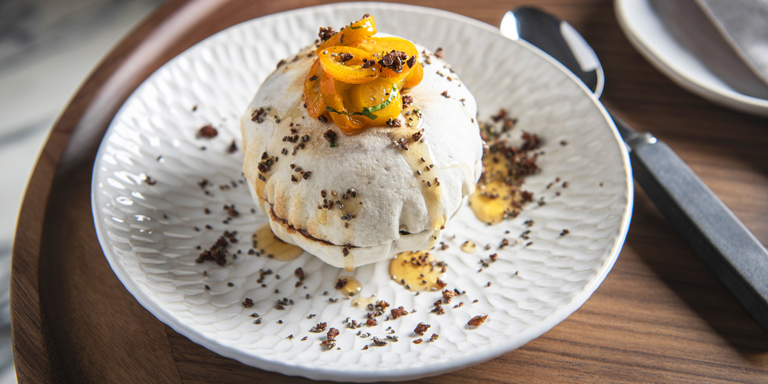 https://hkmb.hktdc.com/en/1X0AJABV
Healthy eating spiced up
A wellness diet does not call for bland food, this chef believes.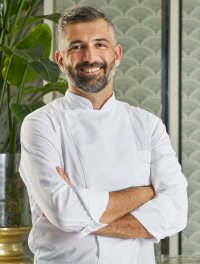 Healthy eating does not have to mean compromising on flavour, chef Renaud Marin of Hong Kong's Asaya Kitchen believes. The restaurant, at the Rosewood Hong Kong hotel in the Tsim Sha Tsui tourist district, serves up cuisine that uses responsibly sourced ingredients, as many of which as possible are sourced locally. The cuisine is an eclectic mix of Mediterranean and Asian influences with no meat on the menu, only plant-based and fish dishes, complemented by antioxidant-rich, organic and biodynamic wines. To further demonstrate its commitment to wellness, the restaurant is located on the same floor as the Rosewood hotel's fitness facilities and spa, and Asaya delivers nutritious dishes that help fuel the body for fitness.
Are there common misconceptions about healthy eating and "wellness" restaurants, and how do you challenge them?
That everything needs to be boiled or steamed and tastes bland. Healthy food can also be bold, colourful and flavourful, as we demonstrate with our menus.

Which dishes go down well on the breakfast, lunch and dinner menus?
For breakfast, avocado on toast is always a winner, and there are great benefits to be had from the homemade sourdough. We add argan oil, which is good for hair, skin and nails, and black olive powder, which is packed with unsaturated fat for a great start to the day. Shakshuka is the most comforting and healthy breakfast food: roasted peppers, tomato, onion with poached egg, labneh (a soft cheese made from strained yogurt) cumin and coriander – it's my all-time favourite.

For lunch, the tomato tartare is proving popular… it's just dried tomato dices seasoned to give that meaty texture served with bulgur wheat seasoned with a citrus base dressing, fresh herbs, and diced celery and cucumber for some crunch. The pan-fried black bream is very simple and very Mediterranean, and is served with crushed zucchini and raw marinated vegetables.

For dinner, there's the Asaya garden salad, which features all we can find in season that's local and prepared as many ways possible – pickled, raw, blanched, grilled, baked and shaved. For the sea bream carpaccio, we marinate the fish like a ceviche in a yuzu ginger dressing. The whole fish from our fisherman are always different, and are stuffed with black rice, tofu, a fresh herb mix, then baked. For dessert, there's a pineapple carpaccio, a whole fruit roasted until caramelised and served with a guilt-free yogurt sorbet and lime zest. We use coriander honey to roast the pineapple, which helps digestion.

Asaya Kitchen claims to create a relationship with food that is cultivated from, "a sense of discovery and self-awareness". How do you do that?
We try to build dishes in a way that encourages diners to discover a new approach to nutrition. Healthy dishes can also be very tasty.
You work with partners in Provenance Distributions, such as the Shun King fisherman family in the Sai Kung peninsula. Will you welcome any more local suppliers soon?
We're also working with several local organic farms to source our vegetables and use locally made tofu for our dishes.

How do your cooking techniques optimise gut health?
We pickle, ferment and culture ingredients as much as we can. We also lacto ferment, and make vinegars, kimchi, miso, koji rice and barley. We've been quite proactive to inform diners about all aspects of gut health.

You have a zero-waste policy; everything is used and reused in the kitchen – what is the process, and what were the challenges?
We have a "use as much as we can" policy in the kitchen. We collect all scraps when we're preparing food, and they are stored in our "big box of everything". Every day, we go through and reuse waste for stocks, purees and powders. The biggest challenge is changing the mentality around using all that comes to us, as for a long time the industry has created a demand for only prime cuts and premium-quality vegetables. The mentality needs to change on both sides, customers and chefs alike.

What are the advantages of being a chef in Hong Kong?
Our young staff are motivated and hard-working and we have access to a tremendous amount of ingredients and a very diverse customer base here in the city.

How will the menu continue to develop at Asaya Kitchen?
The menu will evolve on the same basis, with plenty of dishes utilising raw, nutrient-rich ingredients. We'll also continue look for newcomers to the supply chain in Hong Kong.

What is the single biggest change we could all make in order to eat a healthier diet?
Reduce meat altogether and diversify your food intake as much as you possibly can. We need a bit of everything to live and lead a balanced life.
Related link
Rosewood