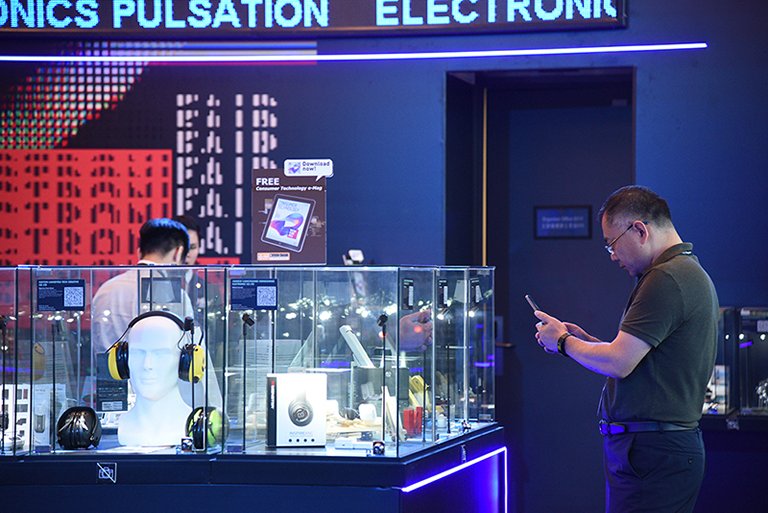 https://hkmb.hktdc.com/en/1X0AJA7Z
HKTDC Hong Kong Electronics Fair Survey Autumn 2019: Industry Still Cautious Amid Lingering China-US Trade Tensions
Although China and the US are trying to negotiate a trade agreement, electronics industry players have reported increasing pressure on their export performance during the Autumn Edition of the 2019 Hong Kong Electronics Fair (13-16 October) against a backdrop of lingering China-US trade tensions. Survey respondents told HKTDC Research of heightening concerns about the prospects of most traditional markets over the near term.
Respondents identified electronic and electrical accessories as the products likely to be mostly affected by the on-going trade tensions. However, they also said they expected these items to remain in demand and achieve the highest growth in sales in the coming year.
Over the next two years, the electronics industry anticipates growth in smart home features. Of all the smart home products now coming to market, system items that connect wirelessly to the internet are expected to have the greatest potential. The prospects for e-sports products and equipment are also considered promising, especially in North America, South Korea and Japan.
Increasing Pressure from China-US Trade Tensions
With another US$300 billion worth of Chinese goods becoming subject to additional tariffs when entering the US market from September 2019, some 63.9% of all electronics industry players expressed concern with regard to the on-going trade dispute dampening demand for their exports over the near term. That is more than double the 28.8% who expressed concern at the last Fair, held in April. Meanwhile, respondents who expected to stay unaffected dropped by half from 61.1% in April to 28.6% in October. Overall, buyers were more pessimistic than exhibitors, with 68.7% of buyers surveyed saying they were worried about the negative effects from the trade dispute over the near term, compared to 55.1% of exhibitors who expressed the same feelings.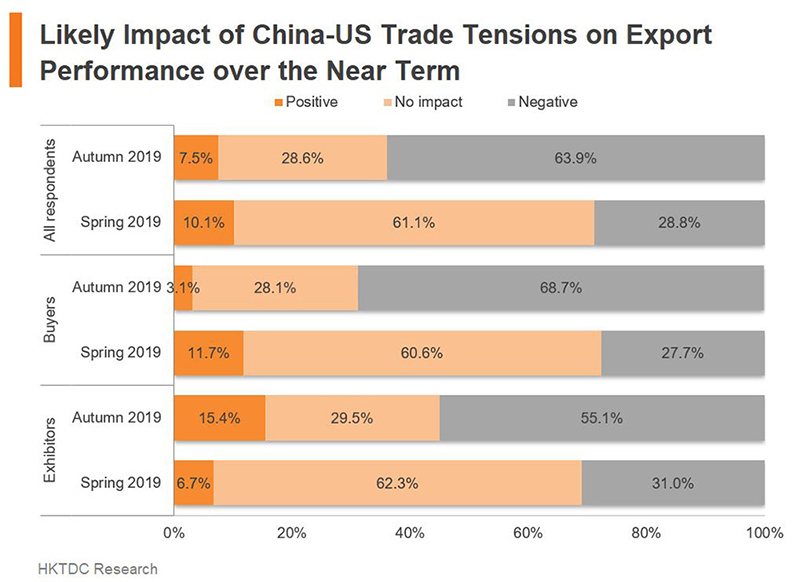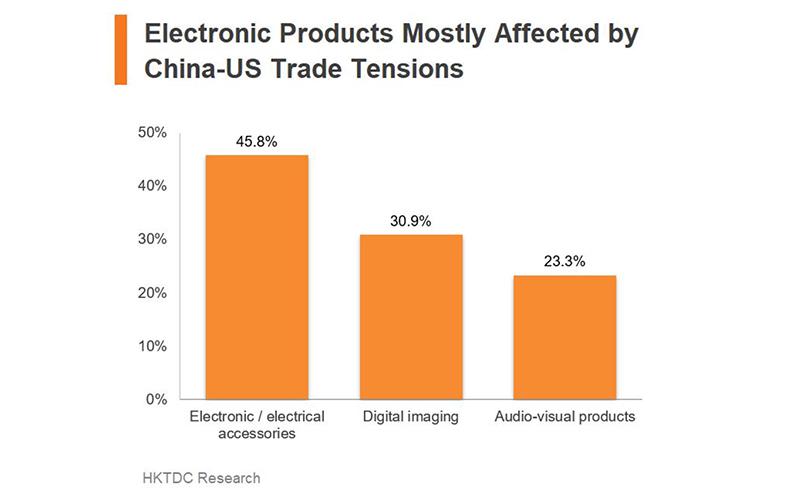 Nearly half (45.8%) of all respondents agreed that sales of electronic and electrical accessories are likely to be the segments most affected by the lingering trade tensions. Meanwhile, others thought digital imaging (30.9%) and audio-visual products (23.3%) would be affected most.
Stay Cautious for 2020
With China-US trade tensions unresolved, the electronics industry signalled caution with regard to overall market prospects for the coming year. When asked about sales growth over the next 12 months, 25.9% of respondents were optimistic, which compares with the 50.3% who expressed the same view earlier this year. Conversely, some 17.1% of respondents thought sales would drop in 2020, up from 3.3% making the same prediction at the spring event.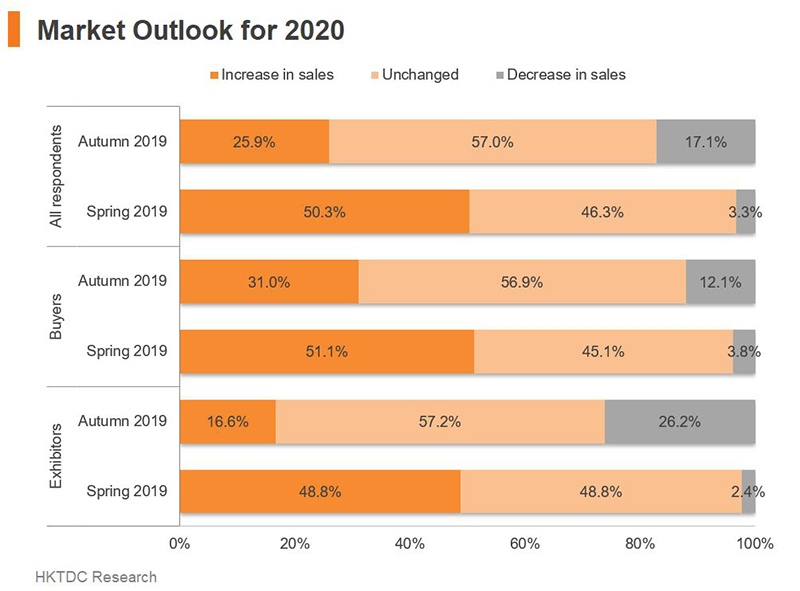 While the prospects for Hong Kong electronics exports look gloomy overall, industry players viewed the outlook in traditional markets with particular pessimism. Rating markets on a scale of 1 to 5, where "1" denotes a "very unpromising" market and "5" for a "very promising" market, South Korea remained the market with the greatest perceived potential for electronics exports over the next two years at 3.68, down from 3.91 in April. Meanwhile, having been the least valued traditional market at the last Fair, Australia and the Pacific Islands rated at 3.53, making it the second preferred market for electronics this time round. Respondents were the least confident about the prospects of North America, with its rating recording the largest drop, from 3.78 in April to 3.38 in October.
As for emerging markets, the Middle East was highly rated by respondents at 3.8, up from 3.53 in April, putting it well above all the traditional markets, followed by the ASEAN countries (3.71) and mainland China (3.64).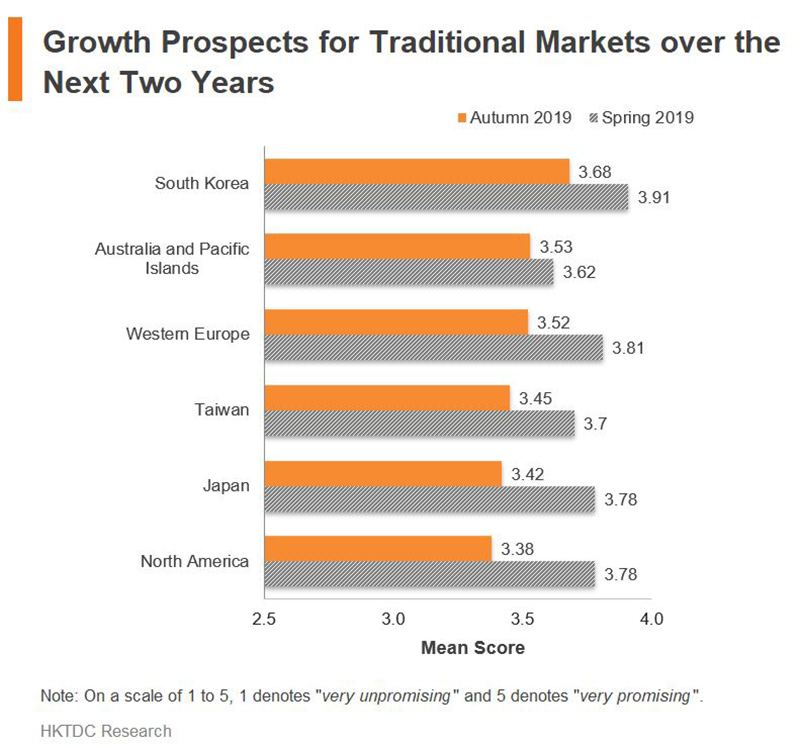 Electrical Accessories the Most Sought-after
Despite pressure from the China-US trade tensions, electronic and electrical accessories held its position as the most promising product category in 2020, so-rated by 18.2%. Respondents also indicated increasing demand for audio-visual products, with 15.7%, up from 12% in April, anticipating these items will experience the largest growth in sales in the coming year. Other electronic products tipped to shine in 2020 include computer and peripherals (12.3%), digital imaging (7.8%) and home appliances (7.8%).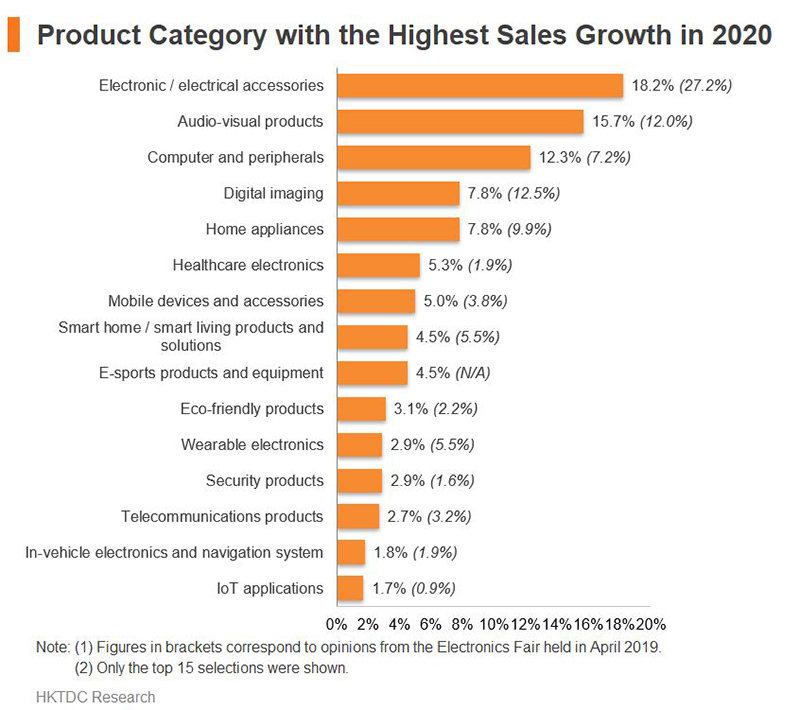 Electronics with Smart Home Features
With adoption of the Internet of Things (IoT) progressing, smart home applications will remain the key area of development for the next generation of electronic products. According to the industry players surveyed, system items for wirelessly connecting to the internet are considered to have the highest market potential over the next two years, rated at 3.86 on a 5-point scale, followed closely by audio-visual items with smart functions at 3.83. Respondents were also confident in the prospects of smart devices for energy management or energy saving (3.81), and wireless charging devices (3.76).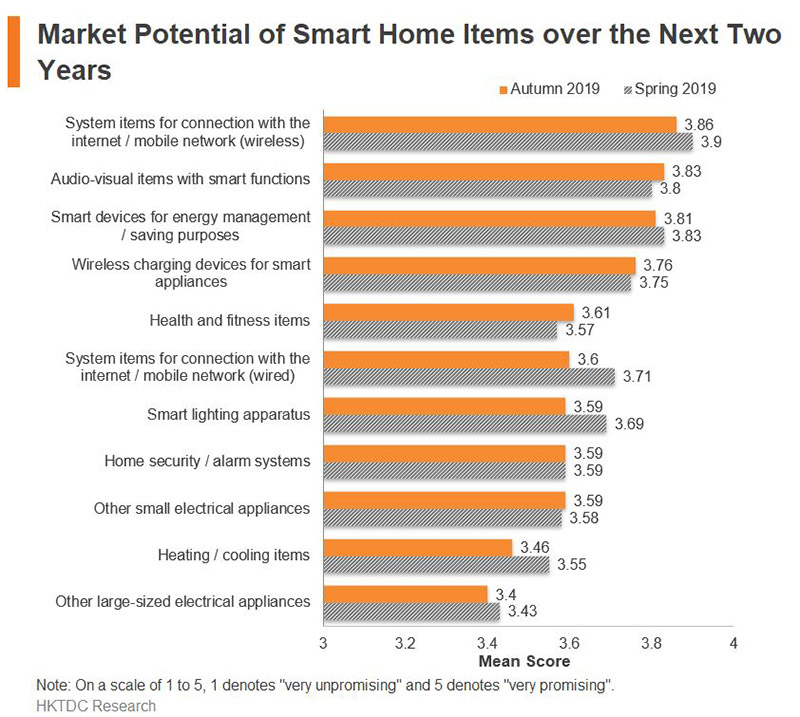 Anticipating increasing demand for smart home electronics, most (83.7%) industry players said they believed consumers would be willing to pay an additional 1-20% over the original price for electronic products and household appliances featuring smart home functions. Some 14.6% of respondents even expected a premium of up to 40% to be accepted by consumers.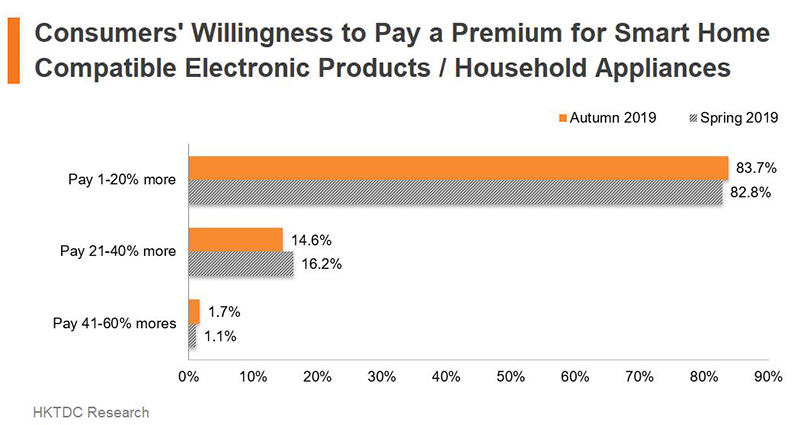 Positive Prospects for E-sports Products
Smart home items aside, e-sports products and equipment are another area with high market potential over the next two years. Some 74.5% of all respondents rated prospects of e-sports-related items "promising" or "very promising", compared to 78.5% who expressed the same optimism at the 2018 autumn Fair. Only 0.7% of respondents were took a negative view of the market potential of these products, down from 3.2% last year.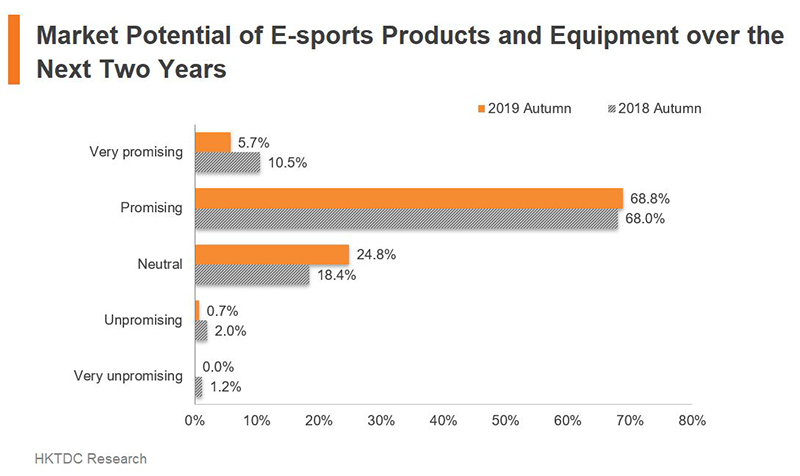 As for markets for such products, North America remained the market with the largest growth potential, according to some 44.1% of industry players surveyed, up from 39.3% in the 2018 autumn Fair. In Asia, South Korea and Japan were considered to be the most promising markets, both identified by 37.6% of all respondents. Meanwhile, respondents were found to be less optimistic about the Chinese market: confidence in it fell by 14.1 percentage points from 36.2% in October 2018 to 22.1% this time round.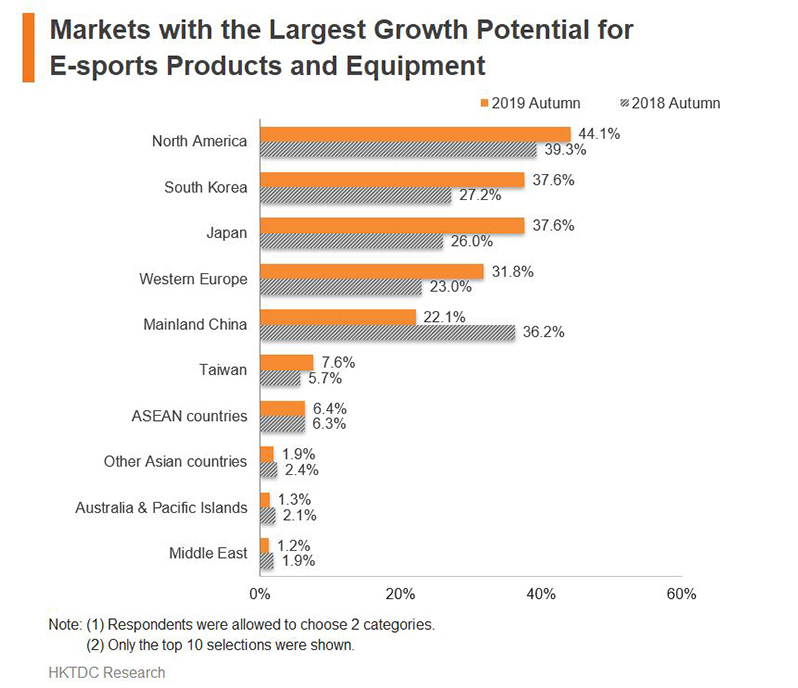 Respondents' Profile
The HKTDC Hong Kong Electronics Fair 2019 (Autumn Edition) took place from 13-16 October. During the course of the event, HKTDC Research canvassed opinions from 1,055 industry players – 683 buyers and 372 exhibitors – in order to determine their views on the electronics industry's prospects and the product trends likely to prove significant over the coming year.
Of the 683 buyers canvassed, 37.6% were based in Hong Kong, while the remainder were based overseas. Their primary sales markets were non-China Asia (54.9%), Western Europe (38.5%), mainland China (36.9%) and North America (35.3%).
Of the 372 exhibitors polled, 32.5% were based in Hong Kong, while the remainder were based overseas. Their primary export markets were non-China Asia (54.3%), Western Europe (52.7%), North America (42.7%) and mainland China (34.7%).
Electronics & Electrical Appliances