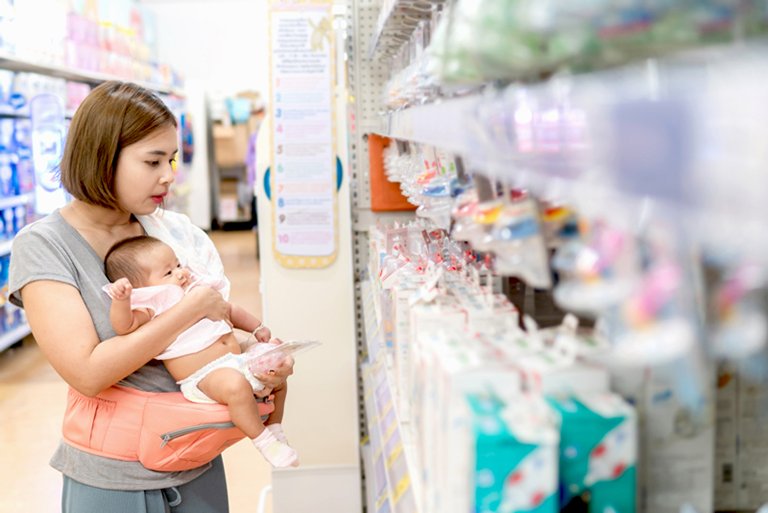 https://hkmb.hktdc.com/en/1X0AJ54H
The Philippines' Baby and Maternity Market: Targeting Millennial Parents
Each year, there are more than 1.7 million new births in the Philippines. With a fertility rate of 2.6 children per woman, higher than the world and regional averages, the Philippines represents good opportunities for Hong Kong baby and maternity product suppliers. With rising incomes and increasingly sophisticated demands, the new generation of parents in the country are becoming more passionate about purchasing the best products for their babies and keen to try out imported goods.
In the Philippines, the constantly rising health consciousness among different income classes is influencing parents' purchasing decisions and stimulating demand for baby care products. During 2015-2018, retail sales of baby and maternity products performed well, with an average annual growth rate of 4.8%, according to Euromonitor. With favourable economic conditions and rising household incomes, the Philippine baby and maternity market is expected to flourish in the coming years. In view of the growing export potential in the Philippines, the HKTDC commissioned Euromonitor to conduct a study on consumer market opportunities in six ASEAN countries[1]. This article presents the key findings on the baby and maternity market in the Philippines.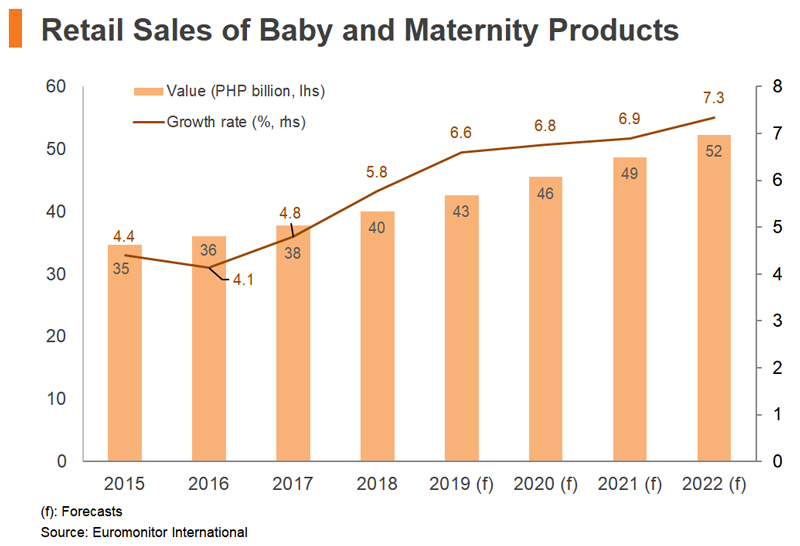 Product Premiumisation with More Natural Ingredients and Extra Benefits
Today, Philippine parents are increasingly looking for healthier alternatives for their children and are willing to pay a premium for them, especially middle to higher income consumers. They have become more concerned about the sensitivity of their children's skin and exposure to chemicals. Rising incomes mean that more parents can afford premium products that address these concerns. Products with natural or organic ingredients have a niche market and command a higher price. For example, a 200 ml bottle of Mustela shampoo for babies, which is marketed as having 93% natural ingredients, can sell for about PHP395 (US$7.8), while a regular Johnsons & Johnson's Baby Shampoo of the same size sells for about PHP140 (US$2.7).
As parents nowadays are committed to providing the best for their children, products with additional benefits will be attractive to consumers. For example, within the Johnson & Johnson product line, Baby Messy Time Wipes, which contain 80 cloth wipes are sold at about PHP107 (US$2.1), while Baby Skincare Wipes which contain 75 wipes sells at a premium for PHP191 (US$3.7) as it is marketed as having moisturising lotion and using ultra-fine fabric.
However, the majority of Filipino consumers often seek value-for-money deals. For non-premium products retailers usually offer bundling options, discounts with bulk purchases, or even a points system where customers are given a free product after a certain number of purchases of a specific item. For example, mass market brand, Tupperware, often offers bundled baby products; its 100 ml Baby Care Plus shampoo was sold for about PHP150 (US$2.9) with a buy-one-take-one promo.
At the same time, recent government efforts to increase environmental awareness have also seen parents opting for more sustainable products in the baby and maternity market. As the trend of ethical living grows among Filipino consumers, reducing waste and being eco-friendly are increasingly part of the shopping agenda, especially among young millennials. While such products are often too expensive for mass consumers, these may be what more affluent customers are looking for.
Case Study: Eco-friendly Baby Product Brand Makes its Niche in the Philippines
Founded in 2010, Charlie Banana is a Hong Kong-based company that sells a collection of stylish eco-friendly baby and maternity products. Being based in Hong Kong, the company has access to efficient shipping and logistics services to ensure timely order fulfilment for customers worldwide. The company works with major retailers, including Amazon and Target in the US, where it first gained popularity with its collection of trendy cloth diapers.
In the baby and maternity market, there has been a rise in the demand for reusable cloth diapers that lessen babies' exposure to chemicals normally found in disposable diapers. Because they are washable, cloth diapers are seen to be more environmentally friendly and good value for money. While cloth diapers have always existed in the Philippines, young parents, especially millennials, want something more convenient and trendier. Modern reusable cloth diapers often have stylish and convenient designs and feature snap-on or Velcro fastening. These were often bought from overseas through online channels, such as Amazon, and shipped to the Philippines.
To answer this demand, Borderless Exchange partnered with Charlie Banana to distribute the latter's products in the Philippines. The products are sold in several upmarket department stores, such as Rustan's, as well as in bricks-and-mortar and online baby specialist retailers. Charlie Banana maintains a Facebook account where the company interacts with customers, as well as posts pictures of products and ongoing promotions. It has also partnered with influencers and bloggers, such as Amanda Griffin Jacob, as well as participating in trade shows to give its products better exposure.
Because of its efforts, Charlie Banana is well known in its niche in the Philippines. Following its success within the baby product category, the company has also introduced its washable feminine sanitary pads to answer the rising demand in the country for sustainable feminine products.
Consider Key Distribution Channels and Leverage on E-commerce Platforms
For baby necessities, modern grocery retailers, led by supermarkets and hypermarkets, are the largest distribution channel. These retailers tend to allocate significant shelf space for tissue and hygiene products. At the same time, specialist baby stores are an important retail channel for many, with certain brands of diapers and baby wipes only available in specialist shops which target new mothers by offering a wider assortment of baby care products.
The Philippines is an archipelago of more than 7,000 islands, with uneven urban development. At present, modern retail is largely concentrated in bigger cities. The majority of people who live in non-urban areas have limited access to malls or bricks-and-mortar stores. For these customers, as well as busy working parents in cities, online shopping platforms are important for their pick of baby and maternity products.
Internet retailing is becoming important in the distribution of baby necessities and baby care products. In fact, diapers have been one of the key categories driving sales for Lazada, the leading online shopping planform in ASEAN. Many leading baby product companies are partnering with Lazada and some brands are promoting Lazada as a convenient purchase point for their products.
Many online baby product stores are founded by mothers. These 'mompreneur' online shops have become popular because of their carefully selected product portfolio. The products carried by such online stores, such as Forever Mommy Inc and Baby Outlet, are tested by the online shops' founders. Hong Kong suppliers may find good opportunities in partnering with online retail platforms to test the market without incurring high initial investment.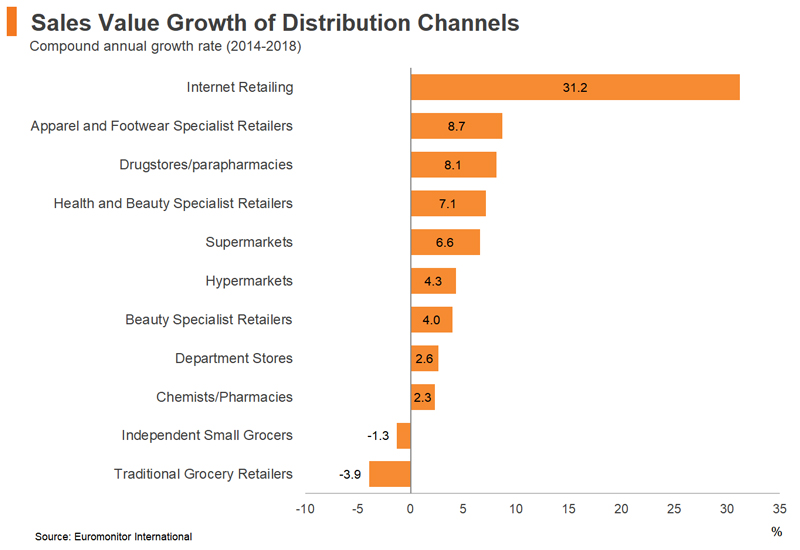 Marketing
Because of widespread counterfeit products in the Philippines, many parents are worried about the authenticity of products, especially those coming from overseas. To mitigate the problem, baby products marketing should emphasise authenticity to avoid any safety concerns. This could mean providing a website where consumers can type in the product code of their purchase to check authenticity, or authenticity guarantees.
In the Philippines, there are various B2B exhibitions and B2C trade shows for the baby and maternity industry, such as Baby, Kids and Family Expo and Expo Mom, which are visited by many retailers, distributors and consumers in the country. Hong Kong SMEs can target these trade shows to connect with potential partners and gain feedback from local consumers.
---
[1] The study covers six ASEAN countries, including the Philippines, Indonesia, Thailand, Malaysia, Singapore and Vietnam.
Philippines
Southeast Asia