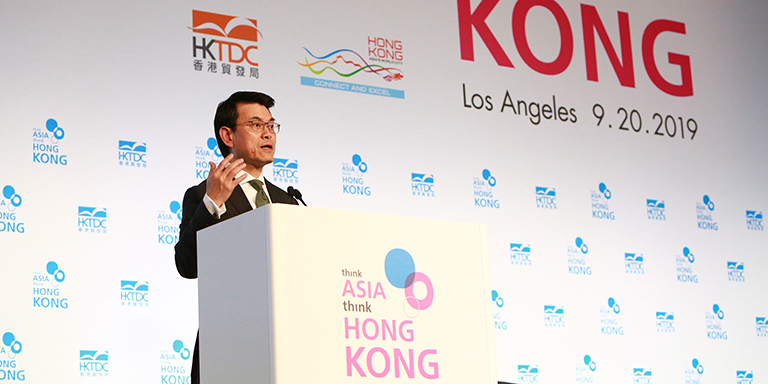 https://hkmb.hktdc.com/en/1X0AIYLL
Government shores up support for SMEs
Hong Kong's commerce secretary urges businesses to seek future growth in new markets as he outlines support measures.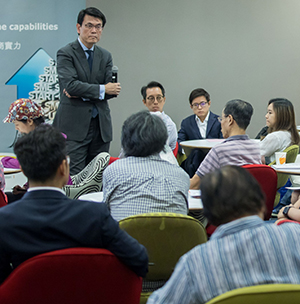 As protectionism increases and the trade conflict between the United States and Mainland China lingers, the threat of recession hangs over Hong Kong's externally oriented economy. The Hong Kong Special Administrative Region (HKSAR) Government has implemented a series of relief measures to help businesses overcome the current challenges.

In addition to injecting capital into individual subsidy schemes, authorities are re-examining and enhancing the use and effectiveness of all existing schemes. Edward Yau, Secretary for Commerce and Economic Development of the HKSAR, emphasised that government support measures set up over the years could be likened to a treasure map on which enterprises can plot future growth. The primary task of the government at present is to help businesses develop new markets.

In an exclusive interview, Mr Yau pointed out that Hong Kong's economy is heavily trade-dependent, with trade in goods and services respectively ranking seventh and 17th globally. Both forms of trade are important to the Hong Kong economy.

What impact does the Sino-US trade conflict have on Hong Kong?

On the surface, the US and Mainland China are engaging in a trade war of goods. As merchandise trade between the two countries through Hong Kong accounts for about 9% of Hong Kong's trade volume, the direct impacts of the trade war on the city appear to be limited. But, as a financial hub, Hong Kong is inevitably affected by international situations. Negative impacts arising from any type of trade conflicts between the US and the mainland will for sure affect the whole world – Hong Kong included – because they are the world's two largest economies and trade systems.

The tussle between the world's two largest economies has turned the economic trends of world markets on their heads. So far, a number of leading international financial institutions worldwide, including the International Monetary Fund, the Organisation for Economic Co-operation and Development, the World Bank as well as the World Trade Organization have all cut their forecasts for world GDP growth in both 2019 and 2020. The lowest forecast is 2.3% while the highest is only 3.2%, and these forecasts may be further revised downwards.

Will SMEs take a hit?

Small and medium-sized enterprises (SMEs) constitute more than 98% of all local businesses and employ 45% of Hong Kong's workforce. As such, they are the main pillar of the city's economy. Hong Kong is keen to develop its high-end services sector. Yet, companies in this sector, such as financial and law firms, usually have less than 100 employees. Their lower buffering capability or bargaining power means that whenever headwinds appear in the external economy, these SMEs will be the first to bear the brunt. Employees are in fact the key asset of SMEs. Even though SMEs are not employing many staff, salary and rent are generally the two major items in their operating costs, followed by machinery and equipment.  Since human resources are the greatest asset in the services sector – and the more professional a company is, the more it will have to rely on its staff – SMEs are most reluctant to cut headcount.

How is the government helping SMEs?

SMEs often encounter fund-flow problems. To SMEs that engage directly in trade, the most direct impact of the Sino-US trade conflict is a reduction in orders and resultant fall in revenues, which will in turn restrict fund flows and heighten import-export risks. To counter this, the Hong Kong government is boosting export insurance measures and offering credit guarantees to SMEs. If an SME wants to seek growth and transform itself, it will have to borrow from banks. That is why, in offering an 80% credit guarantee under the SME Financing Guarantee Scheme, the government has raised the lending ceiling from HK$12 million to HK$15 million, and the repayment period from five years to seven years. In addition, to alleviate the loan burden on companies, the guarantee fee required has been reduced 50%.

How should businesses go about diversifying geographically?

Hong Kong companies have long been known for their agility. So, as US business shrinks, many of them have already set their sights on emerging markets. To encourage companies to turn their attention to emerging markets in Belt and Road countries, especially the Association of Southeast Asian Nations (ASEAN) region, as well as the Guangdong-Hong Kong-Macao Greater Bay Area, the government has implemented several support measures. Two of the measures involve injecting a combined HK$5.5 billion into the Dedicated Fund on Branding, Upgrading and Domestic Sales (BUD Fund) and the SME Export Marketing Fund (EMF). Our main objective is to provide financial assistance for SMEs in upgrading, transformation, market expansion and brand building. Presently, the government has some 40 different funds catering to SMEs. These funds, together worth HK$35 billion, are already open for application. SMEs studying these funds will have no difficulty surmising that they effectively weave out a treasure map that may help them tide them over this difficult period.

How do free trade agreements (FTAs) help Hong Kong companies?

To ensure Hong Kong companies have the resources to withstand economic upheavals, the government is helping them access new markets. Following sustained effort, the government has raised the number of FTAs signed with other countries from four two years ago to the current eight. The number of markets involved has expanded from seven to 20. In recent years, we frequently organised business missions with the HKTDC to visit industry parks of Belt and Road countries such as Serbia, Spain, Georgia and Ethiopia, where many Chinese state-owned enterprises (SOEs) have already set up shop. The setting up of SOE subsidiaries in some industrial parks of these countries has given rise to other business activities and increased the demand for professional services, which offer opportunities for Hong Kong's professional services providers. We can treat the currently more than 100 industry parks or economic zones as new reference points for transforming Hong Kong's economy, particularly when nearly 40 of these parks and zones reside in ASEAN or places where FTAs have been signed with Hong Kong.

Economic growth has recently slowed down in mature markets such as Europe, the US and Japan; the mainland, hitherto the sole locomotive driving global economic growth, has also seen the double-digit expansion it recorded over several decades slacken. It is therefore appropriate that emerging markets such as ASEAN become the new powers dominating the global economy. Mr Yau pointed out that in terms of trade, ASEAN – with an overall growth of about 5% – has already become Hong Kong's second-largest trading partner, while the growth momentum of India and the Middle East is not to be discounted. In recent years, the government has been working hard to set up "bridgeheads" in various forms in several parts of the world. For example, an FTA was signed with Georgia because a company setting up a factory there would enjoy tariff-free treatment when exporting from there to Europe. The purpose of our plan to establish an economic and trade office in Dubai is also to build a stronghold there. India is our seventh-largest trading partner, so we should also establish our presence there. At a time when the mainland is reaching out to other countries, we can leverage our economic and trade ties with it to jointly develop new strongholds worldwide.

The aim in establishing these "bridgeheads" is to ensure Hong Kong companies can always find better and more lucrative opportunities irrespective of the local economy, outcomes of the Sino-US trade conflict, or how the European Union and Japanese-Korean trade disputes may evolve.

This interview originally appeared in the Hong Kong Economic Journal.

Related links

Hong Kong's Commerce and Economic Development Bureau
BUD Fund
EMF Fund