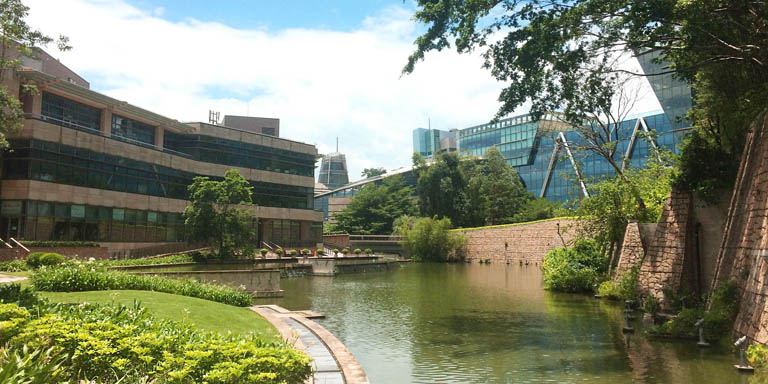 https://hkmb.hktdc.com/en/1X0AISJ5
'Super-connector' for Digital Silk Road
Consultancy study highlights Hong Kong's potential to play a key role in new digital economy.
The current wave of digital transformation is set to bring fundamental changes to society. Through its vision of the Digital Silk Road Initiative as part of the broader Belt and Road Initiative, Mainland China aims to establish a digital ecosystem that can promote connection, inclusion, disintermediation and co-sharing in different economies along the Belt and Road. The Digital Silk Road is set to reduce trade friction and increase efficiency, contributing significantly to the inclusive growth of the global economy.

With its inherent strengths and positioning, Hong Kong can participate in and contribute to this important initiative to build a digital economy for the world, a consultancy study supported by the Hong Kong Trade Development Council (HKTDC) Belt and Road Committee has revealed. The study project team was drawn from three organisations: the University Research Facility in Big Data Analytics, the AMTD FinTech Centre of the Faculty of Business at Hong Kong Polytechnic University (PolyU), and the Laboratory for Smart City and Spatial Big Data Analytics at PolyU.
Super-connector role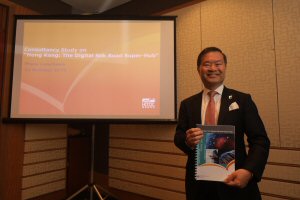 Commenting on the survey findings at a recent press briefing, Lee George Lam, Convenor of the Digital Silk Road Working Group of the HKTDC Belt and Road Committee, said: "Hong Kong is an international commercial and financial centre that has rich experience in facilitating business between Mainland China and the rest of the world.

"With its unparalleled advantages such as a simple and low tax regime, free trade and free capital flow, and comprehensive legal system, Hong Kong can play a 'super-connector' role to become the digital gateway for the Digital Silk Road Initiative," said Mr Lam, who is also Chairman of Hong Kong Cyberport Management Company (main picture).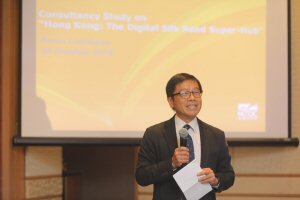 HKTDC Deputy Director of Research Billy Wong said technological innovation and the digitalisation of financial activities brought about by the initiative will increase the flexibility of business activities between Belt and Road markets, lifting the cross-boundary hurdles that result from different legal and tax systems and diverse trade and financial practices.

"With its unique positioning as the gateway for the Digital Silk Road, Hong Kong is facing a once-in-a-lifetime opportunity to establish a new engine for growth that can help propel the world's economy to a whole new level," Mr Wong said.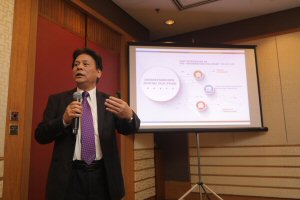 Wilson Tong, Director of the AMTD Fintech Centre of the Faculty of Business at PolyU, put the spotlight on Hong Kong's strategic location in the Guangdong-Hong Kong-Macao Greater Bay Area, explaining that many of the mainland's advanced technologies and talents are now concentrated in Shenzhen and Guangzhou. Hong Kong companies, including start-ups, can tap into the talent pool of the Greater Bay Area to advance their digital transformation and business development, Prof Tong said. Hong Kong is also in a strong position to help mainland tech companies "going out" to explore global markets.
Digital Silk Road positioning
For the Digital Silk Road Initiative to succeed, the study determined that the prerequisite, first and foremost, is a robust digital infrastructure carrying cable networks, satellite navigation and communication systems, strengthened further by new technologies including 5G telecommunications, artificial intelligence and big data analytics. Other important elements include the establishment of laws, policies and trade agreements easing data flow across borders. Data ownership, data privacy and intellectual property protection are other highly sensitive issues that need to be taken into consideration.

Hong Kong's intrinsic strengths and extensive experience put the city in an advantageous position to play a key role in the success of the Digital Silk Road Initiative. The study has identified five areas where Hong Kong can make a significant contribution.
1. As a cloud data centre
The huge amounts of data generated each day worldwide have tremendous value if they can be organised and structured in an effective way. Hong Kong can consider creating a cloud data platform to encourage the sharing and use of data among Digital Silk Road economies. Hong Kong is in the best position to host such a platform as it has the capability to uphold the integrity of the data and information stored.

2. Digital finance hub
Hong Kong is a well-established international financial centre – the third largest in the world after New York and London. To move to a new level as a digital international financial centre, Hong Kong should fully embrace fintech developments and explore the possibility of launching an exchange to trade in digital assets along with a cryptocurrency that can support cross-border transactions.

3. Arbitration centre
Given the city's credibility as a legal centre, built on the strength of its common law and independent judiciary, Hong Kong is in a strong position to become an international arbitration centre. Digital technology is set to transform the arbitration process, creating new processes such as e-arbitration and online arbitration. The city needs to act fast to define best practices and create a workable environment.

4. Smart entrepôt
Hong Kong has long been an important entrepôt with a well-established logistics infrastructure and world-class port facilities. Upgrading the freight-handling power and efficiency of Hong Kong's seaport and airport to smart port facilities is required. By employing blockchain technology to empower supply chain financing and reduce the heavy documentation characteristic of the import-export trade, Hong Kong can further boost its entrepôt role, connecting with other markets in the Greater Bay Area to create a highly efficient logistics and supply chain.

5. As a smart economy
Hong Kong should speed up its development into a smart city, not only to help tackle urban problems but also to become a showcase for other countries along the Digital Silk Road. With its business-friendly environment and efficient administration, along with its world-class research universities, Hong Kong is in a strong position to groom, attract and retain talents domestically and globally.
Related link
Belt and Road