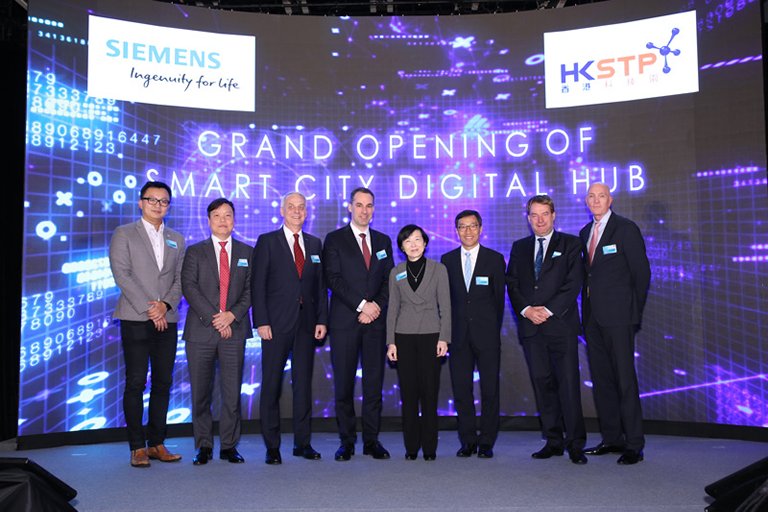 https://hkmb.hktdc.com/en/1X0AIRTY
The Greater Bay Area: Powering "Smart" Integration
German manufacturing conglomerate Siemens has many interests in the Greater Bay Area (GBA), ranging from developing building technologies and digital industries to its involvement in energy efficiency and transport projects. Explaining the main thrust of his company's activities in the GBA, president and CEO of Siemens Hong Kong, Eric Chong, said: "Our major focus in the GBA is extending our E-A-D (Electrification-Automation-Digitalisation) strategy by offering digital services and solutions to industry, and infrastructure such as energy, rail and buildings in line with our Smart City vision."
The company is already very familiar with Guangdong, its deep penetration in the province driven in part by the presence of Hong Kong-based manufacturing industries and the mainland's "Go West" policy. Despite industries moving "up and sometimes out" of Guangdong, the industrial sector – particularly the automation segment – remains one of the company's top revenue earners.
However, Chong explained that – with the advent of the GBA blueprint and its emphasis on urbanisation and connectivity – the focus for business growth potential has changed, saying: "As a matter of timing, as the GBA develops, infrastructure is becoming an increasingly key sector."
Infrastructure a Major Earner
The GBA, with a population of more than 70 million and a GDP of some US$1.6 trillion, represents a significant part of Siemens' global business. Given the GBA's need for long-distance mainline railways, and inter-city and urban railway connectivity between and within the nine mainland cities, rail transport is one of the company's priorities.
Outlining Siemens' strategy regarding rail, Chong said: "Inter-city rail has great potential as urban density increases in the future. That includes ensuring that this is linked at the lowest carbon levels to ensure a 'livable environment'. Inter-city rail is currently not as intense as is required for urban development; this is not high-speed rail but still delivers rapid services. The key to getting this done is cost efficiency."
He added that urban planning should ensure that road transport infrastructure and services support rail systems to ensure the most efficient and sustainable approach.
Chong described what Siemens offers its clients, saying: "Smart infrastructure requires both 'soft' and 'hard' elements; we have an 'Industrie 4.0 or I4' approach where we offer to supply both hardware and software – including design and simulation exercises. Our 'digital twin concept' includes controllers, execution of the project and operation (of say, factories) as well as building information modelling (BIM) design which is transferrable to project management and the optimisation of infrastructure life cycle costs. Those costs are often more expensive than the infrastructure itself."
As part of this concept, Siemens relies on its bespoke hardware, together with big data and Internet of Things (IoT) technology expertise.
Hong Kong's 'Smart City' Initiative
With digitalisation emerging as a global trend in recent years, Hong Kong has become central to the company's evolving strategies for the GBA. Chong pointed out that the Hong Kong government's Smart City Blue Print, launched two years ago, synchronised neatly with Siemens' own 'smart city' practices, saying: "The government's initiative was welcome. We have been working on state-of-the-art electrification and automation of buildings in Hong Kong, and digitalisation is necessary."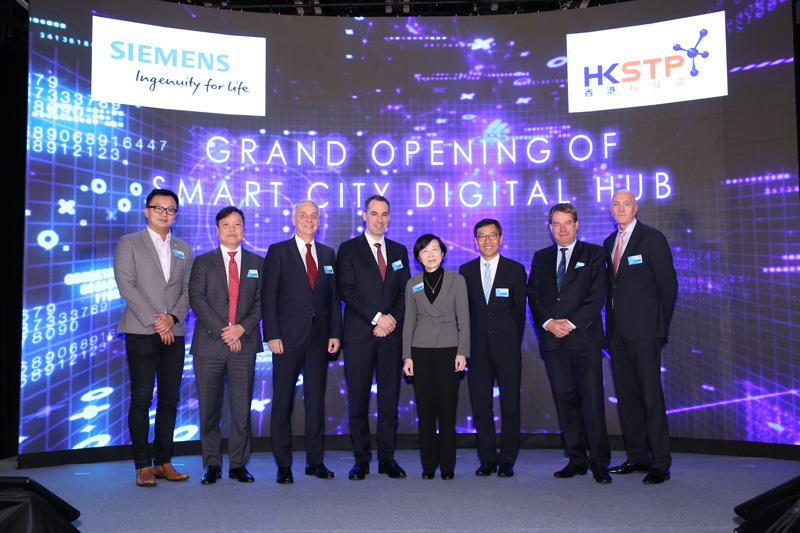 Chong explained that Siemens' approach has been to adopt a strategy of 'smart place' development. This involves concentrating on factors like individualised occupancy, space optimisation and interactivity – i.e. buildings that can "talk" to their occupants or with each other. To support this last objective, technology such as sensors for controlling room environments and environmental data collection will be rolled out in Hong Kong over the coming year.
Technology like this is developed by Siemens in Europe and the US and then adapted for Hong Kong, where it can be tested as part of the SAR's 'smart city' development before being scaled up and rolled out to other cities in the GBA. Hong Kong is particularly useful as an environment in which it is possible to test the business case for "smart city" applications, as the introduction of innovative technologies to other GBA cities needs to be driven by the market.
Explaining why Siemens uses Hong Kong as a sort of 'living laboratory', Chong said: "Hong Kong is traditionally very creative and entrepreneurial, and is a great location to innovate with new technologies. The strengths of Hong Kong, its legal system, IP protection, tax system, financial and professional services – all these make Hong Kong a bridge for technology application. The saying 'if it can be done in Hong Kong it can be done anywhere' is very apt."
The 'Living Lab'
In developing this concept of Hong Kong as a 'living lab', Siemens was supported by the Hong Kong Science and Technology Park (HKSTP), which is why the company chose to operate from the Park, with its ecosystem of technology, innovation and contacts with individuals and companies with similar outlooks and business strategies.
Siemens was able to install its Embedded City Box (ECB) on HKSTP infrastructure. The ECB is a device which collects data such as ambient brightness, road traffic levels, temperature, humidity, noise, vibration levels and suspended air particulates. The data can be analysed by artificial intelligence to help deal with urban issues or foresee future challenges.
Hong Kong, with nearly 8,000 high-rises (a greater number than any other city in the world), is also an ideal place for Siemens to develop its 'smart' building technology. How to turn all these buildings into living environments that can interact with their occupants, learn from them, and ultimately adapt to their changing needs is a challenge that will set the pace for the city's future development. Siemens uses intelligent control, security and energy management systems to help offices, data centres, universities, hotels and hospitals provide better support for the occupants and boost comfort, efficiency, resilience and safety. This technology is also likely to become significant in the GBA, as buildings there start to be upgraded to stay competitive and smart.
Pushing the Hong Kong Hub
Recently, Siemens launched a link-up in Hong Kong with start-ups and leading companies like Microsoft and HSBC aimed at identifying opportunities in the GBA. The idea is to use innovation from its Hong Kong-based 'Smart City Digital Hub' to unlock IoT opportunities in smart infrastructure, mobility and energy.
Healthcare is another area in which Siemens hopes to use its links in Hong Kong to target opportunities in the GBA. Hong Kong healthcare companies enjoy the advantage of having strong brands and overseas connections and are attractive to the increasingly wealthy consumers in the GBA. Noting that this development is already underway, Chong said: "We are open to partnerships with providers from Hong Kong and we are already involved in setting up Hong Kong-owned hospitals in the GBA."
Siemens is also keen to encourage technology transfer from overseas to the GBA. Chong explained that any future framework for the GBA would need to embrace the transformation of IT knowledge, despite the differences between the jurisdictions of Hong Kong, Macau and mainland China, saying: "Hong Kong's IP legislation is a unique one embracing international cultures so the challenge moving forward is to agree on the co-operation of standards and common data interchange."
Technology
Building & Construction
Hong Kong
Germany
Hong Kong
Mainland China
Western Europe