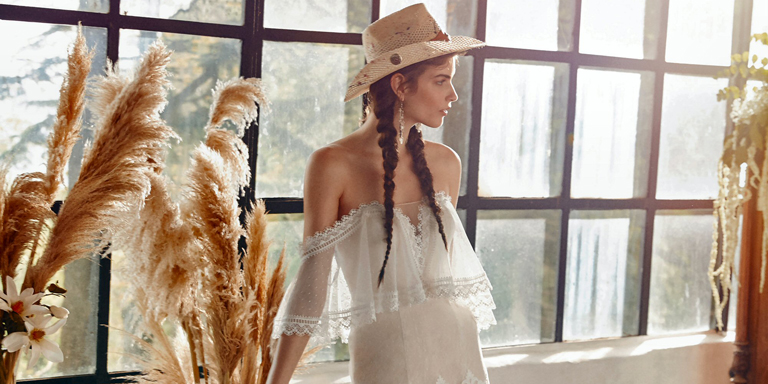 https://hkmb.hktdc.com/en/1X0AIQDH
Timeless bridal couture
This successful Hong Kong-born wedding dress maker has returned to her roots, designing gowns that cross cultures.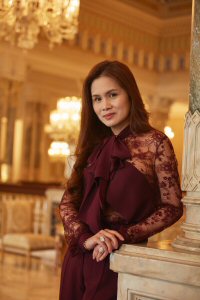 In building her bridalwear business, designer Viola Chan took a unique, east-meets-west perspective. Born in Hong Kong, she grew up in the United Kingdom and, after graduating from the London College of Fashion, was hired by a United States company which designs gowns for beauty pageants and special occasions.

It was a dream job for the new graduate, who had been fascinated with film-star glamour since her early childhood, when Ms Chan's grandfather, who was in the entertainment industry, would take her to attend premieres. "This opportunity brought me to develop my career overseas," she explained. In the US, Ms Chan worked with celebrity designer Oleg Cassini, who remains a mentor and business associate, and over time has also worked with other famous fashion names such as Zac Posen, Vera Wang, Jenny Packham, Melissa Sweet, Galina and Galina Signature.
Signature style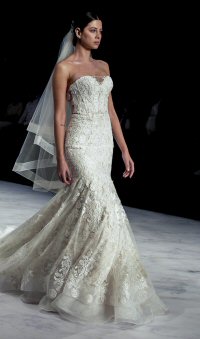 As well as making her mark with other famous designers, Ms Chan has also developed her own signature style, known for its intricate embellishments and spectacular design.

In 2006, Ms Chan established her own eponymous brand, crafting beautiful gowns to suit a variety of silhouettes, styles and price ranges under four labels: Viola Chan Premium, Viola Chan, VC by Viola Chan and Oleg Cassini.

Having built a multi-million-dollar international brand retailing in more than 400 outlets worldwide, Ms Chan decided that it was time to return to her roots. In June this year, the first Viola Chan bridal boutique opened in Hong Kong, to be followed in November by the launch of her online business.

Hong Kong will thus become her platform for further business expansion and investment in luxury design within the Asia-Pacific region.
Platform to Asia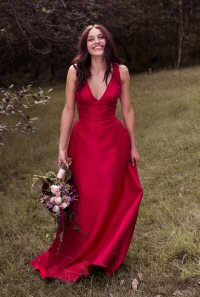 "Beside the fact that Hong Kong is my hometown, our business plan is to develop Asia and Asia-Pacific [markets]," Ms Chan said. "We launched our new business model in Australia a couple of years ago that has been well received. It is an online-to-offline [O2O] concept where customers can select their gowns online and make an appointment for fitting at a showroom location of their choice." This model is now being rolled out in Hong Kong.

Ms Chan believes her cross-cultural perspective gives her brand a unique edge. "I find that the tastes of brides in Asia are now not much different to those in the Western world," she said.

"Hopefully, I can bring a new perspective to the Hong Kong bridal market. With the experiences I have had, I trust it will help me to offer a unique bridal experience to our customers in Hong Kong and across Asia."

The 2,000-square-foot (186-square-metre) Asian flagship store, located in Kowloon Bay, is positioned to provide an unparalleled luxury shopping experience for brides-to-be and Hong Kong style mavens alike.

"The House of Viola Chan's point of difference is that we are a true one-stop-shop," Ms Chan explained. "For brides, our collections cover modern classic to royal, red carpet to urban, edgy to boho [bohemian]. We also have a full range of collections for the mothers and grandmothers, bridesmaids, flower girls and even the guests. Needless to say, evening gowns are also our speciality."
Fashion-forward
Combining traditional motifs with the latest global trends, Viola Chan's collections are fashion-forward, yet timeless. Delicately handcrafted and ornamental, her one-of-a-kind designs are "inspired by the significance of the marital moment" while materialising each bride's dream.

Equally, Ms Chan's sartorial vision follows through to the brand's special-occasion wear which is regularly worn by Hong Kong celebrities including Kay Tse, Gillian Chung, Carol Cheng (Do Do), Joey Wong (JW), Sisley Choi and Miss Hong Kong 2018 Claudia Chan. International celebrity and influencer fans include Taylor Swift, Alina Boz, Eylül Öztürk, Victoria Şenel, Zeynep Zor, Miss Global Winner 2018 Sophia Ng and Juliette Louie, to name a few.
Online/offline marketplace
Following the Hong Kong store opening, the upcoming launch of the Viola Chan online store for the Asia-Pacific region aims to revolutionise the O2O marketplace.

"The one-stop flagship online store will act as Hong Kong's voice of authority on all things bridal," Ms Chan said. "The site will feature ideas and partners for bridal and special occasion gowns, bridal accessories, flower girl dresses, luxury wedding car rental and wedding photographers, in addition to wellness and beauty solutions for soon-to-be-brides."

Viola Chan labels are sold at 400 locations in most parts of the world including the US, United Kingdom, South America, Mexico, Turkey, South Africa, Australia and Mainland China. Some are via joint-venture partners and some are 100% company-owned.

As a designer, Ms Chan said believing in your products and designs is extremely important. She also attributes her brand's growth to her "very strong and devoted team", as well as large-scale manufacturing support.

"Despite being in this industry for almost 30 years, I still have a lot to learn," she said. "In the beginning, I was fortunate to work for a company that had faith in me, and now I have faith that Hong Kong can be our platform for further growth."

Hong Kong is a leading Asian fashion hub, home to a myriad of design talents and major fashion extravaganzas such as CENTRESTAGE, Asia's premier fashion event. The fourth edition, held last month, brought about 240 fashion brands from 23 countries and regions to Hong Kong and attracted close to 7,000 buyers from 74 countries and regions.
Related link
Viola Chan
Garments, Textiles & Accessories