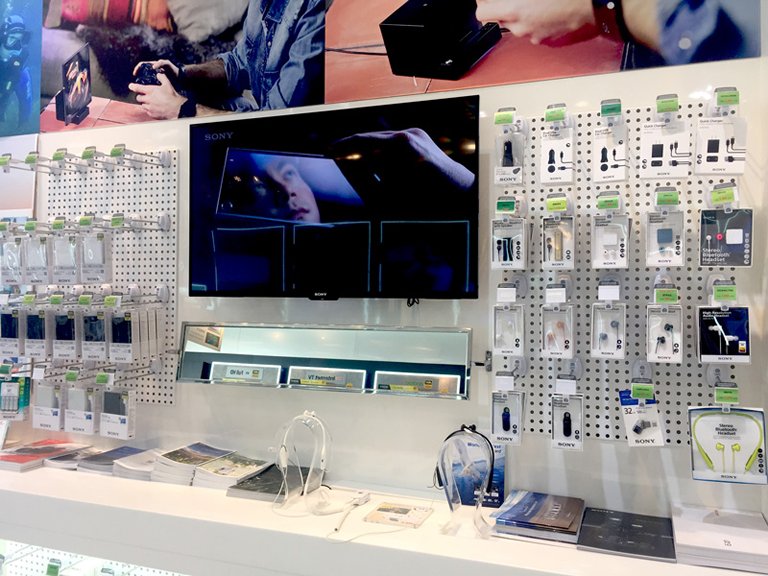 https://hkmb.hktdc.com/en/1X0AIP1W
Accessing the ASEAN Consumer Market: Electronic Accessories (Market Entry Strategies)
The routes to the ASEAN market are becoming more diverse and competitive for imported electronic accessories and gadgets. Selecting a distribution channel is an important aspect of building a competitive advantage. Electronic manufacturers and brands need to consider several attributes, including location and market reach, supporting resources, management costs and degree of control.
Open Own Experience Stores
While online presence is important in selling to the ASEAN consumer market, the presence of a brick-and-mortar retail location could greatly enhance the brand awareness and customer experience, as in-store shopping is a favourite pastime for consumers in the region. Some global consumer electronics brands have set up experience stores in major ASEAN cities.
Samsung was the pioneer of launching branded-shops across ASEAN, including Singapore, Malaysia, Indonesia, Thailand, and Vietnam. For examples, PT Samsung Electronics Indonesia opened its biggest Southeast Asia store, Samsung Galaxy Square, in Bali in 2014, allowing customers to explore the latest range of Samsung products, get expert advice and receive technical support. In 2017, Apple opened its first Southeast Asian store in Singapore. Xiaomi first entered Southeast Asia in 2014 with stores in Singapore and Malaysia, it also opened in Thailand in 2017. Sony has opened many Sony Centres across Indonesia, Malaysia and Thailand. Oppo and Lenovo have also used experience shops as a vehicle for market entry.
Having a great store location gives oversea brands instant access to the target market and it is a brilliant way to build the brand awareness locally. With a traditional bricks-and-mortar store, electronic brands can craft a unique experience for customers and express the brand in a creative way. With rent and labour costs, physical store retailers generally have higher operating costs than online merchants. This allows less room for error when it comes to a company's initial financial investment in a new ASEAN market.
Partner with Dealers or Retailers
Unlike global smartphone brands, electronic accessories brands often tap into a new market via a dealer or an authorised dealer. Dealership is sometimes referred to as a retail distributor. When entering into a new market, electronic manufacturers or brands may find it difficult to master local business practices, meet regulatory requirements, hire and manage local personnel, or communicate to potential customers. They need to partner with local dealers/retailers to take advantage of their market knowledge and unique expertise.
Unlike a franchisee, a dealer does not pay an up-front fee for the right to sell a manufacturer's products and very rarely carries just one single brand. A major dealer normally carries competing products and brands in the same shop. When looking for a qualified dealer, the electronic accessories brand should ensure that the potential partner is experienced in the retail business and already has a customer base that matches the brand's target consumers.
The electronic brand or manufacturer entering into a dealership arrangement with local retailers is expected to provide national advertising support, product training, and incentive programmes. Dealers or authorised dealers have rights to use the manufacturer's trademarks and logos – but not as their own. They act as a feedback mechanism for the manufacturer, conveying insights gained by dealing directly with the customer
Brands or manufacturers should consider enforcing a minimum order to all their dealers without exceptions. This allows them to discount the products since they buy in bulk. The idea is to encourage larger orders and more revenue. However, a brand may be relatively strong or relatively weak against the dealers or retailers. It will be difficult for relative new brands to negotiate minimum orders with established ASEAN retailers. Brands might have to consider "no minimum order" on the first purchase to incentivise sign ups.
To manage dealer networks in a local market, the overseas brand is usually required to invest and establish a team on the ground to provide marketing support, training, and often technical support as well. A lack of investment and managerial attention can seriously hamper performance.
Through Local or Regional Distributors
If brands or manufacturers want to avoid initial investment in a relatively unknown market, they can appoint a local or regional distributor who acts as a convenient vehicle for market entry. A distributor is usually a wholesaler who sells to dealers, while dealers are usually retailers who sell directly to the public. Both distributors and dealers purchase the goods they sell.
In a manufacturer-distributor-dealer relationship – the distributor buys from the manufacturer, and the dealer from the distributor. Distributors maintain parts inventories and the dealers provide service functions to the end consumers. Relationships among manufacturers, distributors, and dealers are typically contractual in nature. Distributors may be contractually required to buy some minimum volume of goods. An ideal distributor may already have an established network of dealers/retailers and should be equipped with leadership capability and profound market knowledge.
Pros and Cons of Using a Distributor
The process of finding and selling to retail customers in an unfamiliar ASEAN market can be very expensive. Many brands or manufacturers would rather deal with a regional distributor or a local distributor in each country than a retailer, as each order creates a lot of work.
When Hong Kong brands or manufacturers use distribution to enter the ASEAN market, it becomes the responsibility of the distributor to find local dealers/retailers as well as online channels. Brands or manufacturers can quickly start their retail penetration in a selected ASEAN country, be it Indonesia, Malaysia or Thailand, through the distributor's network without having to spend much money or involve company resources in channel building.
Distributors facilitate transportation and handle custom clearance. They may have a system in place to keep track of inventory in the distribution centre (DC) and individual retail stores and help replenish merchandise in a timely manner. They also understand the cultures, consumer tastes, and shopping behaviours in the local market. An experienced local distributor in ASEAN can be very valuable, as each ASEAN country has its own unique mix of ethnicity, language, and religion.
Moreover, brands or manufacturers can turn over the responsibility of administering customer service and technical support to their local distributor. This reduces the burden of investing in a customer service centre and/or a technical support department. In a distribution agreement, suppliers would only deal with the distributor, while the distributor would deal directly with local dealers/retailers.
Despite the numerous advantages of working with a local distributor, distribution has its downsides. First, in return for taking on the supplier's trade-related risks and burdens, distributors will expect heavy discounts and generous credit terms (up to 60 days). Second, brands or manufacturers may lose some control of the way their products are marketed and priced. Third, distributors often demand a long period of exclusivity, so brands or manufacturers need to be sure that the distributor they choose has experience selling their type of products and has existing customers on hand.
Retailers may also prefer dealing with distributors for convenience. The most important thing to a retailer is keeping their shelves stocked with products that turn. If they deal directly with manufacturers, they have to visit the factory, review the product catalogue, set up a new business credit, send business information, set up efficient ordering and accounting, and so on. Distributors make things easier for retailers. Most distributors sell multiple brands, acting as aggregators and offering bulk discounts for retailers that buy multiple brands as well as ensuring consistent delivery times.
The distribution business is a margin game, so distributors will gravitate toward products that are easy to sell with the least effort. For a product that is complex, manufactures or suppliers should make promotional and sales materials ready to support distributors' sales efforts. Sufficient training and communication are crucial for any distributor to perform and grow their business.
Some local companies that are involved in consumer electronics distribution in ASEAN include:
1) Trikomsel Oke – The company is one of the leading electronics retailers in Indonesia. It sells various types of mobile devices, computers and accessories from international brands, such as Nokia, Sony Ericsson, Apple, Samsung and Hewlett-Packard (HP).
2) AGIS Electronics – The Indonesian-based company is a distributor and retailer of consumer electronics, mobile devices and multimedia products.
3) Infinity Phone Accessories – A Malaysian wholesaler of mobile phone accessories such as headphones, cables, batteries and battery packs, chargers and power adapters, selfie sticks and Bluetooth headsets.
4) Jay Mart Public Company Limited – Based in Thailand, the company is involved in wholesaling for mobile phones and related products.
How to Find an Overseas Distributor
One of the best places to connect with potential partners is at trade shows, either in Hong Kong, or even better, in the markets that exporters are targeting for entry. Attending international trade shows is often a good starting place for relatively new exporters. They can also get a snapshot of the competitive landscape. B2B online marketplaces, such as Alibaba and Amazon Business, are another way to connect with potential overseas partners.
That said, the best way to find good partners is always word-of-mouth. Suppliers who know the right person in the local market can steer to the right place faster. Trade associations are usually the starting point to get to know people in the same trade, but not all associations are the same; some are more active and business oriented than the others. Suppliers in Hong Kong should do their own due diligence to find out which associations can help them realise their export potential.
Selling Direct to Consumers via Online Platforms
Whether for a new entrepreneur considering whether to sell products online or offline, or a wholesale brand that has been successful selling through a distributor, selling direct to consumers should always be on the agenda. With the advent of emerging technology, brands no longer need to rely solely on their distributors or retailers to stay in business. Today, many online platforms in ASEAN offer Hong Kong electronic accessories suppliers an opportunity to expand overseas by selling direct to consumers.
Almost every major consumer electronics retailer operates their own physical stores but selling through their own websites at the same time. BEST DENKI, Fresh Gadgets, Urbanlife, IT City, Banana, and Power Buy are just a few examples. Also, established conglomerates like Central Group in Thailand and PT. MAP Boga Adiperkasa (MAP Group) in Indonesia are embracing e-tailing as an opportunity to better serve their customers and reach out to a wider audience.
Benefits of Direct Selling to Consumers
There are many benefits of direct selling to consumers, not least a significantly reduced time to market. In this fast-changing market while product cycles are significantly shorter, being able to launch the newest products to the market quickly has a definite advantage.
In addition, brands can have a complete control of brand image, not subject to distortion or dilution by third parties. Consumers like it when they can interact directly with a brand as they can get information about products promptly.
In a direct to consumer model, manufacturers or brands can also have price control. Direct selling allows further reinforcement of the manufacturer's suggested retail price (MSRP) and communicating directly with consumers about price points.
Most importantly, selling direct allows brands to gain access to consumer data. Making use of customer data effectively can result in better products, greater relationships, easier conversion, more sales, and ensure long-term brand success.
Risks and Mitigations
If Hong Kong brands and electronic accessories and IT gadgets suppliers see the rise of e-commerce as a catalyst for direct selling to customers, they should carefully consider the risks associated with selling direct and have a plan for mitigation:
1) Disrupt Existing Channel Relationship
The first risk of selling direct is damage to existing relationships. Distributors and retailers may react negatively to brands selling direct to consumers. When a brand is currently selling through distributors and a network of retailers, starting to sell direct may be perceived as a declaration of war with its existing distribution channels.
Under such circumstance, the brand has to remind its business partners that many consumers will continue to demand access to multiple brands, something that one brand cannot provide. The brand can offer exclusive products to its distributor or retail channels. These can be exclusive designs, packaging or bundling offers that are not available on direct-to-consumer channels.
2) Underinvestment in Infrastructure and Manpower
Brands that leap into the direct market without the proper infrastructure and manpower will only damage their brand. First, they need to have a deep understanding of local customer expectations and behaviours. Second, they need to have the shipping and customer service infrastructure in place to support direct sales. Third, they should incorporate features such as chat and click to dial in their websites design to make it easy for consumers who want to contact customer service. Most importantly, they need to have a comprehensive digital marketing strategy that allows interaction and engagement with their potential customers and divert traffic to their websites. They should also be prepared to ship quickly, and handle returns flawlessly.
Picking the Right Platform
One of the most important decisions when suppliers intend to migrate to selling direct is the selection of the right platform, one that is powerful enough to operate efficiently and flexible enough to customise for sophisticated consumers demands.
Company Websites
If suppliers decide to use their own websites to be the online representation of the brand, consumers will interact with the brand directly, with sales made on the site. On the plus side, the brand can keep all the revenue and all the customer data collected with each visit to the website and each transaction. On the downside, the brand should localise its websites, assume all the risk for credit card fraud and must achieve and retain high rankings on search engine results to maintain website visibility.
Third-party Online Marketplaces
Not all brands have the digital expertise to create and manage an online platform effectively by themselves. By listing on key regional players like Lazada, Shopee, or other marketplaces, brands can build a better presence in non-domestic territories and boost search engine results overall.
Multi-brand marketplaces are digitally savvy and know how to provide an excellent online shopping experience. They provide good back-end support and cross-border logistics programmes for their sellers (e.g. Lazada and Shopee's logistic programmes). Another benefit is that regional marketplaces have a reach across ASEAN. That said, foreign brands and sellers are responsible for localisation of product information uploaded to the marketplaces.
On the downside, marketplaces will charge a commission on sale (Shopee does not charge commission for now), brand owners will need to compete with numerous other online merchants on the same platform, and they cannot capture customers data that will provide future direct marketing opportunities.
Multichannel Model
Many brands have started to embrace third-party marketplaces in ASEAN, even if they already have their own localised websites. The reason is simple: these marketplaces put the brand and its products directly in front of consumers who are looking for products and are ready to buy. If a brand's products are not showing up where the customer is choosing to search for them (Lazada, Shopee, 11 Street, etc.), the brand is not even in the running to win the consumer's business.
Today's e-commerce industry is multichannel. If a brand is planning to join the legions selling direct to consumers via online channels, building its own websites and listing with online marketplaces are equally important.
Omnichannel Redefines the Retail Experience
Today, successful enterprises in ASEAN adopt an omnichannel business model that uses both offline and online to connect with customers. All sales and distribution channels work together to support a seamless cross-channel customer journey. Consumers' web and mobile experiences can bring them back to the brick-and-mortar store, and vice versa. In-store experience can also be extended to web and mobile. Online and offline integration is a must to ensure a concerted effort to drive customer satisfaction.
A retailer with physical stores might have a competitive edge. Bricks-and-mortar stores have traditionally added value by providing product display, interaction with staff, and availability of services. Even online shoppers will choose to buy from a familiar and trusted brand. Despite the remarkable range of products and price advantage offered by online pure-plays, they do not enjoy the same brand heritage and loyalty as legacy retailers.
To broaden its engagement with shoppers, Lazada offered shoppers flash deals and giveaways during its online-to-offline (O2O) event in Singapore, in which the marketplace partnered with 20 global brands and local sellers. Lazada also introduced several physical pop-up stores around the Klang Valley of Malaysia, these allow customers to interact with products before buying on the Lazada mobile app. QR codes for each item allow customers to go to the relevant product page.
By contrast, traditional retailers like Central Group in Thailand are scrambling to move their business online and embrace e-commerce to stay competitive. Central Department Stores have introduced an Instant Messaging Shopping Service, with personalised assistance. By connecting with Central Department Store via WhatsApp in Indonesia and LINE in Thailand, a digital personal assistant will help customers find the desired items. If the item is available, the customer can choose home delivery or pick up at the service counter, avoiding the hassle of waiting in line for the cashier. In 2017, Power Buy, which is owned by Central Group, develop its omnichannel strategy, include three services – online kiosk, click-and-collect and Power Buy Digital Signature.
While the rationale for adopting an omnichannel approach is self-evident, the execution for businesses, large and small alike, is extremely complex. Each organisation, with its unique brand, systems, and distribution channels, will need to discover the solution that best fits its own business. To succeed in the ASEAN market, embracing an omnichannel approach seems to be a business imperative that no company can ignore.
Please click here to download the full research report.
Electronics & Electrical Appliances