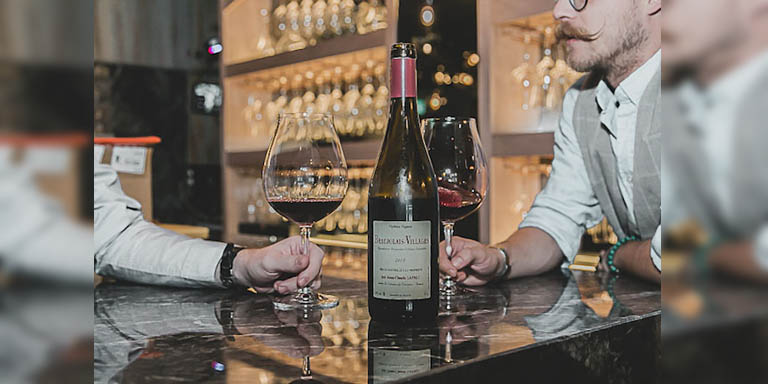 https://hkmb.hktdc.com/en/1X0AIKB1
Taking the boutique route
A sommelier-led bistro-cum-wine bar goes direct to the source to offer vintages rarely found in Hong Kong.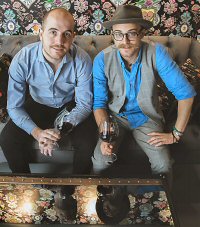 Co-founded by French sommeliers Romain Loriot and Jean-Benoit Issele, ThinkWine is Hong Kong's first sommelier-led wine bar and bistro. Offering up to 600 wines handpicked by Mr Loriot and Mr Issele – including "chateau to table" direct imports from France – the wines are presented alongside classic French dishes such as cheese platters, pate and beef tartare. Based in the newly opened LL Tower in the city's trendy Soho district, the bar also has an event space for wine tastings and masterclasses.

The founders have worked as sommeliers for some of the world's leading restaurants. Mr Loriot has curated award-winning wine lists as group sommelier and wine buyer for 12 restaurants under the Le Comptoir Group in Hong Kong, and several of Alain Ducasse's restaurants, including Rech Hong Kong. Mr Issele was head sommelier at Belon in Hong Kong and sommelier at Thierry Marx at the Mandarin Oriental Paris.

Having set up their own operation, Mr Loriot and Mr Issele discuss how they created their boutique bistro, and their plans going forward.

How did you come up with the concept for ThinkWine; what were some of the challenges in putting the company together?
We came up with the concept while drinking a bottle of wine. There are plenty of "bars" in Hong Kong but a cosy wine bar with a decent selection is almost non-existent. We thought of ThinkWine, initially, as a place where we would love to go as guests. At the time it was challenging, as we were both still working in other restaurants, but we started to develop and fine-tune the concept.

You will eventually offer as many as 600 wines, including many terroirs, appellations and vintages rarely found in Hong Kong. What is your selection process and how will you specifically cater to the Hong Kong market?
The selection was actually a very fun process as we are both sommeliers so we know what we both like in term of styles, grapes, winemakers and so on. However, we also have different personalities and preferences, so we make each other discover different wines every day. There were many trips back to France to meet winemakers and discover what Hong Kong has yet to offer. We have a very extensive, balanced wine list, from small-production winemakers to big Bordeaux names.

What wines are popular with the Hong Kong market?
Wine is very popular in Hong Kong and demand has been growing. There has been more interest in Burgundy wines – we both opened legendary bottles of Burgundy in the past three years so we know that guests have, at least partially, moved on from Bordeaux. Though tastes are constantly changing, wine lovers are open to exploring other wine regions, such as the Rhône Valley and Provence in France and New World wines from Australia, South Africa, Argentina and China.

You both have impressive career backgrounds. Was it a difficult decision to set up your own business or were you ready to make that leap?
From the day we met, we have somehow inspired each other to create our own business one day. From that point on, it took us three years of thinking up the concept, the design, doing our research, choosing the wines, finding finance and so on. We are both quite young so we didn't really hesitate much; for both of us it was the sooner the better, to express and share our passion fully with the audience.

How would you characterise the wine market in Hong Kong, and how does it differ from other markets in the region, such as Mainland China, Japan and so on?
Hong Kong is a charming cosmopolitan city with an impressive mix of cultures and religions, where everyone pretty much drinks − from expats to locals − which makes the Hong Kong market fun and a great place for wines and wine lovers. The wine market is quite mature with the supply chain well established, thanks to the duty-free policy on wine imports. Wine drinkers are fairly knowledgeable compared to a lot of other places.

Do you plan to offer wine tastings and masterclasses?
We will introduce some relaxed tasting classes as we don't want to be a "wine school" – our guests will learn how to appreciate wine and discover this amazing world with a fun approach. Most of the time people dare not speak out about wine because it involves too much knowledge and complexity, so it becomes intimidating. Our aim is to break that wall and show our guests that wines are approachable and cool.

What are the advantages of doing business in Hong Kong?
We do pay less taxes than if we were in France, that's for sure! More seriously, the advantages are many: the guest diversity, how there's constantly something happening in the city, and the number of Michelin-starred chefs is increasing. Business-wise, Hong Kong is a very professional and efficient city. We have been extremely happy with the process of setting up our business here.

What are your long-term ambitions for the company? Would you like to have several ThinkWine outlets in Hong Kong, or roll out the company overseas?
We are in the process of setting up our trade company and want to work closely with our sommelier friends in a few Michelin-starred restaurants around town to showcase the winemakers who gave us exclusivity to represent them in Hong Kong. It's a little early to think about overseas outlets but we for sure won't limit ourselves and we will continue to bring up cool concepts around town.

Do you have any special promotions or collaborations lined up in the next few months?
We are looking into doing some oyster nights and some collaborations with young chefs working as second chef or chef de partie in a few Michelin-starred restaurants, giving them our small kitchen to express themselves. We have also lined up a few events with winemakers when they are visiting town.

Quality wines from around the world will be on offer at the HKTDC Hong Kong International Wine & Spirits Fair at the Hong Kong Convention and Exhibition Centre from 7 to 9 November.
Related link
Thinkwine