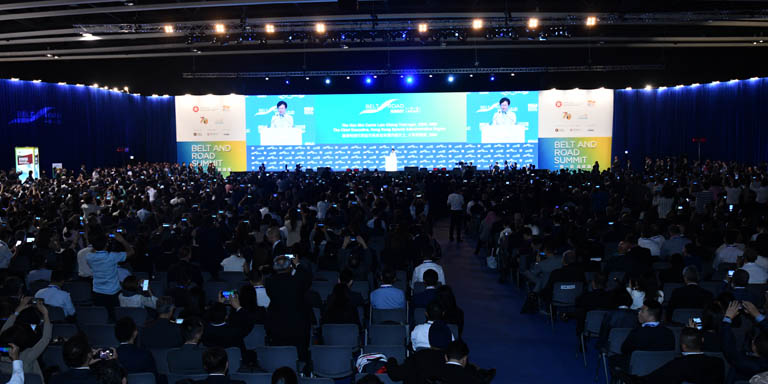 https://hkmb.hktdc.com/en/1X0AIKA2
Belt and Road Summit
Two-day event focuses on policy direction to drive cross-regional opportunities.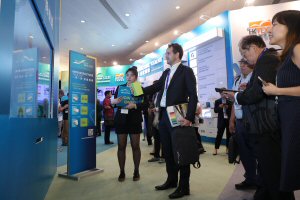 As the Belt and Road Initiative matures – it was launched by President Xi Jinping six years ago – Hong Kong's role is becoming clearer. The strategically located city is perfectly positioned as a digital hub, source of finance and supplier of professional services for projects along the Belt and Road.

A clearer view of the city's role was one of the key takeaways from the fourth Belt and Road Summit, jointly organised by the Government of the Hong Kong Special Administrative Region (HKSAR) and the Hong Kong Trade Development Council (HKTDC) in mid-September. The summit brought together more than 5,000 political and business elites from over 60 countries and regions at the Hong Kong Convention and Exhibition Centre.

Under the theme "Creating and Realising Opportunities", the two-day summit invited more than 80 government and business leaders from Hong Kong, Mainland China and countries and regions around the world to discuss the opportunities available in different sectors based on the latest Belt and Road Initiative developments.

Carrie Lam, Chief Executive of the HKSAR, delivered the opening remarks at the summit. "Inspired by the promise of the Belt and Road, we have adopted a whole-government, five-pronged strategy, covering enhancing policy coordination, fully realising Hong Kong's unique advantages, maximising Hong Kong's position as a professional services hub, establishing partnerships and collaboration, and promoting Hong Kong's project participation," she said.

"The connectivity and cooperation promoted by the Belt and Road has become increasingly prominent in today's complex social and business environment. Hong Kong, China's most competitive and international city, will play a significant role in complementing this strategic direction. I am confident, as well, that Hong Kong can create opportunities in capacity building, green finance, professional services and business matching."
Addressing the summit's opening ceremony, Dr Peter K N Lam, Chairman of the HKTDC, said: "Large-scale projects and investments in the Belt and Road require global cooperation to succeed, especially in the face of economic uncertainty and global instability.
"Governments, investors and businesses need to work together to assess risks and set goals. They need to find projects and make connections. And they also need to make the right decisions and look for the right partners. Hong Kong – and today's summit – are the ideal platforms for you to do so," said Dr Lam.

"Although Hong Kong is going through a challenging time right now, we are resilient, and our fundamentals remain strong. I am confident that our city will get through these tough times and emerge stronger," he added.
Gao Yunlong, Vice-chairman of the 13th National Committee of the Chinese People's Political Consultative Conference and Chairman of the All-China Federation of Industry and Commerce, gave a special address at the summit. "With great support from the Central Government, Hong Kong can give full play to its edge by participating fully in the Belt and Road Initiative and fostering the development of the Guangdong-Hong Kong-Macao Greater Bay Area, which has already resulted in some outstanding achievements," he said.

"Hong Kong comprehensively leverages on its strengths as a one-stop centre, providing professional services such as trading, investment and legal services to all kinds of enterprises. Hong Kong is also supported by international talent, and its deepened cooperation with Mainland China," said Mr Gao.

Also delivering keynote speeches were Hao Peng, Chairman, State-owned Assets Supervision and Administration Commission of the State Council; Ning Jizhe, Vice Chairman, National Development and Reform Commission; Wang Bingnan, Vice Minister, Ministry of Commerce; and Xie Feng, Commissioner, Ministry of Foreign Affairs. The speakers focused on the importance of the Belt and Road Initiative in driving the steady growth of China's national economy, and examined Hong Kong's vital role in the process.
Professionals take lead
Thematic breakout forums at the summit focused on, among other things, sustainable finance, legal arbitration and risk management. A session titled "Sustainable Finance in Infrastructure", co-organised with the Hong Kong Monetary Authority (HKMA) Infrastructure Financing Facilitation Office, explained the benefits of sustainable finance to project investors. The panel, comprising public and private stakeholders, examined the business case for adopting sustainable finance in infrastructure projects and shared insights on the latest industry trends and offerings in this regard.

Another breakout forum titled "Towards a Greater Success of Belt and Road Projects for Sustainable Investment – Hong Kong Can Lead", co-organised with the Department of Justice of the HKSAR, invited Dr Christophe Bernasconi, Secretary General of the Hague Conference on Private International Law (HCCH), and other legal experts to deliberate on how proper risk-management planning, good corporate governance and dispute-resolution mechanisms can help sustain further Belt and Road investment.
The breakout forum titled "Risk Management as the Common Language among Stakeholders of the Belt and Road Initiative: Bridging Risk Transfer and Project Finance", co-organised with the Insurance Authority of Hong Kong, analysed issues related to risk transfer and project finance. During the forum, insurance experts explained the functions and efficiency of risk management in project financing and the challenges and opportunities presented by the Belt and Road.
Infrastructure projects drive connections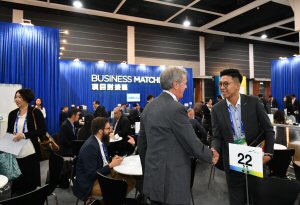 Offering businesses a chance to connect, the 2019 summit featured One-to-one Business Matching Meetings and Project Pitching Sessions which proved popular among both project owners and participants. The summit received more than 240 investment projects, focusing on three main areas: urban development; energy, natural resources and public utilities; and transport and logistics infrastructures. The projects covered about 33 countries and regions, including France, the United Arab Emirates, Saudi Arabia, Vietnam, Indonesia and the mainland. In addition, more than 700 project-matching meetings were arranged for project owners, investors and professional service providers, with over 300 companies participating.
Middle East actively involved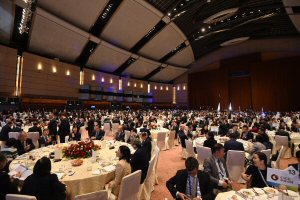 Countries from the Middle East have become key partners in the Belt and Road Initiative. Abdulla Al Saleh, Under Secretary of the Foreign Trade and Industry at the Ministry of Economy in the UAE, addressed a Policy Dialogue Session, where he said: "Hong Kong has a good business environment and is an ideal platform for starting businesses. Also, Hong Kong has rich experience and expertise in the area of Islamic finance, as well as an excellent monetary system, which is very important to Middle Eastern enterprises that have financing needs." He mentioned that this was the fourth consecutive year for the UAE to join the Belt and Road Summit.

The Global Investment Zone gathered nearly 70 exhibitors from the Asia-Pacific region, the mainland, Europe, the Middle East and Africa, hosting exhibitions that highlighted the respective investment environments, key industries and development projects of these countries and regions. In addition to the Hong Kong Zone, which featured about 40 service providers, there were two pavilions from Saudi Arabia – one organised by the Saudi Ministry of Transport and another by the Saudi Arabian General Investment Authority (SAGIA) – that introduced the country's government policies and investment opportunities, respectively.

Saudi Arabia also joined with the UAE to organise three delegations to participate in the Summit, introducing various Belt and Road development projects to participants from other countries and regions. Saudi Arabia highlighted a number of projects related to roads and highways, including the Taif Ring Road and the Jeddah-Mecca Direct Road, while various logistics park projects with high potential were introduced by the UAE.

A series of cooperation agreements were signed at the summit involving several companies. Hong Kong's Kwan On Holdings, which is looking to diversify its investments in the Philippines and expand its Belt and Road Initiative plan, signed a memorandum of understanding (MoU) with the Metropolitan Manila Development Authority, a national government agency of the Republic of the Philippines, at the event. The MoU sets out an overall framework for launching a light rail project with the objective of optimising transportation in Metro Manila and promoting development along the Pasig River.
Opportunities for SMEs and young people
Small and medium-size enterprises (SMEs) have long been the driving force of Hong Kong's economic development. A new breakout session at this year's Summit, titled "Belt and Road Opportunities for SMEs", invited professionals in the field to introduce the opportunities and challenges SMEs may face under the Belt and Road.

The Belt and Road also offers many opportunities for the younger generation looking to develop their businesses and harness their creativity. In the session "Belt and Road Opportunities for the Young Generation", run in association with InvestHK, a panel of young entrepreneurs shared their experiences and views on how new entrepreneurs can grasp opportunities arising from the initiative.
Global outlook
The summit also hosted the Belt and Road Global Forum Annual Roundtable, which drew more than 85 association members from 23 countries and regions. The forum brings together Hong Kong, mainland and international organisations and associations to share information, interact and explore business collaboration under the Belt and Road Initiative through Hong Kong.

The Belt and Road Portal [beltandroad.hk], run by the HKTDC, provides information on the latest market intelligence along the Belt and Road, along with details of Hong Kong professional service providers, investment projects, expert insights and success stories aimed at businesses and investors from Hong Kong, Mainland China and overseas. The HKTDC recently completed a revamp of the portal, expanding the investment project section and Hong Kong service provider database, and launching the "Belt and Road Infrastructure Toolkit". The latter provides practical guidelines for different phases of infrastructure projects, along with details of suitable business partners, Hong Kong service providers and project financing channels
Related links
Belt and Road Summit website
HKTDC Belt and Road Portal