https://hkmb.hktdc.com/en/1X0AII5D
Brewing up smart teas
A pioneering app-controlled herbal brewer generates bespoke wellness blends at the touch of a button.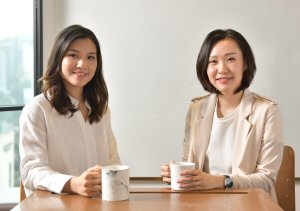 Born out of two sisters' passion for wellness and a desire to create "an East meets West wellness-tech platform", Lify claims to be the world's first natural wellness beverage device. It brews up herbal teas from single-serve discs in 40 seconds, while the accompanying app lets users customise their brewing methods and share wellness goals with the brand's community.

The product is the core business of its namesake Hong Kong company, co-founded by CEO Mazing Lee, who has worked for luxury brands around the globe, with her product-designer sister Connie Lee, Lify's CCO and Chief Technical Officer. Having just completed its first round of fundraising, the start-up is keen to build a business-to-consumer (B2C) platform and may open a retail space once it has launched its second funding round next year.

Prior to the product recently going on sale at the start-up's website, Lify received several accolades, including the A&D China Award and Good Design Award. The start-up is currently concentrating on raising its profile, with a Lify wellness tea bar pop-up to be held in November at homeware store Colourliving in Wan Chai. To tie in with Asian Wellness Day on 23 November, the company will host an outdoor tea bar experience at the Asia Society Hong Kong Center in Admiralty.

At the pop-up events, guests will be able to sample one of three wellness tea collections from the Lify smart device: the Fruit Tea Series, Oriental Functional Series and Herbal Wellness Series. There are plans to expand its range of blends next year following the establishment of partnerships with traditional Chinese medicine (TCM) companies.

The sisters hope to also sell through selected retail outlets across the city. The firm is currently in talks with retailers including lifestyle shops at the new mall K11 Musea and the HKTDC Design Gallery store.
Tech incubatee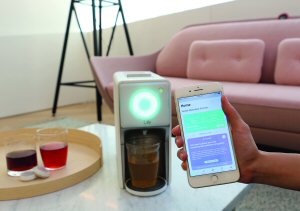 Lify was one of 10 winners at the pitching contest held in May as part of the HKTDC's Start-up Express development programme 2019.  With the support of the HKTDC, the start-up will participate at CES, the huge international consumer electronics fair running in Las Vegas from 7 to 10 January next year. The CEO said participating in HKTDC events such as Start-up Express and various exhibitions can facilitate networking and help the company showcase its products.

Lify was also selected as a tech incubatee at the Hong Kong Science & Technology Park (HKSTP), where it has been based for one year with two more years to go. Mazing said the experience has helped the sisters understand how to commercialise the product. 

Lify hopes to set up another office in town as the business develops. It already has a production site in Kwai Chung, where the compostable tea discs are packed, while the smart machine that creates the wellness blends is manufactured in Mainland China.
The CEO said there is a considerable market for wellness products in a fast-paced city like Hong Kong. "Many people don't take care of themselves properly, and we wanted to create something that enables consumers to enjoy a wellness beverage in a simple and effective way," she said.
To gain a comprehensive understanding of wellness, she is studying TCM at the Chinese University of Hong Kong. The entrepreneur sees Lify as the bridge between traditional herbal wisdom and smart technology. "I want to encourage people to be more aware of their body's condition and moods, and reflect on how body, mind and soul connect so they can stay balanced," she said, adding that the scientific community does not always understand the complexity of TCM and its holistic approach to wellness.

With a new brand, reaching out for feedback has been crucial. A wellness sharing at co-working space WeWork provides feedback from different nationalities, which Lily has since taken into consideration for further product development.
Mass production
Lify is at a crucial point as it begins mass production, with the first units available to purchase at the brand's website. The company is currently in the process of creating a promotional campaign, which is slated to launch before Christmas. It is also training and recruiting Lify ambassadors to spread the word, with plans to engage early adopters and industry experts to promote the product.

Hong Kong property developers, five-star hotels, corporate offices and meeting venues have already approached the start-up. "More and more major corporations in the city are focused on employee well-being, and we've already run quite a few events," said the CEO, adding that Lify's present typical clients seem to be aged 25 to 55 and are "very health-conscious and focused on quality, and want accessible wellness solutions". As the brand matures, she sees community as key, with wellness centres, nutritionists, consultants, certified TCM doctors, dieticians and endorsers all coming on board.
A super connector
The CEO views Hong Kong as a super-connector, providing easy access to mainland and overseas markets. Consumers in Hong Kong are very open-minded, she added. "It's a small city, so it's easy to test out market potential and assess the results very quickly, usually within a few months."

Over the next 12 months, one of the company's main goals will be building up relationships with TCM companies to create a sustainable supply chain, she said. "We work with tea farms in Japan, and we want to reach out to small farmers and expand our product offering, increasing our range of blends from 13 blends to 30." The firm also hopes to leverage on the sustainability of its product, as its tea discs, unlike coffee capsules, are biodegradable.

In addition to the upcoming pop-ups in November, the sisters are currently discussing pop-up tea bars in malls across Hong Kong to enable shoppers to familiarise themselves with the device and app, and sample the teas on offer. The CEO envisions a 24-hour herbal tea station dedicated to wellness, with facial recognition providing consumers with recommendations on what they should drink. Giving customers the option of creating their own personalised blends is another possibility, she said.
Related ink
lifywellness.com