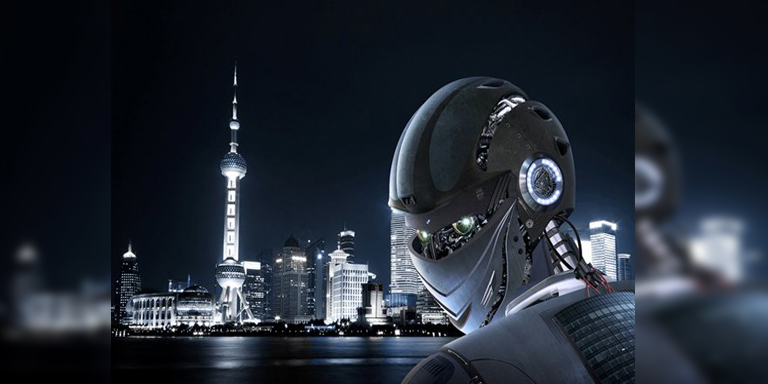 https://hkmb.hktdc.com/en/1X0AIFFC
Dominance in robotics sector grows
With Mainland China tipped to account for almost 50% of industrial robot sales by 2021, a robot show gives a snapshot of this rapidly expanding sector.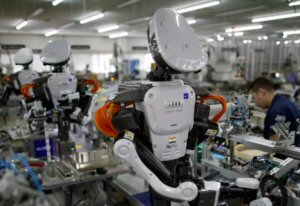 In a telling statistic, Mainland China is home to about a quarter of all the world's industrial robots. Indeed, since 2013 it has been the world's largest robotics market. Unsurprisingly then, the International Federation of Robots (IFR) – the industry's Frankfurt-headquartered trade body – is tipping the mainland to be the primary driver of growth in the market on a global basis until at least 2021, at which point it will account for about 50% of all new industrial robot sales.

In the service robot sector, it could be that the pace of growth is yet more rapid. According to a report by the 21stCentury Business Herald, a Guangzhou-based daily newspaper, by the end of 2018, the mainland market for such systems was worth US$1.94 billion, which equates to a massive year-on-year increase of 44%. In similarly revealing figures, ResearchInChina, a Beijing-headquartered provider of business intelligence, projects the service market will continue to expand 20% a year over the near-term, taking its total per annum value to US$4.9 billion by 2022.
Reworked history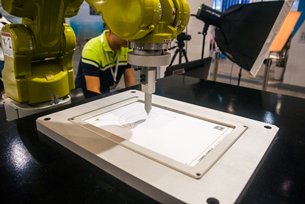 At Shanghai's eighth annual China International Robot Show (CIROS) in the city's National Exhibition and Convention Center, Cologne-headquartered Posital was an upbeat European exhibitor. Introducing the company, Sales Representative Andy Zou said: "Ultimately, we are owned by the Raba Group, a 100-year-old electronics business. We primarily manufacture a range of encoders and sensors for a number of different sectors, including automated manufacturing and mobile machinery."

At the event, the company had opted to showcase its range of position sensors in support of Palki, its local distributor, which has a particular focus on the construction and military sectors. Outlining the unique selling point of these systems, Mr Zou said: "Our rotary encoding sensors show how much a motor shaft is turning and allow operators to react in real time thanks to the accuracy of the information provided.

"Overall, for us at least, the market is continuing to improve. Last year was great for us in China in particular, with our sales up by 50%. We've only officially been in China since 2015, so we're still expanding here."

One of the newer exhibitors was Vobosh, a Jiangsu-based business launched in 2017. The company specialises in small robots for production lines, most of which are connected to runners, which the company also supplies.

According to Sales Representative Zhang Shingjun, while the company is currently only serving the domestic market, it's keen to build up its international presence. Expanding on this, he said: "Basically, we've come to this show to find overseas customers."

Golden Cat Robot, a fellow Jiangsu-based business, seemed more than happy with its experience at the four-day event. The company's focus is on the production of robots for a series of specialist applications, including soldering, welding and spraying. Attracting particular attention on its stand was a 3C (computer, communication, consumer electronics) robot, which was rigged up to pen portraits of any attendee who posed in front of its attached camera.
Fast turnaround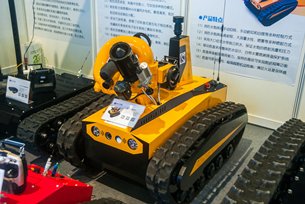 Outlining the company's offering, Educational Training Manager Xu Ce said: "Using our own robots on a production line, we can create a wholly new robot in less than 30 minutes.

"I would say, overall, we are having a good show. Although we are currently only selling in China, we are looking to export and believe this event may prove to be a useful stepping stone for us."

One company confident about its prospects was HG Innovation, a nine-year-old Suzhou-based industrial design house.

Detailing the company's evolution, General Manager Weason Fen said: "Although we only entered this particular sector in 2014, robot design now comprises 60-70% of our business. We make prototype robots for shopping malls, advertising purposes, hotel-room services, banks and restaurants. Over the past few years, our robot design business has boomed and is now growing by about 30% a year.

"We come to this show because many of our potential customers do, as do a fair number of our suppliers."

The 2019 China International Robot Show took place from the 10-13 July at Shanghai's National Exhibition and Convention Center.
Related link
HKTDC Research
Electronics & Electrical Appliances
Hong Kong
Mainland China