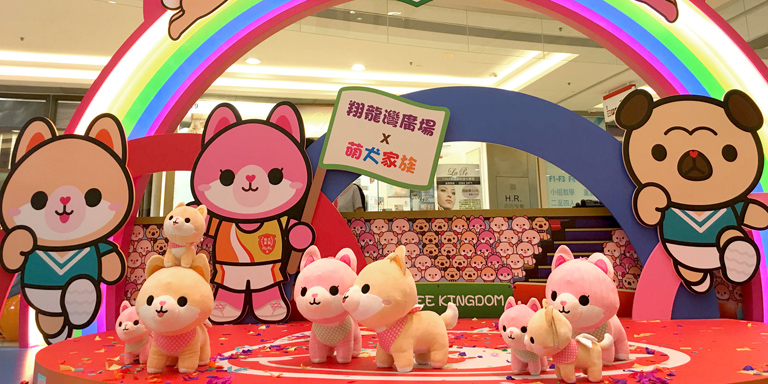 https://hkmb.hktdc.com/en/1X0AI52J
Cute characters go global through Licensing Show
This pioneering designer finds that allocating rights is a winning business model.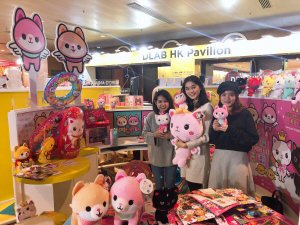 Two of the character families created by Hong Kong company Gee Kingdom – Mikoko & Nikolas and Adorable Dogs – have won the hearts of European, South American, Chinese and Southeast Asian clients with its cute and approachable appearance. Gee Kingdom took part in the HKTDC Hong Kong International Licensing Show in January 2019 – and was rewarded with a contract from International Footwear, the largest footwear maker in Malaysia. The company is set to dazzle customers with a new series of children's and students' shoes, soon to be available at AEON department stores and other chain stores in Malaysia.

Gee Kingdom Director Nikolas Shiu is the creative mind behind the memorable and charming images of Mikoko & Nikolas and Adorable Dogs. Before founding the company, he led the local art division of an international group, in charge of corporate identity; his design and marketing background convinced him of the importance of product image in a successful product. "Cats and dogs are the two most well-accepted creatures by the general public. We added a large commercial element and took special care in the character design, making them scalable in both 2D and 3D production – a huge advantage in keeping the characters alive in future licensing applications," Mr Shiu said.
Learn through practice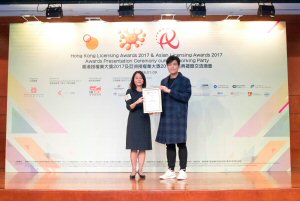 Licensing has become the company's core business but was an unknown area for the team at the beginning. In 2012, Mr Shiu and his partner designed and launched a series of Mikoko & Nikolas mobile-phone cases, which soon became a great success. However, when they attempted to invest further, they realised the market changed quickly and was hard to predict. As such, they decided to use licensing as a coping mechanism for a young company with a tight budget.

"Back then, I only understood licensing as a concept, and had zero knowledge of the market. Fortunately, we were guided by an industry veteran, and participated in licensing trade shows in the mainland at the time of the 'intellectual property fever', building a good foundation for future development."

Many of Gee Kingdom's milestones coincided with the Hong Kong Trade Development Council's (HKTDC) activities. Its first contract was signed at the "Creative Gallery" at the HKTDC Hong Kong Gifts & Premium Fair in 2014, with the pact involving launching metal and ceramic tableware with a premium local tableware brand. The company's first international contract was gained at its debut at the Hong Kong International Licensing Show in 2016. At the fair, Gee Kingdom was given the opportunity to work with TIGA, a renowned licensing agent from Thailand, to license a Thai manufacturer to produce children's wear, tableware and water bottles. In the same year, the Hong Kong firm worked with a Taiwanese agent to license children's tableware in Mainland China and in Taiwan.

The company won a string of honours at the Hong Kong Licensing Award, including the Best Young Property Award (Bronze) in 2015, Best Young Property Award (Merit) in 2016 and Best Property Award (Merit) in 2017. "As a relatively young brand, this recognition was important in gaining media exposure and clients' confidence in us," Mr Shiu said.
Licensing Show opportunities
In addition to the awards, Mr Shiu credits the workshops provided by the HKTDC – on practical issues such as intellectual property, law and accounting – as essential in laying the foundation for his firm's success. The numerous business-matching meetings arranged with local and overseas buyers were particularly important, he said.

Drawing from his experience, Mr Shiu thinks it is important for brands to compile a portfolio, including a product style book, for clients' easy reference. "Even if the product is not realised yet, a style book can show your product's potential to clients," said the entrepreneur, who is also clear about the considerable challenges of undercutting competitors. However, he believes that Gee Kingdom's integrity and professionalism in quality control is the long-term way to win clients and market share. Soon the company will release a long-prepared animated promotion, channelling its character families to the cartoon market to expand its audience base and boost brand awareness.

"In the past, being a designer meant being a service provider. Now that I have my own licensing brand, seeing Mikoko & Nikolas and Adorable Dogs set off and travel around the globe has truly brought me a great sense of ownership and satisfaction that I could not imagine before."

Besides product licensing, Gee Kingdom engages in other ventures, with one of the latest being a cooperation project with local property developer Henderson Land to launch a large-scale summer festival at Grand Waterfront in Ma Tau Kok, Kowloon (main picture).
Related links
Business of IP Asia Forum
Gee Kingdom
HKTDC Hong Kong International Licensing Show