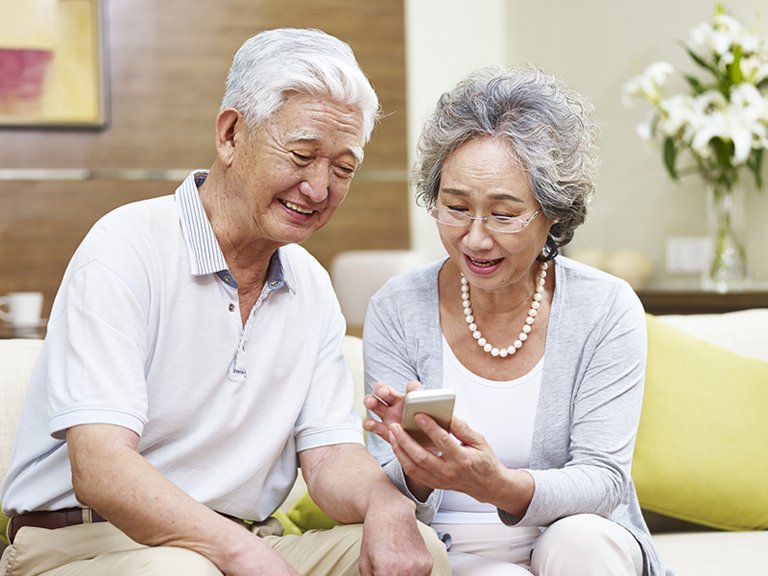 https://hkmb.hktdc.com/en/1X0AHY42
China Senior Market Case Studies: Internet-plus Home-based Healthcare
Interview with Carl Cai, President, and Robert Yan, Executive Director, of Guangzhou Tangjian Technology Co Ltd
The number of old people in China is climbing rapidly. By the end of 2018, the number of mainland Chinese aged 60 and above had reached 250 million, about 17.9% of the total population. The China National Committee on Ageing (CNCA) estimates that the number of senior citizens will peak at 487 million in 2050, by which time they will comprise more than one-third of all the people in the country.
This ageing population means that the demand for healthcare products and services aimed at old people will increase dramatically. Traditional senior healthcare solution providers are going to have to pursue innovation and integrate technologies if they are to satisfy this rising demand.
Guangzhou Tangjian Technology Co Ltd, established in 2015, supplies intelligent platforms for the medical and health industry. The company's president Carl Cai and executive director Robert Yan shared their experiences of building and operating their cloud-based intelligent health service platform [1], which should act as a valuable reference for other industry players.
Yi Jia Xun: Online Smart Elderly Home Care Platform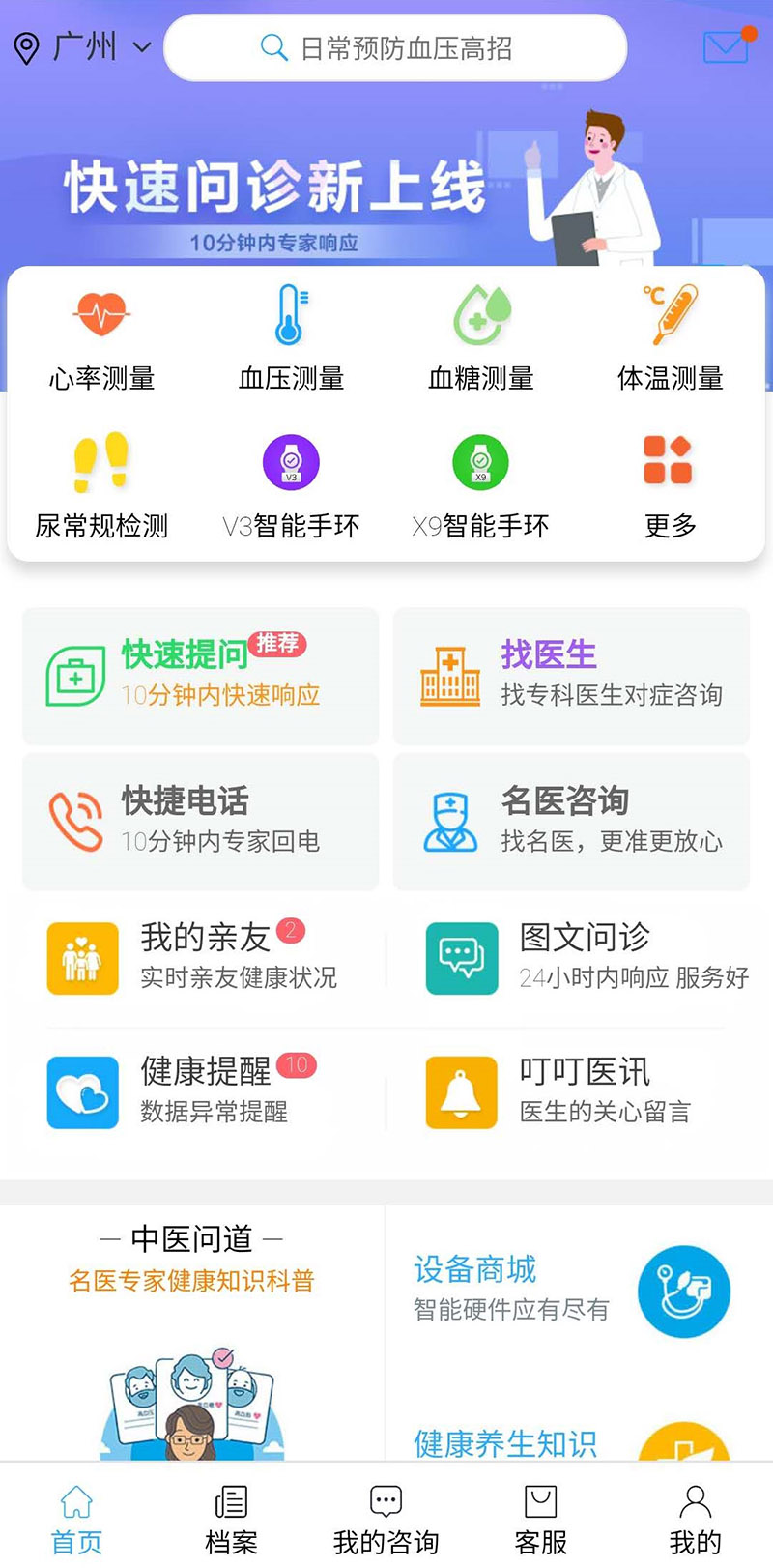 In order to meet the demand of the medical industry, civil affairs departments and community service agencies for cloud-based intelligent health management platforms, Tangjian Technology developed and built the Yi Jia Xun web information system (www.yjxun.cn), which integrates the internet with healthcare and elderly home care services, providing users with instantaneous health monitoring data and various interconnecting medical and healthcare services providers.
Users of Yi Jia Xun can utilise internet-based smart wearable devices such as smart bracelets, or other smart medical devices like blood pressure monitors and blood sugar monitors, to check their condition. The data is collected and sent to the platform instantaneously for them to read. Explaining how this works, Carl Cai said: "The data can be linked to our platform by apps or WeChat mini programs."
Users can also be connected to hospitals, community centres, domestic service agencies, volunteer service agencies and elderly homes from which they can obtain a wide range of services. When an old person is at home alone, he or she can use the platform to call healthcare personnel and obtain services such as remote consultation by online doctors, rehabilitation management, outpatient registration and meal delivery, as well as emergency help.
Yi Jia Xun's user network already covers the whole country. Cai claimed that it is proving particularly attractive to people born in the 1970s and 80s who now have aged parents, saying: "Old people used to rely on handwritten notebooks, but now they can log on to the intelligent platform and check their electronic files in no time. Relatives and friends can also have access to the medical data and find out about the health conditions of the elderly any time anywhere. In the case of an emergency, the community centre, hospital and close relatives will receive an alert immediately. For adult children who work in a region far away from their parents, this obviously can give them peace of mind."
Interconnected Smart Devices
Cai admitted that when launching the Yi Jia Xun project, a lot of time and human resources was needed to negotiate with hardware manufacturers over the interconnection between the platform and intelligent hardware, saying: "At that time, many manufacturers had not developed any apps and their products could only function as a single monitoring device. Methods of interconnection were few and far between."
Because of this, Tangjian Technology has spent time over the last few years helping hardware manufacturers transform their traditional medical and healthcare products into IoT (internet of things)-based devices. Cai said that, with little can be changed about the products' hardware, such as their templates and chips, manufacturers should look to upgrade their software, adding: "Connectivity-enabled terminal hardware can offer added value by integrating online services and big data. IoT is the place to be right now."
Cai admitted that fitting products with internet connectivity will inevitably push up production costs. But he pointed out that this also enhances the products' competitiveness and means they can be sold at a premium. Showing how much of a difference this can make, Cai said: "Take blood pressure monitors as an example. The price of products which have an internet connectivity function is RMB200 more than the normal product."
Currently, however, there are still a large number of independent systems available on the market which have been developed separately by different manufacturers and medical groups. Cai explained that this can cause headaches for users, saying: "It is simpler for manufacturers to build their own system. But if someone uses a number of devices of different brands at the same time, there will be a problem in the connectivity of the health monitoring data." The Yi Jia Xun platform was built to allow different intelligent hardware devices to interconnect.
Once hardware is upgraded to an intelligent product, it can be linked to the Yi Jia Xun platform, so that different wearable devices, smart medical devices, smart home, and even smart safety protection products such as smoke detectors, infrared devices, and cameras, can be connected with one another. Pointing out that this benefits both producers and consumers, Cai said: "Products with intelligent connectivity not only help hardware manufacturers connect data, but can also meet the demand of users as well as enhance brand image. As such, both manufacturers and users stand to benefit."
Front-end Hardware and Back-end Service Supply Interconnected
As well as linking front-end hardware devices, Yi Jia Xun also connects with back-end medical institutions and other services and resources, forming a comprehensive "internet-plus home-based elderly healthcare" platform. As far as back-end service supply is concerned, Tangjian Technology can provide customised solutions depending on the requirements of the hardware supplier. Cai explained what these different requirements may be, saying: "For example, B2C templates are simpler, all that is needed is to upload the front-end hardware data and connect it with the user's relatives and doctors. B2B templates, on the other hand, have to be designed according to the specific demand of the client."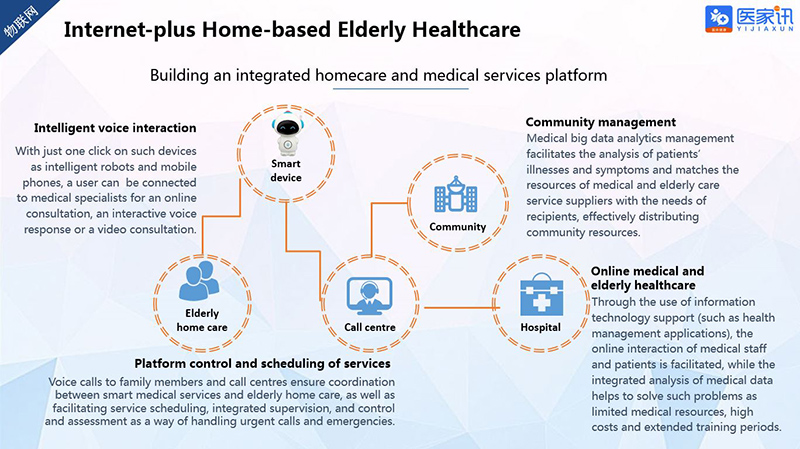 Cai pointed to community centres as an example of this. The demands of community centres, an important agency of elderly home care services, are meticulous because they have to take care of each and every household in their respective community. Yi Jia Xun can help community centres save a great deal of manpower and resources by collecting front-end user data, connecting with local hospitals, and offering services such as nursing care, rehabilitative care, provision of volunteers and call centre facilities on their behalf. As well as government-funded community centres and organisations subsidised by charity bodies, some large property developers and property management companies also use Yi Jia Xun to offer home care services to their elderly residents.
Cai said that in recent years B2B business has been growing as a result of the importance and support given by the government to the development of the elderly care industry. Observing that nowadays elderly care organisations such as community centres, elderly centres and daycare centres are granted more government assistance, Cai added: "When our clients purchase system platforms related to elderly care services, they may very well obtain government subsidies."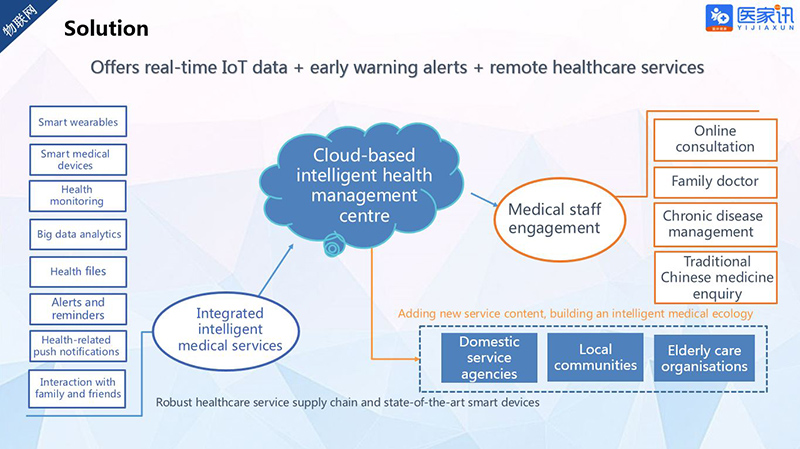 Robert Yan pointed out that the company's intelligent health platform solutions not only target the mainland market, but also global markets. In recent years, there's been a growing demand for such systems in south-east Asia and Europe. Tangjian Technology has already forged partnerships in several countries and territories, including Norway, the UAE, the UK, France, Germany, Italy and a number of east European states, providing versions in Traditional Chinese and different languages such as English and Arabic.
Tangjian Technology is also linking up with the Norwegian Business Association Guangdong to establish a Nordic Health Management Centre to help connect its system with health monitoring devices using GPRS and Wi-Fi for data transmission, and a back-end user database will be built linking up with the local hospital network. Cai pointed tothe popularity of the platform internationally, saying: "There is a demand in many foreign markets for remote consultation services. Today, be it internet connectivity with local community medical resources or with insurance services, it can all be done via the system platform."
Innovation: The Way Forward
Cai added that, with technology developing in leaps and bounds, the market has undergone immense changes over the past few years during which intelligent hardware devices have experienced several rounds of replacement and upgrade. With 5G networks about to hit the market, frequency bands and connection speed will increase significantly, and it can be expected that in the next two to three years internet-based products and their applications will proliferate.
Predicting that this will greatly enhance the products available to consumers, Cai said: "The upgrading and integration of biotechnology and artificial intelligence is bound to offer users better experience. In the past products were controlled via panels, but now sensors are used for voice recognition, facial recognition and behaviour recognition to control products and scene changes. As the cost of technology application lowers in the future, new smart products are expected to flood the market and will no longer be confined to the lab."
Yan, who has visited Hong Kong on a study mission, said that local health monitoring hardware devices are in need of an intelligence upgrade. He pointed out that some of the blood pressure monitors and blood sugar monitors on the market are still not supported by any back-end data system. Even a product that is app-enabled cannot be connected to other products or collect data. Outlining how the company can remedy this situation, Cai said: "We hope to enter the Hong Kong market, upgrade its products to intelligent devices and popularise cloud-based intelligent health management systems, thereby bridging the gap in the local market."
Cai explained that, for a solution provider like Tangjian Technology, pursuing innovation and change is a must, adding: "The market is changing and technologies are also changing, so we must keep abreast of the times, improve our system platform and cope with the changes in the market and in technologies. Only innovation can lead the way forward."
---
[1] Cloud-based intelligent healthcare platforms interconnect smart wearables, medical devices, artificial intelligence, supportive family and friends, meal services and exercise instructions.